Babushka Khaya's letter
Translated from Russian by Moshe Porat – Perlman
Edited by Judy Montel
This letter was found among some family papers in Paris on November 2001.

It was just after the funeral of Jose, my sister Sonia's husband. We were turning the pages of the photo albums. Among the old pictures and writings we found two remarkable family documents. The first was the late Jose's father's handwritten translation from Hebrew into French of a speech he had heard at a Volozhin memorial event in Tel-Aviv. The second was a beautiful letter written in a good Russian handwriting by our babushka Khaya. We were excited to read it and the names we recalled vaguely came suddenly to life.

This is a fragment of Jewish life in our grandmother's family – loving words from the old world that no longer exists . We thought it would be interesting to others with roots in Volozhin .

Babushka Khaya-Reeva[1] wrote it in Volozhin to her children in France on April 22nd 1941, exactly two months prior to the German invasion into the Soviet Union, one year after her daughter Etia's family was expelled to Siberia and some 10 months after the Germans occupied Paris. All Grandma Khaya's sons and daughter families (Osher, Izia and Zina)[2] who lived in France had probably already left Paris at this time.
---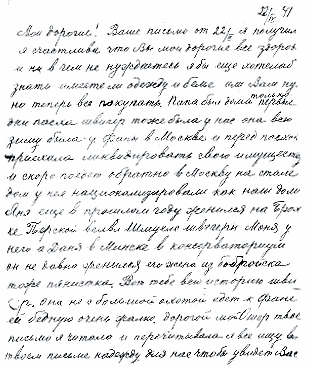 Scanned fragment of the original letter
22/IV/1941
Dear children! I received your letter-dated 22/III. I am happy to learn that you are in good health. I would like to know if you have to buy garments and underwear to replace all you had left in Paris. Papa (Father) was with me only a couple of days during Passover.

Malka, Yossif's mother was also with us. She spent this winter in Moscow at her daughter Fania's house. She came here to liquidate her property on the holiday eve. Soon she would return to Moscow, not to much desiring it. Poor Malka I have pity for her. Yania[3], her widowed son in law got married to Brokhke Perski, Velvl Shmuel's sister in law. As for her grand children, Yani's two sons: Monia[4] remains with him, Dania is studying in Minsk Conservatorium. He married a girl from Bobroysk recently; She's a Pianist too. That's the story of shviguer Malka and her family.

Dear Osher I'm reading your letter again and again. I'm searching a piece of hope to see all of you again. It would be for us, old people a comfort, but to our sorrow, its accomplishment seems to be very far. Until then we should be satisfied with your letters.

I'm glad that Daliusha is growing up becoming tall like Osher and that Susanochka develops very fine. Please send us her picture. Motia, in his letter, is asking for it too.

I'm receiving letters from Etia[5]. Her children too are adding a couple of sentences. I would send you some letters, but they are written in Yiddish and they may not reach you. Monitshka[6] writes very fine letters in Russian, Polish and Yiddish. Those letters are highly praised by his comrades in Volozhin. If he had a chance to continue his studies he would certainly succeed and arrive far away, but unfortunately his fate turned otherwise. Etia writes that he's a devoted son.

Zinotshka, you're asking about what we send them. Beginning from flour, fats, sugar to the last details including money too. Poor Etia, she is so unfortunate, I have no words to describe her painful life. And add to it that she does not know from Yossif[7] anything until now. Reading her letters, the heart becomes flooded with blood, and the sole help we can offer is the posting of parcels.

We receive letters from Motia[8] and Irka. Motia is working 2 weeks on the field and 2 weeks in the kibbutz office.
Izia writes that he's satisfied with his new work He praises his son very much. Rita became pregnant. She is not like French women, and God will help her.

Dear Olinka, we received a letter from your father in Konotope. I'm writing him each year on the Passover eve asking him to go to the graveyard on the day of our daughter Ola's death. He's fulfilling my demand and I'm grateful.

Please, write often and about all. We wish you health and good luck.

Strongly embracing all of you,

Khaya, Your mother,

I'm very glad to read Suzanotshka's regards, written by her little hand. We are thanking her for making happy her Diedushka and Babushka. I kiss her strongly.


---
Some notes regarding the persons involved background and destiny.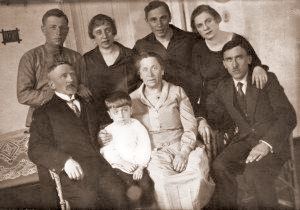 Bierezno 1929: Clockwise: Babushka Khaya Reeva, Monitshka,
Diedushka Eliyahu-Hirsh, Izia, Etia, Motia, Zina, Yossif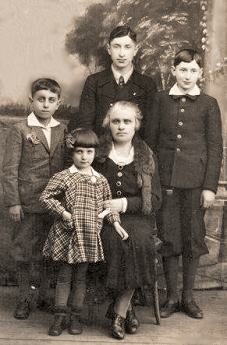 Volozhin 1935: Clockwise: Babushka Malka Perlman,
Sonitshka and Monia (Etia's Children) Dania and Monia (Yani's children)

---
This material is made available by JewishGen, Inc. and the Yizkor Book Project for the purpose of
fulfilling our mission of disseminating information about the Holocaust and destroyed Jewish communities.
This material may not be copied, sold or bartered without JewishGen, Inc.'s permission. Rights may be reserved by the copyright holder.
---
JewishGen, Inc. makes no representations regarding the accuracy of the translation. The reader may wish to refer to the original material for verification.
JewishGen is not responsible for inaccuracies or omissions in the original work and cannot rewrite or edit the text to correct inaccuracies and/or omissions.
Our mission is to produce a translation of the original work and we cannot verify the accuracy of statements or alter facts cited.

Valozhyn, Belarus

Yizkor Book Project

JewishGen Home Page
---
Yizkor Book Director, Lance Ackerfeld
This web page created by Lance Ackerfeld
Copyright © 1999-2022 by JewishGen, Inc.
Updated 23 Sep 2006 by LA