[Page 505]
Shlomo "Chasid" Shepsenwol in Volozhin:
A Rare Chasid in Volozhin
Written by David Cohen (Tel Aviv) . 1845 in Haradock? Lithuania d: Bef. 1917]
Translated by Eilat Gordin Levitan
There was never a minyan (ten) of Chasids in Volozhin. Once there would be succeed to have nine the oldest will pass away. Amongst the very few was a Slonim Chasid named Shlomo Shepsenwohl. He was also called "the angel." He was honored with this name by virtue of this story; He was very ill and had to have an operation. When he opened his eyes, and found out that they amputated one of his legs, he said jokingly, "Too bad, from now on I will not be able dance in pair, I will have to dance in single." When the Rabbi heard it, he said "this is the behavior of an angel". They said about him that his brain was bigger than his emotions, he could joke at a point of great suffering.

I remember one day sitting with a group of friends in our yeshiva, singing distinct songs we each knew from our hometowns. I started singing a typical Slonim song. At this point, a Jew with one leg came in and asked, who is singing the Slonim tune? I said, it is me, I am from Slonim. I invited him on Saturday night. As was the custom in Slonim, we would stay up all night on Friday and read the tunes. Especially when we reached the passage, "I pray for the pleasantness of the Shabat," his voice came from the depths of his soul. I would forget that I left the Chassidut, and my soul would be sick with love. The Jews of Volozhin and the yeshiva students would stand outside and listen and someone would always say, "we don't have a minyan of Chassids in Volozhin, but we do have Chassidut..

Shlomo told me that one time he came to visit the head of the Chassidim in Slonim, who asked him, how could you go and pray again and again with the Mitnagdim in Volozhin? Shlomo answered, "Before I go to the synagogue, I say to myself, I'm going into the meadow; the bulls are walking around and making loud sounds, and I'm the only human being among them." The big Rabbi said, "Why do you want to see so many Jews as bulls? It would be better to say that there are many people and only one bull among them." From then on I would say to myself whatever the Rabbi said, and I gained more respect to the "Mitnagdim".

On page 426 Binyamin Shafir Shishko from Israel writes; We had a special way of celebrating "Shmini Azeret" Simchat Torah of Ertz Israel that was also named- "SIMCHAT TORAH OF REB' SHLOMO CHASID" the party was only in the synagogue on Vilna Street. It was the prayer house of Rabbi Israel Lunin and the heads of the Zionist party in Volozhin (Shlomo- Chaim Brodno, Yeshayahu Cahanovitz, David Yitzhak Kanterovitz, H. Alterman, Yehoshua Horvitz). It was also the place of prayer for SHLOMO CHASID SHPSENWOHL. HE WAS A NATIVE OF HORODOK AND HE MOVED TO OUR TOWN. REGARDING the fact that the man was a Chasid-he was VERY well liked by all the "mitnagdim" he was praying with. He was beloved and respected and in his honor they celebrated "Shmini Azeret" the way Chasidim would do it. Because of him we all celebrated Simchat Torah the way they celebrated it in Israel.

Followed by a comment is by Benyamin Shafir Shishko: "When I was in Tiberia in Purim of ... I heard in the synagogue Kiryat Shmuel that belongs to the Chassids from Slonim from the elder of the community, Rabbi Moshe Shelita the most wonderful tales about the amazing spirit of Shlomo Chassid." Then a song that Shlomo der Chassid wrote in Yiddish: "No lambs, no herds, no wife, no children. Only 'happiness in the Kingdom of Heaven.'" This was printed in a Chassidic book [title given in Yiddish]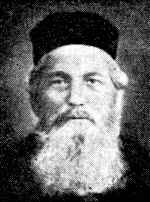 Shlomo "Chasid" Shepsenwol
---
[Page 506]
Figures I knew
By Reuven Rogovin
Eyzer Der Raznoshtshik (the Postman)
By Reuven Rogovin
I knew Reb Eyzer the Postman personally. He was called: "Diedushka (Grandpa) Yevzier". A Jew of about seventy years old, of stocky builds, above average height, with a dark brown square beard (It reminded the beard of Czar Nicholay Alexanderovitsh). In summer as in winter he always wore a cape (Pelerina) and a big bag, full with mail, was suspended over his shoulder.

By what merit did he reach such a "distinguished imperial job"? By the merit that he had served as a Cantonist , a dedicated and faithful soldier of the Czar and had earned a medal for outstanding service, and on his leaving the army he had be given very good recommendations. As a reward he was accepted as a "Government service man". He was the only Jewish Postman in the entire area.

As he walked, loaded down with his mailbag, all the children would run after him yelling, "Grandpa Eizer, letter Yest'?", there's a letter? He would turn to them in a sternway and say, "Dieti, nikak Niet" Children! No letters!" This warning was not enough and we would run after him yelling "Diedushka (granpa) Yevzier, Pis'mo (a letter) Iz do?" He would stop in his normal kindly way and say "Riebiata Pierestan'tie shalit'" children cease to make fun. We responded to his demand and let him in peace until tomorrow morning.

When the Cantor in the Synagogue sang " Who gives salvation to kings and the power to princes", the prayer for the welfare of the Czar and his family, Reb Ozer the Postman would stand at attention, with dignity and respect, until the end of the prayer.

During the First World War the Volozhin Jews would engage in heated discussion in the synagogue as which side would overcome. Would the Germans defeat the Russians or the Russians would be victorious over the Germans? Reb Ozer always remained loyal to the Romanov dynasty and would prove with signs and miracles that the Czar Nikolay who gave him his daily bread, would overcome his enemies.


---
[Page 507]
Reb Hayim der Shnayder (the Tailor)
By Reuven Rogovin
Rabbi Hayim der Shnayder (Hayim Tsirulnik) and his wife Hayke



The writer Mendele Moher Sforim - "Mendele the Book Seller", of blessed memory wrote: "As the Jews are considered among the world nations, so the artisans are held in low respect and humiliation among the Jews." (From his book: "In those days", Chapter 12). These words did not apply to Reb Hayim "the Tailor". Despite his being a tailor-artisan, he was counted amongst the important citizens and held such a status as the respected town leaders.

His family name was Tzirulnik but everyone knew him simply as "Hayim der Shnayder (the Tailor)". he was Eyzer the Postman's son.

I never saw Reb Hayim with a thimble on his finger or with a thread and needle in his hand. He owned the workshop in which two workers were employed. And both of them did the actual work. One of the two was Hillel Moshe Yudels, a tall, very thin and very poor young man. The second one was Yaakov "the weak eye". How was he able to thread a needle remains a mystery until this day.

Reb Hayim was a community activist. He was the head spokesman for the Hevre Kadishe the shtetl's burial society. When any Jew departed from this world and needed to acquire a "place" (in the cemetery) things just couldn't be settled without Reb Hayim. He had been always the first invited to sit on the table head at the annual dinner of the Burial Society that was held every year on the tenth of the month of Teveth.

Reb Hayim acted also at the board of directors of the "Folks Bank". As one of the community leaders he was always ready to defend the poor artisans and small businessmen who needed help.

He was also an ardent Zionist, and supported all the parties who worked for the Land of Israel. The respect he had among the people he acquired because of his honesty and good heart. He was never known to hold a grudge, he hated gossip, and kept away from anything that was false. He had always a friendly smile on his face.

After the war between Poland and the "Bolsheviks" we founded a large library in the house of Chaike di Krever (Hayke from Krevo) on Smorgon Street. On the days when books were exchanged – twice a week – Reb Hayim would visit the library to inquire if many people were reading. He was always interested in knowing what was going on in the world of Spirit and he respected very much those who read and study.

Hayim "Der Shnayder" with his wife were murdered during the Volozhin destruction, together with all his community Jews. I'm sure that even in that narrow dark "ghetto" he was still hard working to help all those in need. I am sure that even when his demand had been refused he would not be discouraged and on the following day he would return to ask for a little hot soup for the elderly and the sick. I'm convinced that he made all he could for his Kehila, even under the "ghetto" inhuman conditions, until he returned his soul to the Creator in sanctity and purity.


---
[Page 508]
Reb Itshe der Balegole (the coachman)
By Reuven Rogovin
Translated by Moshe Porat
Reb Itshe owned a horse and a covered cart, in which he used to carry passengers from Volozhin to the rail station. First it was to Malodetshno, then to Listopad, Horod'k and before the war to the Volozhin rail station. The alley, on which he lived, was called "Tsarskiy Dvoretz" ("The Tsar's estate" –Russian). So it was called in a figure of speech, actually a swampy mud covered the poor narrow lane. Without an improvised of some planks passageway it has been impossible to reach Reb Itshe's house.

A group of old Jews used to study in the klayzl (small synagogue). Each Shabes after the Minhe (afternoon) prayer they used to read the Psalms book, beginning from the 119th "Ashrey" Chapter "Blessed should be the righteous, which follows God ways" and until the end of the entire book. And if the Mayriv (evening) prayer time still did not arrive they would begin anew from "Ashrey".

The group eldest man was Reb Moyshe Shmuel, an old Jew with a long white beard. He used to end each Psalms Chapter with a pleasant melody. Among the participants were his three sons – Fayve, Yehoyshua and Mates (from this family remained one survivor only – Yaakov Guirzon, Mates's son who's now in Israel). The other participants were Mihl Gavriel der Stolar (Carpenter) , R' Moyshe Smuel's brother, Itskhok Guetsl der Shuster (cobbler), Avrom Itshe der Katsev (butcher) , Itshe der Balegole (coachman), Perets der Balegole, Moyshe der Shnayder (tailor), Shmuel Itshe der Guenzler (Goose man) and others.

While Reb Moyshe Shmuel would start to read with his pleasant melody Ashrey – Blessed should… all participators used to pull out their glasses from the pockets. Each pair of spectacles was highly distorted, one set lacked a lens, another was without a grip, a third one was fixed with a bandage and the fourth was completely unsuitable to be used. Each set of spectacles had a kind of prosthesis; only Reb Itshe's glasses were more or less in order.

Reb Itshe used to read his Tehilim (Psalms) chapters with emotion and sweetness. Because, he, Itshe the coachman, a simple Jew with his own voice, could thank and praise the Almighty Universe Creator. And when Reb Moyshe Shmuel would begin to read, "Water Rivers flew from my eyes, because they did not guard your holy Torah…" (Psalms, chapters 119, 136), Reb Itshe would take out from his capote pockets a huge red handkerchief to wipe his tears.

After my wedding I continued to do my prayers in this Klayzl. Opposite to me had his place Reb Itshe der Balagole. On his right sat R' Berl Potashnik and to his left – R' Moyshe Shloyme der Melamed and Baal Koyre (the Teacher & Prayers reader).

Reb Itshe's stander (unit to lean on it when praying) was in such a state as the glasses of the Tehilim group members. But he never fixed it like he did not fix his glasses.

At the honored East wall had their places the most important Balabatim. Among them were Harav Naftali Hertz Eskind (he served as Volozhin Rabbi after Reb Refoel Shapiro's departure to Minsk), Ore Polak, Hershl Rogovin, Yankele Yohanan's, Avreml Rode's, Mihl Meyir Itshe's (a flax merchant) and other significant persons.

With time passing big changes occurred at the East Wall occupancy. Leyzer der Baker and Menahem Yoel Potashnik, both of them Gabay's (synagogue affairs managers) occupied Reb Eskind's and Ore Polak's places. The first passed his place to his son in law the feldsher Avrom Tsart, the second one – to his Grand son Kive Potashnik. At the place of Avreml Rodes sat his grand son Fayve Rodes, and Mihal Meyir Itshe's place passed to his son Yankev Veisbord.

On Yoym Kipur would Reb Itshe transform to be a man not belonging to the real world. He ceased to be connrcted to the earthy matters, all his brain and heart were immersed in the holiness of the frightful day. His whole spirit was excited and his heart aching. When praying he raised skies and hell until he fell and fainted on his chair.

Reb Itshe would change clothes twice a year – at Passover and at the Tabernacles. When the Tal (dew) prayer was said at the first day of Passover he used to take of the winter clothing's, even if it would freeze outside. Also when the Rain prayer was said at Shmini Atseres in the last day of Sukes he used to take of his summer clothes even if one would suffocate from heat.

Reb Itshes end was like the end of the entire Volozhin Kehila. One day he collapsed in the Ghetto. He was dressed in a long torn capote. Reuven Lavit (Reuven der Pakter) and Avrom Berkovitsh supported him spiritually in his last days.
---
[Page 510]
R' Avrom Hayim Marshak
By Israel Ben-Nahum (Holoventshits) – Givatayim
Translated by M. Porat z"l
Edited by Dr. H. Mendelssohn
Grandma Rohe Rayze, peace to her soul, told me the story:

Her father Reb Avrom Hayim Marshak's road to the Holy Land was a road of wonderful strength and heroism.

After he bid farewell to his family, his friends and the entire shtetl, Reb Avrom Hayim started to walk the long way on foot to Jerusalem, to the Holy City of peace. Arriving at the frontier he was stopped and for the lack of a transit pass he was habitually beaten until blood and robbed of all his worldly possessions by the border guards. After the maltreatment he was forced to do all the way back to Volozhin.

As soon as his wounds healed, Reb Avrom Hayim repeated his journey from the start. Seven times he took his walk to the Holy City and seven times he returned to his hometown beaten, wounded and robbed. From his eighth journey he did not return.

In Volozhin nobody knew what happened to him. No message or letter had arrived, as though he had drowned in deep water.

A year later a rabbinical emissary appeared in our town. He brought a message. At the head of the message the words: "MAZL TOV" were written. The town leaders wondered what it meant. The letter told that Reb Avrom Hayim, who suffered so much, had had been attacked and robbed by a gang of bandits. The hard blows killed him. Reb Avrom Hayim the righteous saw the Promised Land but did not enter it. He was buried in Jerusalem.

R' Hayim Avrom became famous among the great sages of Jerusalem. This is evident from the following story: In the Jerusalem cemetery, a grave was prepared for the body of a great Tzsadik. On the day, in which Reb Avrom Hayims body was brought to the City, another eminent Sage passed away. The town leaders could not decide who of the two should be buried in the holy grave. Lots were drown and the name R' Avrom Hayim came up the winner to receive this honor. Then the Volozhin balabatim understood the reason of the "Mazl Tov" heading. It announced that R' Avrom Hayim was chosen to be buried in a grave that was designated for a great Sage.

After many years I made Aliya to Erets Israel. I kept Grandma's wonderful story in my memory. It troubled me. I climbed the Olives Mount to find out whether my ancestor was really buried there. To my grief I could not identify the grave.

However, my brother told me that during the British mandate rule he asked the Har Hazeytim officials to show him his Great Grandpa's grave. They opened old notebooks. In one of them they found Reb Avrom Hayim from Volozhin, and accordingly they found the grave.

Now after the unification of Jerusalem in 1967, I mounted the Har Hazeitim (Mount of Olives) to visit my Great Grandfather's grave. With my own eyes I saw that my Grandma's story was true.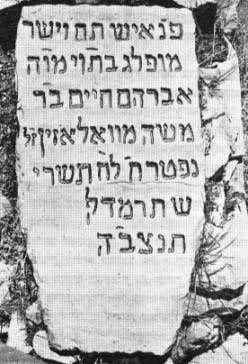 Rabbi Avrom Hayim Marshak's tombstone
on the Olive Mount cemetery in Jerusalem
---
[Page 511]
Grand mother Rohe Reyze
By Israel Ben-Nahum (Holoventshits)
Translated by M. Porat z"l
Grandma Rohe Reyze was Rabbi Avrom Hayim Marshak's daughter. She had a unique personality. Grandma was skilled in religious affairs more than a Rabbi. She fought against those who took religion lightly and those who did not believe in religion at all, fresh thoughts that began to spread in Volozhin. Di Bobe Rohe Reize did it with humor and pleasant words.

At the 20th century was start Volozhin girls and boys used to walk on the Sabbath into the woods with books in hand. One of them trying to embarrass the old lady pointed to the gitrls and said: "Look at those girls, Grandma Rohe Reyze, they carry books into the woods". "I'm not concerned about what they carry into the woods, I'm only worried for what they would carry from the woods", (Es art mir nit wos zey trogn in wald, Zey zoln nor nit trogn fun wald), was Grandma's answer. The Yiddish word "trogn" has a double meaning. It means, "carry" and it also means, "to become pregnant", she intended the second one.

Grandma used to begin the preparations for Passover already after Hanukkah. First of all she would organize the beet pickling. In the middle of a busy commerce day grandma would leave the shop and run to the market place to find a kosher barrel for the big project. Once the barrel was at home absolute confusion took over the house. "Don't go here, don't stay there, why do you interfere the Passover preparations?" There was no choice and a special room was allocated for the barrel. Once, I recall, after the beet was ready and the barrel was to be transferred into the cellar, the barrel gave up. The links cracked and all its contents were split over the steps. Poor grandma, she was obliged to repeat her Sisyphus work.

Charity was very important to her. On the Yom Kippur eve she would put "her" Zedaka bowl among the other bowls and she would care that it was always full.

Grandma Rohe Reyze was very stubborn. Once on Simhat Torah Grandma Rohe Reyze's announced on that she would interfere and even block the "Hakofess" if the Synagogue will not supply a Torah Scroll to the women's section. Grandma believed that women have equal rights as men to enjoy the holy Torah festivities. After long and sustained negotiations the Scroll was delivered; and the Volozhin women celebrated the holy Torah receiving-day by the ritual seven surroundings of the Synagogue's women compartment.

Grandma performed in Volozhin a heroic deed of a different nature. It happened on a Sabbath of the year 1905. While the Torah was being read, a group of "Bund" militants closed the synagogue doors to prevent the people's dispersing and to oblige them to listen to revolutionary speeches against the tsar. Bobe Rohe Reyze could not permit such a Shabbat profanation. She began to yell: "The kazaks' are coming". The scared Bundists ran away.

It was an excellent omen in Volozhin to meet a person carrying a pair of buckets full with water. Grandma reached very old age, but was active spiritually and physically. One day she fell on her way home with two full buckets with water in her hands. It was a good sign. The straight and pious Bobe Rohe Reyze had arrived in Gan-Eden. (the Garden of Eden - the Paradise).
---
This material is made available by JewishGen, Inc. and the Yizkor Book Project for the purpose of
fulfilling our mission of disseminating information about the Holocaust and destroyed Jewish communities.
This material may not be copied, sold or bartered without JewishGen, Inc.'s permission. Rights may be reserved by the copyright holder.
---
JewishGen, Inc. makes no representations regarding the accuracy of the translation. The reader may wish to refer to the original material for verification.
JewishGen is not responsible for inaccuracies or omissions in the original work and cannot rewrite or edit the text to correct inaccuracies and/or omissions.
Our mission is to produce a translation of the original work and we cannot verify the accuracy of statements or alter facts cited.

Valozhyn, Belarus

Yizkor Book Project

JewishGen Home Page
---
Yizkor Book Director, Lance Ackerfeld
This web page created by Lance Ackerfeld
Copyright © 1999-2021 by JewishGen, Inc.
Updated 23 Sep 2006 by LA