[Page 483]
Our Melamdim
(Figure Drawings)
Translated by M. Porat z"l
Edited by Mike Kalt
I shall praise our Melamdim (teachers) despite the fact that they did not spare from us the kantshik (whip). In fact they wanted our best. They did not want to let us follow the Shkotsim's ways and grow irresponsible, abandoning Torah. They desired to educate us as righteous Jews, wanted by God and by people. Moreover, the knowledge we acquired from them in childhood produced its good fruits.
Reb Moyshe Fayve the Melamed
The Melamed Reb Moyshe Fayve appears suddenly in my memory. In addition to his main profession, he used to earn a "Grvinae" (Russian dime) filling paper tubes with cut tobacco and selling the product to his regular clients.
Teaching the verse "Being young and becoming old, I never saw a righteous abandoned and his offspring asking for donations" (Book of Psalms 37, 14), the Rabbi would fill some tubes. Bad was the pupils' condition when the tube broke, or when his wife brought tobacco made by the "Stambul" or "Messaksodiye" company and the material was too dry and not suitable for filling tubes. Then the kantshik (whip) would work the all day until "Blessed shall be the residents of your house", in other words, until the after noon "Minkha" prayers.
Reb Nahum Youdls the Melamed
Reb Nahum Youdls did not fill tobacco tubes, but he had another weakness. He would abstain from answering questions that referred to Almighty's behavior. A righteous God-loving and God-fearing Yeshiva-man died while we were learning the Book of Proverbs. I asked the Rabbi, "If it is written in the Proverbs that 'God-fearing would add life as the years of Godless would shorten', than why should a young righteous Jew gave up his life, and not the old 'Pop' (pravoslavian priest) Pigulevski from Vilna Street"?

The Rabbi rebuked me: "You are a Sheyguets" – This was his answer.

Reb Nahum also used to lead prayers on the high Holidays. Sometimes during his lessons, we heard the "I'm the poor from action" melody. It was a sign that Reb Nahum was preparing himself for his Rosh Hashana and Yom Kippur duties.
---
The Melamed and Teacher,
Rabbi Avraham Gorellick
By Reuven Rogovin
Translated by M. Porat z"l
Edited by Schelly Dardashti
Last but not least, was my teacher, Reb Avrom Gorellick. His cheder was a reformed cheder. Mr. Gorellick was an enlightened, educated teacher, who loved the Hebrew language.

He was the first educator in Volozhin and environs to introduce spoken Hebrew as a cheder academic learning requirement. On the wall, an announcement written in huge letters, admonished "Speak Hebrew!"

For the first time, Hebrew language became a required class, in the same category as mathematics, geography, history etc. It was a novelty, a basic change in curriculum.

As a teacher, he was very strict, demanding accomplishments believed unobtainable by his students. He gave me only two days to memorize Bialik's poem "The Slaughter City." He also gave me only two days to memorize Bialik's "Dead of the Desert." For "The Hamatmid," he was more lenient and allowed three days, but only one day for Yalag's "Between the Lion's teeth" .

The cheder was located in Rohke di Almone's (the widow) apartment on Smorgon Street (Smorgoner Gass), near Chaim Der Shnayder's (the tailor) house. In its second year, the class relocated to Brovarna Street near Avrom Der Vapelnick's (clay maker) house.

Reb Chaim der Shnayder (the tailor) visited the class in the evenings and was happy when he heard all the Moyshelakh (little Moishes) and Shloymelakh (little Shloymehs) loudly speaking the Holy Language.

All of Reb Gorrelick's students, together with their loving admirer Reb Chaim der Shnayder were murdered in a single day, in the second Volozhin massacre on 10 May 1941. Only two students survived. One was Mihl Lea Dines, who emigrated to America and the writer of the above.
"Swords were pulled out and bows tensed by wicked godless murderers
to defeat poor and pauper and to slaughter the right and honest" (Book of Psalms 37:14)
---
Yakov Lifshits
By Binyamin Shafir (Shishko)
Translated by M. Porat z"l
Edited by Eilat Gordin Levitan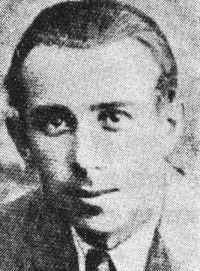 Yakov Lifshits was born in Rakov on April 1907. His father had passed away, when Yakov was ten years old. Despite the family financial difficulties Yakovs' mother was able to send him to study in Yeshiva. Yakov was very proficient in the study of the Torah but preferred secular studies. He left the Yeshiva after studying there for a couple of years and continued his education at a Russian School in Rakov.
Yakov was admitted at the Vilna Technical School in 1925. Since childhood he had been attracted to Mathematics and the exact sciences. His interest in this field assisted his progress in the Technical High School. After 2 years of study in Vilna he passed into the teachers Seminary that was directed by Shmuel Tsharno. Yakov was nominated as head of the Rakov Tarbut School after graduating. After one year of work there, he left for Volozhin, where he was accepted as head of the town Tarbut Primary School (1931). Together with managing the school he taught Mathematics and physics, both of which subjects were taught in Hebrew.
Translator's note: Each Friday Yakov would gather all the students and read them chapters from Sholom Aleykhem in Yiddish. (Sholom Aleykhem was originally named Sholem Rabinovitsh- the famous Yiddish writer, author of "Tuvye der Milkhiker" renamed "Fiddler on the Roof" and many, full of Yiddish humor, folksy stories) I remember very well "Yossi Peysi dem Khazn's" – the wonderful story about the Russian Jews' exodus to the New World. We were enchanted by the Yiddish writer's stories read by our teacher in our mother language. In Tarbut Schools we did not learn Yiddish at all.

Another event I remember is that with my ten years old classmates, we were invited to our teacher's apartment on Vilna Street in Volozhin to hear classical music. The young Lifshits couple were able to buy a real gramophone, one of the first in the Shtetl with some Yiddish, Hebrew and classical records. This event was a memorable one for me, though it took place some seventy years ago - we heard the famous Tshaykovski's "Nut Cracker".
Yakov was a devout, Brit Trumpeldor – Beytar (a Zionist revisionist movement) member since his youth. Consistent in his opinions, Yakov ardently defended his revisionist points of view. In Volozhin he found a wide scope for his public activities, because the major part of the young and older people were at that time Jabotinski's supporters. (Zev Jabotinsky, born in Russia in 1880, passed away in the United States in 1940, established the Revisionist Zionists in 1925. He sponsored a more assertive and non-socialist approach to the rebuilding of the Jewish homeland.)
His opponents, as few as they were, made his public life quite difficult. But we don't need to recall the long forgotten rivalries, as the sagest of all said "as you loved and hated, so also your jealousy passed ".
Yakov managed the School with talent and skill. He began his work in Volozhin in a School with four grades, by the end during the 1938/39 school year he was managing a standard primary school for that time of seven grades.
For eight years Yakov stood as guard of the Hebrew education in Volozhin until the Soviets came on September1939. The new rulers took out his spirit. Yakov became deeply depressed.
The Soviet Inspector invited him for a meeting. He instructed him to change the teaching language from Hebrew to Yiddish as "per the parents demand". They appointed a new manager, a Jewish woman from Russia. The education was strictly programmed by the communist regime.
During the Soviet rule (1939-1941) Yakov's spirit was burnt out. The Germans burnt out his soul and body.
---
Reb Eliyahu Shvarzberg
Written by one of his students
Translated by M. Porat z"l
Edited by Judy Feinsilver Montel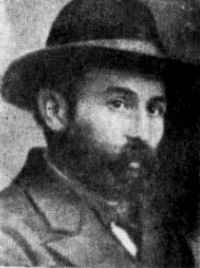 Reb Eliyahu was born in Oshmene on 1884. He came to study in the Volozhin Yeshiva in 1900 and learned there till 1906.
He was married very young to Dvora Elke, R' Itskhak Perski's daughter. In the shtetl, where every one had a nickname, he was called "Reb Ele-Itshe Dverelkes". R' Eliyahu was one of few to receive the Hebrew journal "Hatsfira". Every time, after receiving the journal he would run to Goralik, his subscribing companion and together they would read the journal from beginning until end. After finishing the reading an endless discussion would begin: about politics, Hebrew literature, Tolstoy's "War and Peace", The Beyliss trial, the murder of the Russian minister Stolipine by a Jewish student and so for.
Reb Elitshe was diffident and modest despite his large knowledge and wisdom. He taught the Jewish students in the Polish Povshehna and Gymnasia schools religion lessons.
Reb Eliyahu was murdered together with his wife Dveyre-Elke in the Volozhin Ghetto on May 10, 1942. The Nazis shut up the Ghetto. R' Eliyahu ran from his house into the nook that the Volozhin inhabitants had prepared. While running he was shot to death by a German soldier.
---
This material is made available by JewishGen, Inc. and the Yizkor Book Project for the purpose of
fulfilling our mission of disseminating information about the Holocaust and destroyed Jewish communities.
This material may not be copied, sold or bartered without JewishGen, Inc.'s permission. Rights may be reserved by the copyright holder.
---
JewishGen, Inc. makes no representations regarding the accuracy of the translation. The reader may wish to refer to the original material for verification.
JewishGen is not responsible for inaccuracies or omissions in the original work and cannot rewrite or edit the text to correct inaccuracies and/or omissions.
Our mission is to produce a translation of the original work and we cannot verify the accuracy of statements or alter facts cited.

Valozhyn, Belarus

Yizkor Book Project

JewishGen Home Page
---
Yizkor Book Director, Lance Ackerfeld
This web page created by Lance Ackerfeld
Copyright © 1999-2021 by JewishGen, Inc.
Updated 10 May 2021 by JH