[Page 440]
Culture War in Volozhin
By Benyamin Shapir –Shishko (Karkoor)
Translated by M. Porat
Edited by Judy Feinsilver Montel
My father Reb Mordkhe, son of Nisn Shishko was a Zion lover, and more over, he was God-Fearing and appreciating scholars. I was his only son, but despite of it he fulfilled in me the Sages proverb "the exile is Torah" and he sent me far in Kremenchoog (Ukraine) to learn Torah. During World War One were four yeshivas there: Knesset Isroel, Knesset Beys Itskhok (from Slobodka), The Lubavitsh Hassidim Yeshiva and the Yeshiva for youngsters "Torah Gates" in which I was student. The Yeshivah manager was R' Elazar Shishkin married to the sister of R' Yokhanan Roodkes from Volozhin. All the days he would spend wrapped in Taless and Tfilin not saying a regular word. The Yeshiva Head was R' Shlomo Heyman the erudite from Paritsh who married Yokhanan Roodkes daughter. The Yeshivah was soaked in the spirit of Volozhin.

In 1921 I was became friendly with Moyshe Zalman Lunts, outstanding objector of the Diaspora (Frydele di Rebetsin's son – see page 243). Influenced by him I became an active Zionist. Returning to Vilna I decided to abandon my religious studies and enrolled myself in the Vilna Tarbut ("culture" in Hebrew) seminar for teachers.

My decision distressed my father. He wrote me a heart-aching letter:
My life was despised, when I was acknowledged that you chose Tarbut, the institution which violates the holiness of Israel, as it is written in Bamidbar in the Pentateuch: "Tarbut (Culture) of the sinful".
One learns from the above how far was the distance of opinions between the Torah appreciating, God fearing fathers and their children who objected to the Diaspora and decided to hasten the Messiah's arrival especially by the resuscitation of the Hebrew language and by going to live in Israel.
With the closure of the Yeshiva "Eyts Hayim" during the First World War the voice of the Torah was silenced in Volozhin. A crisis arose in children's education. Many of them abandoned even the Heyder tutorial. The Zionists took advantage of the situation and decided to open a Hebrew primary school based on the pure Hebrew language. The "Talmud-Torah" School was empty for many days, there were no lessons inside. The Volozhin Zionists "invaded" the building in 1925 and created within its walls the Hebrew Tarbut School.
The "Walls'-Watchmen" under Rabbi Yakov Shapiro's leadership woke up and began a holy war to obtain back the building in order to teach there Torah and in Yiddish, Mame-loshn (mother language) precisely, the language every Jew speaks and understands.
During the 1927-1928 school year a bitter culture war took place in Volozhin. The war hurt the Jewish Congregation severely from the moral and from the cultural points of view. Both parties fought self-sacrificingly for the right to possess the building.
The war was accompanied by hard words, fist-fighting and even by bloodshed, in a single word, blasphemy.
Finishing my studies in Vilna (1927), I followed my father's desire and went to teach at the religious school "Tahkmonee" in Zabludovo. After teaching one year at Tahkmonee I returned to Volozhin. Both parts of the town community saw me as a person who could make peace and unify the two opponent camps.
Most of the Volozhin home-owners in both camps were Zionists, among them also Reb Eli-Itshe Shvartsberg the religious school manager and its founders R' Isroel Lunin and R' Shloyme Hayim Broodno. The main struggle was on the teaching spirit and on its language. R' Yakov Shapiro implored to explain "Breyshiss Boro" in theYiddish mother-language. The Zionists insisted on not giving up the Hebrew.
A joint session was called, at which participated R' Yankev Shapiro, R' Isroel Lunin, R' Shloyme Hayim Broodno, R' Yakov Waysbord and R' Shmuel Rookhamkin – from the Religious part. From the "Seculars" participated Shaye Kaganovitsh, Yani Garber, Dovid Kantorovitsh, Dov Lavit and Isaak Perski. I served as a neutral arbiter.
It was agreed to bestow all rights of the building to the "Tarbut" school, all disciplines should be led in Hebrew unexceptionally, but students should say the Morning Prayer (Shakhriss) every day before learning begins.
Reconciliation took place in Volozhin. One single Hebrew school functioned in Volozhin. I was its manager for three years. Yaakov Lifsitz replaced me after I went to Palestine. The School existed and acted following the founders' agreement. The Hebrew learning ceased to function immediately after the Soviets entered Volozhin on September 1939. The new rulers introduced Yiddish teaching and thereafter it was changed to Belorussian. The School worked until its destruction by the Fascists.
---
[Page 451]
Polish Schools in Volozhin
By Miriam Levitan (Rosnberg) and Pnina Hayit (Potashnik)
Translated by M. Porat
Edited by Judy Feinsilver Montel
The Povshekhna - Primary School
The Povshekhna School contained some 400 students in 7 classes. One third of them were Jewish. At the beginning it functioned inside a building on Vilna Street. The municipality council constructed a new large stone building with a gymnasium and a physics laboratory on a spacious plot.

The first manager was Tishkovski and after him Mr. Trechinski, Poles both of them.

Polish was the official School language. Rabbi Ele-Itskhok Shvartsberg (nicknamed- Reb Eliche Dverelkes) taught the Jewish students Religion Classes (the Bible).

We remember the wonderful excursions organized by the School to the Berezina borders ten kilometers from town. We passed the day singing, playing ball and swimming in the pure Berezina water.

The learning level was high. The teachers were excellent. Particularly good was the arithmetic teacher, Pan Gloukhovski. In Poland the five grades system was used: 5-very good, 4-good, 3-sufficient, 2-insufficient, and 1-flunked. The highest grade Glukhovski gave his students was 4 minus, because for 5, he would say, knows only the God Almighty, the teacher's knowledge might be 4, so the best student could be graduated by 4 minus maximum.

The second manager was Mr. Trechinski, who became the Volozhin mayor.

At the beginning a liberal attitude prevailed, but in the late thirties the Polish authorities attitude to the Jewish students became more and more hostile.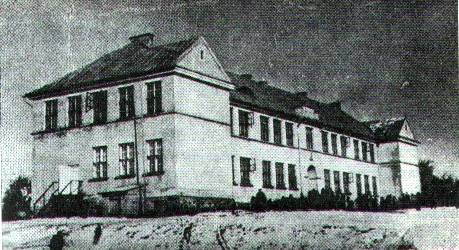 The Polish Povshekhna primary School in Volozhin
The building remains as built until now
The commercial High School
After graduating the primary School it was possible to continue learning inside Volozhin. The Commerce High School was created in 1934. It contained 4 classes and functioned after noon inside the Povshekhna School Building.

Professor Zhookovski from Vilna, Physician by profession served as its manager. He was liberal with a positive attitude towards Jewish students. Our sole Jewish teacher was Rachel Kivilevitsh (Melzer). She graduated a Russian high school and the Hebrew Seminar for teachers.

There were 40 students in the commercial High school, 8 among them were Jews. Their names are listed as follows: Etia Berman, Tsvia Lunin, Pnina Potashnik, Miryam Rosnberg, Rivka Rogovin, Hirsh Tsart , Rafael (Fole) and Mina Shriro.

The Jewish students were not oppressed. We never heard the word "Zhid". The liberal Professor even nominated a Jewish girl as "Starostina" (Students leader) to make it clear that Jews and Christians are equal.

The learning level was satisfactory. The students were employed in banks and government institutions to reinforce their professional knowledge.

Our School was closed after two years of existence due to financial problems. Some of the students continued their studies in Lida and Vilna.
The Volozhin Gymnasia - High School
Mr Trechinski the former Povshekhna School manager and now the town mayor initiated the establishment of a Polish High School in Volozhin. He created a committee to lead this project. Amongst its members were also representatives of the Jewish community, one of them my father, Yosef Perlman. Financed by the town inhabitants and sustained by the district authorities a stone building was erected at the former cattle market on the western Volozhinka border.

The Gymnasia opened its doors on September 1, 1938. It was the first and also the last year of its functioning as a Polish School. It contained two parallel, first course classes with a complete staff of teachers and one hundred students, among them just eight Jews in a town with a 50% Jewish population.

Before reception the applicants passed a rigorous examination in Arithmetic, in Polish language, History and Geography. Poland was strictly preserving the Numerus-clausus numbers in its anti-Semitic attitude.

The Jewish students from Tarbut were: Vulke Brudno (Ptsholke), Eyzer Finger, Monie Perlman (the author), Sonia (Boonies) Perski, and Etele (Ruvn's) Rogovin. The Jewish students from Povshekhna were: Berl (der Tzigayner) Tsart, Moyshele Halpern and Arele Tsart.

There were few, if any, relations between Jews and gentile students, despite the common language, i.e. Polish we had to speak during the whole learning day.

But we were proud of our new School. The building was beautiful outside and inside. The classes were large and spacious. We were seated two and no more students at a table. Not to compare with our poor small and poky Tarbut School. We had to wear blue well-ironed uniforms, a jacket, a hat and long slacks.

The teachers were highly professional; most of them liberal, they did not show anti Semite feelings. Except the Polish language teacher Mr. Protasevitsh who was a Catholic College graduated. He did not omit any occasion to tell a dirty story about a well-known minority. (I was told that during the Fascist occupation Professor Protasievitsh was ardently collaborating with the SS solving the Volozhin Jews final solution).

The school was directed by Doctor Konopnitski, a short very intelligent man, nephew of the famous Polish poetess Mary Konopnitska. He taught us Mathematics and Geography. We were glad to participate at his lessons; an important part of which he used to tell very interesting stories from around the world, not neglecting politics. After the Soviets occupied Volozhin our director -"Dirtio" (so nicknamed by affection) continued his teaching and educating methods. Once he compared the German dictatorship to an inverted pyramid, supported by military bayonets. He claimed that the pyramid should fall when during war the bayonets are turned as requested against the enemy. The Police understood the allusion. A day later Mr. Konopnitski was arrested and sent to the Communist Concentration Camps whence he never returned.

Mrs. Kopylova a big and strong woman was our director's life partner. As doctor of natural sciences she taught us Botany and Zoology. After the director's arrest she was "resettled" in Siberia. I had the opportunity to work with her there at hay harvest in a collective farm. Mrs. Kopylova was really a very good, strong and efficient worker. She proved practically her botanic knowledge.

Our teachers were called "professors". Except the French language teacher, she was called "Ma Soeur" – "My Sister" in French. As a Catholic nun she wore white monastery garments. "Ma Soeur" was a sympathetic lady teaching French grammar and French popular songs. I remember them till now.

The majority of the gymnasia students learned German as second language in the morning hours. Our group to learn French was a small minority once a week at afternoon. Also learning French was the Volozhin "Starosta's"- (District governor) daughter. We were jealous looking as the "Starostianka" the highest Volozhin official's daughter would be conducted home after School in an elegant carriage harnessed to a pair of beautiful horses.

We learned hard, the Tarbut graduated children in a foreign environment. But we became accustomed and finally defended ourselves honorably during the lessons and the recreations. We participated in the School excursions by foot and on bicycles to the Berezina and to the Count Tishkievitsh summer palace in Biala, 20 km. from Volozhin placed within a fenced for deer and gazelle natural Park reserve inside the big Nalibok Forest.

For the first time in our life we participated also at a true dancing party that was organized by the School before Christmas.

The hard learning and the pleasant time passing stopped suddenly with the outbreak of the war on September 1st, 1939.

The doors were widely reopened three months later when the Polish gymnasia was converted to a Russian High School. It became filled with Jewish youth, thirsty for education, which they had been deprived of during the Polish Numerus Clausus regime.

During the 20 month Soviet period the School flourished. Higher classes were added. Many Jewish teachers, refugees from the territories occupied by the Nazis Polish were employed. The Russian High School functioned until the outbreak of the German – Soviet war on June 22, 1941.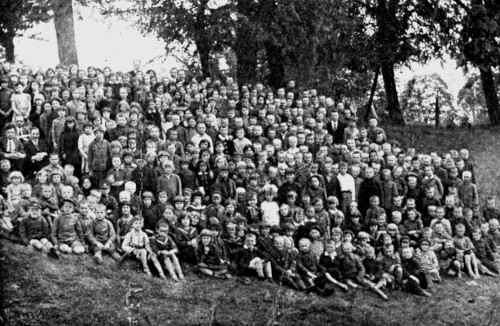 The Gymnasia High-School In Volozhin-taken September 1998
The building remains intact until now. Nowadays it serves as a professional Belarus agriculture school on the Naberezhna Street in Volozhin.
1938/1939 graduates from Volozhin Tarbut School last class students
and from the Volozhin Polish Gymnasia first year Jewish Students.
| | | |
| --- | --- | --- |
| First Name | Last Name | Nickname |
| Arele | Tsart | |
| Avromtshe | | Der Guiber |
| Bentshe | Finger | |
| Bentsike | Finger | |
| Berl | Tsart | Der Tzigayner |
| Eyzer | Finger | |
| Feygl | Berman | |
| Frumke | Goloventhitz | |
| Frumke | Alperovitsh | |
| Golde | Rubinshteyn | |
| Hayim | Lungen | Lungen-Leber |
| Hayke | Rudnitski | Di Kadelikhes |
| Itke | | |
| Itskhok | Perski | Nehame-Leythes |
| Leybl | Berkovitsh | |
| Meyshele | Halpern | |
| Reyzl | Vaysbord | |
| Sonie | Perski | Boonies |
| Sorke | | Di Mazepe |
| Voolke | Brudno | Ptsholke |
| Yosele | Altman | Kurtser Freitig |
All of them murdered at the age of 17-18 by the German Nazis and their European associates

God Almighty, avenge our young schoolmates' innocent blood!

From all classmates two only had escaped the Shtetl's fate: Etele Rogovin and Monie Perlman (the translator), both of them now living in Tel-Aviv.
---
[Page 454]
"The Sale of Yossef" show
by Reuven Rogovin
Translated by M. Porat
Edited by Judy Feinsilver Montel
And the Volozhin-City rejoiced. Everyone was talking about "The Sale of Yeysef" which would be shown by the Volozhin Amateur band with Avrom Berkovitsh as director. Although, for the time being not a sign could be seen of the important event, but some whispering might be heard.
But when the water pump was evacuated from the firemen's building every one knew for sure that the show accessories were installed and that the firemen's local was prepared for the cultural event.
Then the curious asked: Who would be the actors to form the band? Very few, the nearest only were told secretly: Shimon's role would be Yankev Hayim the butcher's son, Yehuda's role – Yudl Sore Leyes and Yoysef's – Motke Gdaliye Zisl's. All those names were reasonably accepted. But the public was astonished to hear that the main role would be played by Meyer Peshe Yente's, a man over fifty years old, chronically ill with asthma, who never stops coughing and moves heavily. This one and no other had been assigned to perform the role of Pharaoh.
There are times to lengthen and times to make it short. I'll tell the story straight. On a bright morning Hayim Branke's (Narushevitsh) was seen putting signs all over the shtetl. The signs announced in Yiddish that in this and this day, and at this and this time the "Sale of Yossef" show, directed by Avrom Berkovitsh will take place in the Volozhin firemen's local. Evidently all tickets were immediately bought. All the Shtetl's who's who were present at the gala show. The local was festively decorated, a stage with a curtain were installed. The spectators were dressed in festive clothes. The audience was stunned when the curtain rose up. A true miracle. Hard to believe that it was the creation of Avrom Berkovitsh's hands. Look at the first scene: On the stage center a true bonfire was set. The fire burnt. Yossef's brothers warming up around it are singing "Flame rise up, Rise up flame". On the horizon Shimon and Levy appear, armed with long knives well shaped from tiles. Their blood is boiling, ready to kill and to exterminate the Shkhem people who contaminated Dina, their sister. The scene is reaching its culmination point when Meyer Peshe Yentes enters the stage. Wonders and miracles! When I saw Meyer, who changed his figure into Pharaoh, I could not restrain myself and I called loudly: "Bravo Berkovitsh! Well done!"
It was said by our sages: Even if the wisest men from around the world gathered it would not be in their power to turn white a crow's wing. But it was done by Avrom Berkovitsh. He changed the laws of nature. I could not believe the sight my eyes have seen. From Meyer's bosom appeared the figure of Pharaoh, a real representative of the Raamses dynasty. The crown on his head was a real crown. Although suffering chronic asthma, incessantly coughing and moving heavily – he remained Meyer, Peshe Yente's son. But with Avrom Berkovitsh's make up he became the mighty ruler…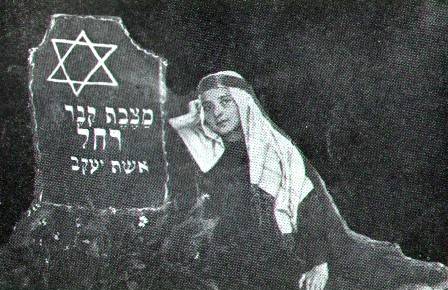 Fruma Kivilevitsh as Yossef in the "Sale of Yossef" show
---
[Page 476]
Batiya Miryam Berlin, born Epstein
The spouse of Hanaziv, Meyir Bar-Elan's mother
By Meyir Berlin
Translated by M. Porat
Edited by Eilat Gordin Levitan and Judy Feinsilver Montel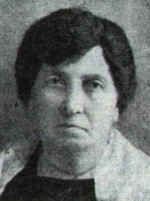 Batiya Miryam, the Rabbi's wife known in Litvak Yiddish as "The Rebetzin Bashe Mirl", was HANAZIV's second spouse. She was a vital and powerful woman in her nature, character and energy. She stood by her husband's side and was of significant help in his private life as well as in the Rabbi's public activities, for more than twenty years.

Long before her ascendance to the Volozhin Rabbinical sphere she was already a significant person.

As a young girl she was unusual and unlike most young women, she possessed an intense enthusiasm and devotion to the Torah, thoughtful outlook on life and extra- ordinary energy.

Bashe Mirl was born in Bobruysk to her father Yekhiel Mikhael Haleyvi Epstein, the great Rabbi. She was brought up in Novozikow, where her father became the town's Rabbi. When she arrived at matching-making age, several young men from the best and richest families were ready to ask for her hand. And no wonder: She was good-looking, intelligent, well educated and with good manners. She read and spoke Hebrew and knew the Russian language to a degree.

But those young men did not impress the young maiden. She told her parents that she was not interested in riches, pleasure, beauty or bravery. Her single desire was to marry a scholar who was dedicated to the Torah and Holy Scriptures.

Despite her pleas she became engaged and married a decent young man, son of a very rich family in the town of Tshernigov. He promised to dedicate all his time to Torah study according to his young wife's demands.

A short time passed after the wedding and Bashe Mirl realized that although her husband spent some time poring over the holy books, there was no wisdom inside him, and he had no ambition, he did not wish and maybe was not able to become an erudite scholar. The young wife stood up and told her husband and her father in law, that she was not ready to pass her life in house of richness and honor, but where Torah is absent. So she had to ask for a divorce.

She left behind all the jewelry; she did not touch any one of the beautiful dresses she received as gifts. She claimed consistently that she had nothing against her husband and his family; she was simply unable to live with an ignorant person. Her husband refused to grant her a divorce. Bashe–Mirl decided to leave his house and town, and one day she did.

The Russian law allowed the husband to find and bring home his runaway wife accompanied by police escort. The husband with his father used this law and the police began a search for the rebel wife. She did not return to her parents' home, and she hid out for months until she obtained the divorce. The parents regarded their daughter's behavior as very abnormal.

"Why are you leaving a fortune and a house full of worldly goods without a sufficient reason and what will become your future?" - Her parents and relatives asked, after she returned home. Her answer to them was: I would rather marry a poor, undistinguished person or even an old man, but never someone who would neglect the Torah studies, because though he may be honored by some other people, I Batia-Miryam despise such people.

In those days, HANAZIV's first wife Rayne Bashe (Reb Itsele's daughter) passed away. Rabbi Dov from Slutsk, a Yeshiva emissary from Volozhin, happened to visit the region where Bashe Mirl's family lived. He was acquainted with the parents of the famous divorcee.

R' Dov heard the amazing story of the young woman, who despite her beauty, her youth and intelligence would prefer a life of poverty, but Torah and God- fearing instead of an affluent and honored life with a Torah ignorant man. He went to her parents' house to speak with them. He especially pleaded with her mother Mikhla, Hanaziv's younger sister. He laid out his suggestion that their daughter should be married to the renowned Yeshiva head. Both of them, mother and father were angry hearing the proposition of a match for their young and beautiful daughter and an old man, thirty years elder than the would be bride. However such a negative opinion on the subject was only expressed in discussions that her parents had.

She had never seen her old uncle, but his knowledge and erudition was renowned over the Jewish World, so she knew about him. "I should be dust at his feet; I will be his daughter and servant, should he only spread his wings over me. There cannot be more happiness for me than to be wife of this prodigy. Old age and hard life would do nothing to me if I had only the chance to be this Torah – Giant's partner in life".

The emissary returned to Volozhin and put the suggestion of marriage before the Rabbi. He did not finish describing his proposition when he was interrupted by Hanaziv: Is it possible that a woman 30 years younger than I, and accustomed to the life of a big city, would consent to come to me. I do cannot alter the ways of my life, and how could I do so much evil to the blood from my blood, to my sister's daughter?

But the emissary was very tenacious; he didn't stop traveling from Volozhin to Novozikov back and forth until a meeting was held in Molodetshno. And that is how a wonderful woman became the Rabbi's wife in Volozhin – the "Volozhiner Rebetzin", Hanatziv's spouse.

As immense was her love for the Torah, so her love for charity work and justice was great. She was able to sit for many hours without a move hearing the voice and melody of the Torah study. She herself would persevere in learning the Holy Scriptures. Despite her continuous occupation with her household affairs and especially with the Yeshiva, she never missed her "day" of Psalms, and on the Shabbat days she would read two pages of "Mikrah" (from the Pentateuch) and three of the "Unklos" translation, and also in the Russian and German languages.

The Rebetzin was aware of all the troubles the Yeshiva students' encountered. She would always search for solutions to their problems. And when they complained she would comfort the young men by telling them of the bright future that awaited them when they would be rich in spirit and in Torah knowledge.

In case of serious illness, she would invite physicians' specialists from a big town and bring them into Volozhin to cure the sick Yeshiva Men. So it's no wonder that the young woman became renowned for her benevolence and energy.

The affection for the Rabbi's wife was fully demonstrated during her malady. The alarmed doctors could not find a remedy. Hundreds of Volozhin men and women mingled with Yeshiva students in a gathering. They cried, prayed and asked the Almighty healer of the sick to save the beloved woman. A new name was added to her birth name; she was called Haya-Batia-Miryam. The crisis passed that same evening. Healed she rose up that night.

Soon after their marriage Hanaziv asked her if she would consent to go with him to the Land of Israel. She agreed with enthusiasm, she would go not only to die there but also to live in the Promised Land side by side with her great husband.

She came to Erets Israel, but not with him. Bashe Mirl moved to the Holy Land years after her husband passed away. She lived there surrounded by her children and grandchildren.
---
This material is made available by JewishGen, Inc. and the Yizkor Book Project for the purpose of
fulfilling our mission of disseminating information about the Holocaust and destroyed Jewish communities.
This material may not be copied, sold or bartered without JewishGen, Inc.'s permission. Rights may be reserved by the copyright holder.
---
JewishGen, Inc. makes no representations regarding the accuracy of the translation. The reader may wish to refer to the original material for verification.
JewishGen is not responsible for inaccuracies or omissions in the original work and cannot rewrite or edit the text to correct inaccuracies and/or omissions.
Our mission is to produce a translation of the original work and we cannot verify the accuracy of statements or alter facts cited.

Volozhin, Belarus

Yizkor Book Project

JewishGen Home Page
---
Yizkor Book Project Manager, Lance Ackerfeld
This web page created by Lance Ackerfeld
Copyright © 1999-2019 by JewishGen, Inc.
Updated 23 Sep 2006 by LA