Lost Youth
(Poland)
Translation of Neurim Avudim
Written by Liber Taub
Privately published in 1995
---
Acknowledgments
Project Coordinator
Ada Holtzman z"l
Our sincere appreciation to Liber Taub for permission to put this material on the JewishGen web site.
This is a translation from: Neurim Avudim , Lost Youth: Holocaust Memories; Survived as a Boy: Two Ghettos,
One Forced Labour Camp, Three Concentration Camps, Liber Taub, author, 1995, privately published
---
This material is made available by JewishGen, Inc. and the Yizkor Book Project for the purpose of
fulfilling our mission of disseminating information about the Holocaust and destroyed Jewish communities.
This material may not be copied, sold or bartered without JewishGen, Inc.'s permission. Rights may be reserved by the copyright holder.
---
JewishGen, Inc. makes no representations regarding the accuracy of the translation. The reader may wish to refer to the original material for verification.
JewishGen is not responsible for inaccuracies or omissions in the original work and cannot rewrite or edit the text to correct inaccuracies and/or omissions.
Our mission is to produce a translation of the original work and we cannot verify the accuracy of statements or alter facts cited.
---
To the memory of my mother Chana neé Adler, my father Tuvia Taub, my sister Bela, my brothers Icchak and Szlomo,
my grandfather Ber Taub and all other members of my family who perished in the Holocaust.
To the memory of the parents of my wife Mania, her mother Chana neé Wiloga, her father Abraham Goldberg,
her sisters Rozka, Hela and all the other memebrs of her family who perished in the Holocaust.
---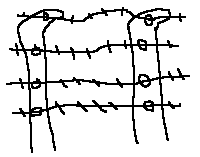 A Forward, March 1995
August 1939
Before and the beginning of WWII
Gombin
To Gombin and backwards
The Occupation
545 Forced Labour in Plock
Works I performed in various German units
Airport
Building shooting range
The Air Force quartermastership
The Archbishop city
The Archbishop Dr. Nowowiejski
The priests school
My brother Herszek (Cwi)
The genius Rabbi Zysza Plocker of blessed memory
Ghetto Plock
Erection of the Ghetto until deportation
Ghetto Wierzbnik-Starachowice
"The paternal grandfather Ber Taub z"l died in ghetto Starachowice and is buried in its Jewish destroyed cemetery. His son, Tuwia Taub z"l, my father, died after one month and is buried near him. No single photo of them both remained… They died of hunger"
Knitting
Forced Labour Camp Starachowice
Shoes
Auschwitz Birkenau
Shoes - Part 2
Buna
Gleiwitz
Evacuation
Liberation
The Way to Plock
Photographs
(See also: http://www.zchor.org/taub/taub.htm)
---

Yizkor Book Project

JewishGen Home Page
---
Yizkor Book Director, Lance Ackerfeld
Emerita Yizkor Book Project Manager, Joyce Field
Contact person for this translation Ada Holtzman z"l
This web page created by Lance Ackerfeld
Copyright © 1999-2022 by JewishGen, Inc.
Updated 11 Jul 2009 by LA