EDUCATION AND CULTURE
Translated by David Goldman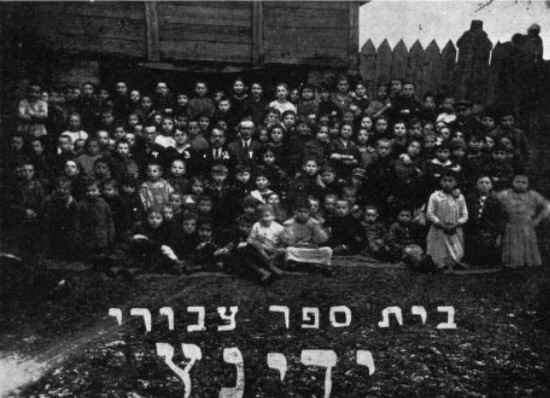 The Public School (this was the occasional name of the Talmud Torah) in the early 1920s
Teacher: 1. Yisrael Toporovsky 2. Baruch Yoshchikman 3. Mrs. Kaufman (wife of the doctor;
it is said that she committed suicide by injecting poison. 4. The writer Yisrael Zamora (Tel Aviv).
---
The Establishment of the Talmud Torah Public School
Documents from 1907
[Pages 239-40]
Excerpts from the Official Bylaws of the Talmud Torah Public School in Yedinitz. Date: May 15, 1907
Official permit for the Talmud Torah. Date: July 6, 1907
---
The Establishment of the Talmud Torah Public School for Children in Yedinitz
Text within Photo: Founders and Supporters of the Tarbut National School in Yedinitz, 1925.

Photo taken upon the departure of Mordechai Lachtermacher for Brazil.


Seated in middle: 1. Moshe Voskovoynik 2. Avraham Greenstein 3. Leib Goichberg (Odesser) 4. Chaim Gukovsky 5. Mordechai Lachtermacher 6. Yisrael Shott 8. Motya Zeidman 9. Fruma Litvak.

Standing, from right: 10a. Shmuel Lerner (Varnetchka) 10. Tema Kizshner 11. Bronka Gurfinkel (Brazil) 12. Gittel Zeidman 13. Zonis (sister of Sheindel) 14. Manya Fichman 15. Sheindel Zonis 16. Eidel Galon (Goren) 17. Tanya Gurfinkel 18. ----- 19. Menucha Gelman 20. Polya Rosenthuler 21. Dina Rosenthuler 22. Chaya Chasid 23. ----- 24. ------ 25. Dina Feingold 26. Tsilia Goldstein (Rosenthul).

Seated on the ground, from right: 27. Sheintsa Kertsman 28. Zvia Fishman 29. Miriam-Manya Weizman-Caspi (Israel) 30. Fradis 31. Gusta Revkolovsky 32. Buzya Gandelman (South America) 33. Sonya Gandelman-Sozshman (Israel) 34. Manya Silberman-Malay (South America) 35. Esther Silberman 36. ------
---
The Cheder School in Yedinitz at the End of the 19th Century
Yosef Diamant
| | |
| --- | --- |
| | My first years of education were under the elementary school cheder teacher Leib Knish Leviva. In those days most people used to add positive-sounding nicknames and sometimes negative-sounding ones. Of course, the teachers also were known by various nicknames. |
---
This material is made available by JewishGen, Inc. and the Yizkor Book Project for the purpose of
fulfilling our mission of disseminating information about the Holocaust and destroyed Jewish communities.
This material may not be copied, sold or bartered without JewishGen, Inc.'s permission. Rights may be reserved by the copyright holder.
---
JewishGen, Inc. makes no representations regarding the accuracy of the translation. The reader may wish to refer to the original material for verification.
JewishGen is not responsible for inaccuracies or omissions in the original work and cannot rewrite or edit the text to correct inaccuracies and/or omissions.
Our mission is to produce a translation of the original work and we cannot verify the accuracy of statements or alter facts cited.

Yedintsy, Moldova

Yizkor Book Project

JewishGen Home Page
---
Yizkor Book Project Manager, Lance Ackerfeld
This web page created by Lance Ackerfeld
Copyright © 1999-2017 by JewishGen, Inc.
Updated 24 July 2003 by LA