Red Cross activity
Moshe Porat
Bela Saliternik (see "In the Holocaust Shadow,", page 525) sent me two documents.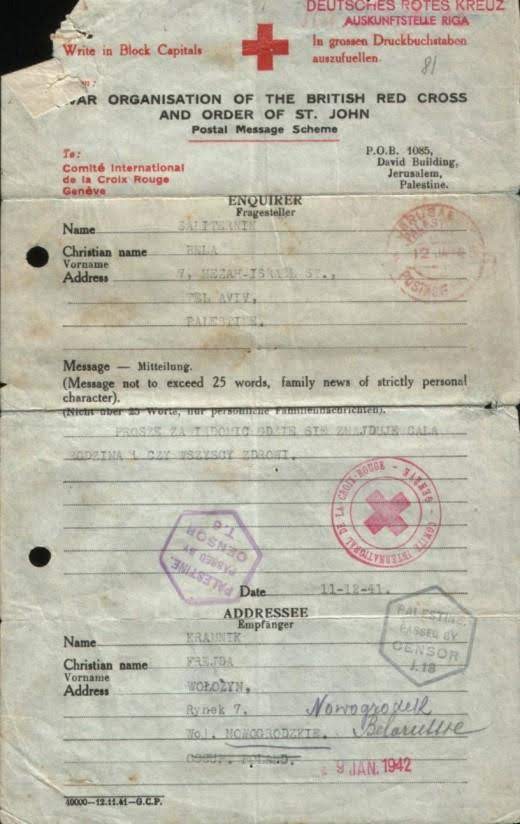 The first one is an enquiry she had submitted to The Red Cross in Jerusalem on December 11th 1941. Printed in Polish on a Red Cross official form , the translation reads: "Salitenik Bela, from Tel Aviv, 7 Nezah Israel St., Palestine, is asking the Red Cross to find out and to let her know the whereabouts of her mother, Freyda Kramnik, and family, from Volozhin, Market Square 7, Novogrudek District, Occupied Poland - Belarus." The enquiry bears several stamps: "Jerusalem Postage office", "Palestine Censor pass", "Red Cross Committee – Geneva" and "January 9 1942".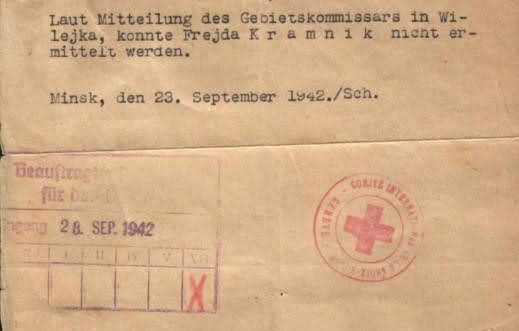 The second document is the official answer of the Red Cross in Geneva, typed in Minsk, dated September 23th 1942. Written in German, it says that the Gebits commissar in Vileyka could not find Freyda Kramnik's whereabouts.

It was all the Red Cross in Minsk agents had to tell.

It happened in the spring and summer months of 1942 when the Nazis executed hundreds of thousands of Jewish families in Belarus. The mass slaughters were accomplished in daylight, in sight of the local population, accompanied by music, dancing and ringing of church bells. The sondercomando expeditions acted at this time over the entire Belarus-Litwak Yiddish Land. Frantz Karl Hess, second lieutenant of the thirty second " Zondercommando," had completed on May 42 his bloody missions to Volozhin, Vishnievo, Dolginov and Ivia, brutally killing hundreds of Jewish children, men and women among the thousands executed by his unit and its local assistants. (See "Franz Karl Hess Trial ", page 576.)

It was done before the eyes of the entire local gentile population.

The Red Cross agents certainly knew it, but did not yell. They did not tell a word.
---
This material is made available by JewishGen, Inc. and the Yizkor Book Project for the purpose of
fulfilling our mission of disseminating information about the Holocaust and destroyed Jewish communities.
This material may not be copied, sold or bartered without JewishGen, Inc.'s permission. Rights may be reserved by the copyright holder.
---
JewishGen, Inc. makes no representations regarding the accuracy of the translation. The reader may wish to refer to the original material for verification.
JewishGen is not responsible for inaccuracies or omissions in the original work and cannot rewrite or edit the text to correct inaccuracies and/or omissions.
Our mission is to produce a translation of the original work and we cannot verify the accuracy of statements or alter facts cited.

Valozhyn, Belarus

Yizkor Book Project

JewishGen Home Page
---
Yizkor Book Director, Lance Ackerfeld
This web page created by Lance Ackerfeld
Copyright © 1999-2022 by JewishGen, Inc.
Updated 23 Sep 2006 by LA