The Leaders and Activists of the Agudah Movement
The young people of the Agudat Yisroel were active and creative. Unfortunately, the majority perished. Those who distinguished themselves in the movement were: Avraham Hersh Rot, Menachem Shockett's son Chaim Kronenberg (both in Israel), Moshe Klinger, Isaachar Berko, Shlomo Slud, Zelig Ostry, and later we also meet the chaverim: Shmuel Dovid Bzshezshinsky, Laibl Fish (now in America), Tzaduk Ostry and others.
Two prominent Jews played the main part in the :
[Page 136]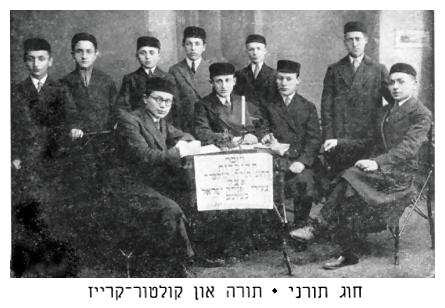 Torah and Culture Group
Reb Mordecai Nior and Reb Yoel Dov Weingarten. Reb Mordecai Nior was very smart. He greeted everyone with a smile. He had a witticism for every conversation. He gave all his energy to the Agudat Yisroel and its institutions. He was the president of the Agudah for many years, was at the head of the Bais Yaacov School that educated hundreds of girls in the religious spirit. From the talmidos (girl students) there was founded the group B'not Agudat Yisroel -- a religious girls association. The Bais Yaacov teachers conducted there.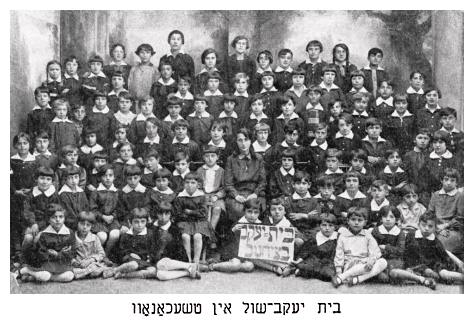 Bais Yaacov School in Ciechanow
[Page 138]
blank
---
This material is made available by JewishGen, Inc. and the Yizkor Book Project for the purpose of
fulfilling our mission of disseminating information about the Holocaust and destroyed Jewish communities.
This material may not be copied, sold or bartered without JewishGen, Inc.'s permission. Rights may be reserved by the copyright holder.
---
JewishGen, Inc. makes no representations regarding the accuracy of the translation. The reader may wish to refer to the original material for verification.
JewishGen is not responsible for inaccuracies or omissions in the original work and cannot rewrite or edit the text to correct inaccuracies and/or omissions.
Our mission is to produce a translation of the original work and we cannot verify the accuracy of statements or alter facts cited.

Ciechanow, Poland

Yizkor Book Project

JewishGen Home Page
---
Yizkor Book Project Manager, Lance Ackerfeld
This web page created by Lance Ackerfeld
Copyright © 1999-2018 by JewishGen, Inc.
Updated 16 June 2003 by LA