Southern Africa Jewish Genealogy SA-SIG

Wynberg Hebrew Congregation
Wynberg, Cape Town

THIS CONGREGATION IS NOW DEFUNCT
AND THE PREMISES ARE NOT USED AS A SYNAGOGUE.
Editor: Dr Saul Issroff
Copyright © 2004-2015 Saul Issroff, Mike Getz, SAfrica SIG
and Jewishgen Inc.
URL: http://www.jewishgen.org/SAfrica/synagogues/51/index.htm
Updated: 22 March 2015
Our thanks for additional information go to Mr Lionel Sher.
FOR ENLARGEMENT, CLICK ON THE IMAGE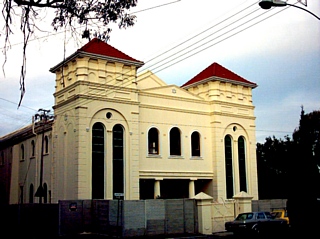 South-east corner of Piers Road and Mortimer Road,
Wynberg, Cape Town.
The Jewish community of Wynberg held its first services in 1896 in premises in Park Road, Wynberg.
On 26 October 1902 the Wynberg Hebrew Congregation was established at a General Meeting for the purpose of building a Synagogue.
Its first President was Mr Lewis Kottler.
High Holy Day services in 1903 and 1904 were held in the Wynberg Town Hall.
The foundation stone was laid on 2 August 1904 by Rev. A.P. Bender.
Consecration: 4 June 1905 by Mr Hyman Lieberman, Mayor of Cape Town.
The Communal Hall was opened on 15 August 1937.
The Synagogue was enlarged in 1952.
The then main entrance was partly damaged by a bomb in December 1998.
The building was purchased by Science of the Soul in 2005 and since then occupied by that organization."
---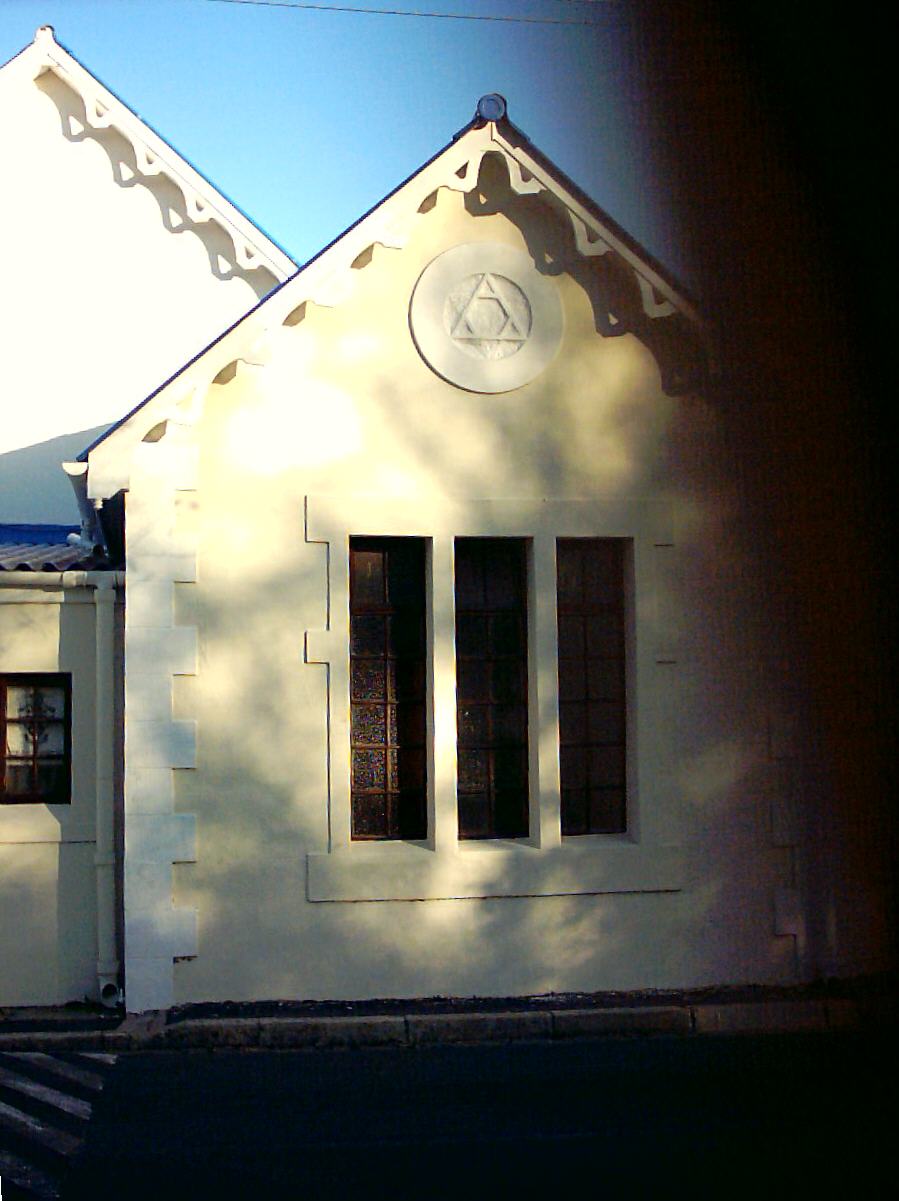 This building detail with a clearly visible Magen David is situated at the corner of Piers Road and Coghill Road, a few hundred yards east from the Wynberg Synagogue. The building was a lodge and was never a synagogue. In 2004 it housed an auctioneering business.