Southern Africa Jewish Genealogy SA-SIG

Chabad Synagogue
Sea Point, Cape Town
Editor: Dr Saul Issroff
Copyright © 2002-2005 Saul Issroff, Mike Getz, SAfrica SIG
and Jewishgen Inc.
URL: http://www.jewishgen.org/SAfrica/synagogues/34/index.htm
Date: 15 June 2005
A picture of the Synagogue interior may be seen at
http://www.jewishvirtuallibrary.org/jsource/Judaism/synsa.html
On 10 January 2003, Brian Katzen wrote ..

[The photograph shows] the signing of the purchase of the Arthur's Rd shul Chabad, and [I] noticed that my late father, Henry Katzen, is also in it. He passed away just a few months ago in Sydney, Australia, aged about 92 and I'm sure he would have been very interested in seeing it. He had a great sense of history and was until his last moments a living encyclopaedia of who's who in the CT Jewish community. We in fact lived a few doors away from the Arthurs Rd shul for a year and I used to daven there frequenty. I recall my father talking about the people in the photo, and met Kellner and Slivkin there. My late father also officiated at the induction of Rabbi S.B. Gourarie. He was involved in many shuls in Cape Town as choirmaster, non-stop from 1948 until he hung up his baton in about 1985 or so. The shuls included Vredehoek 1948-1949, Sea Point 1949-1963, Gardens 1963-1966, Camps Bay 1966-1981, and also Rondebosch and Claremont over yomtov after that.
In October 2001, Eli Rabinowitz wrote: ... this historical photo ... of my two grandfathers together - on the extreme left Rev Nachum Mendel Rabinowitz and on the extreme right - Socher Zeldin. It was taken in 1953 - the signing of the purchase of the property in Sea Point for the Chabad Shul.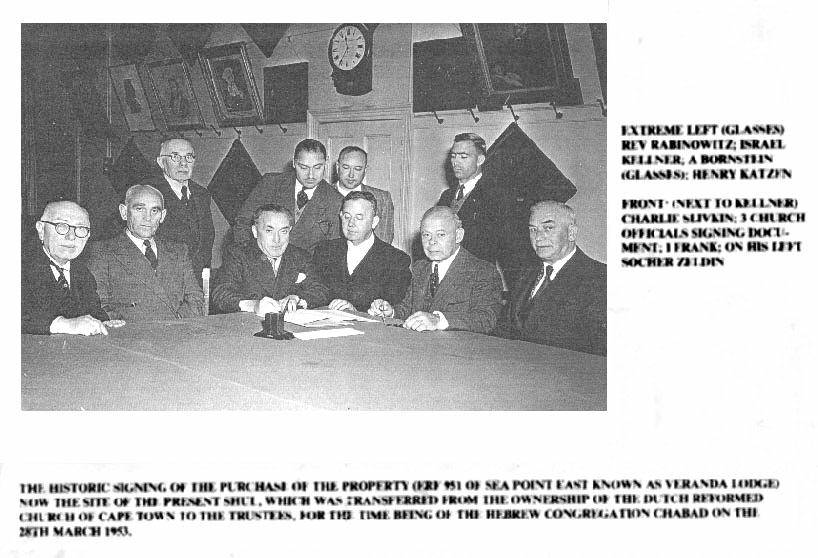 Text at right of picture:
Extreme left (glasses) Rev. Rabinowitz; Israel Kellner; A. Bornstein (glasses); Henry Katzen
Front: (next to Kellner) Charlie Slivkin; 3 Church officials signing document; I Frank; on his left Socher Zeldin.
---

Front ( all seated) - left to right: Rev N M Rabinowitz, I Kellner, C Slivkin, DRC official, I Frank and S Zeldin.
Back (all standing) - left to right: A Bornstein, H Katzen, DRC official, DRC official.

---
Text below picture:
The historic signing of the purchase of the property (Erf 951 of Sea Point East known as Veranda Lodge) now the site of the present shul, which was transferred from the ownership of the Dutch Reformed Church of Cape Town to the trustees, for the time being of the Hebrew Congregation Chabad on the 28th March 1953.
---