On 21 April 2001, David Horwitz Dhorwitz@ITS.uct.ac.za wrote: ...
The De Aar synagogue was opened in 1918 on land donated by Isaac and Wolf Friedlander (The founders of the town). Dr Landau from Johannesburg officiated at the opening. Isaac Friedlander [ggf of the writer] was made honorary life president of the congregation.
The synagogue was consecrated on the 22 Adar 5678 (6 March 1918) by the Chief Rabbi Dr J.L. Landau.
The committee consisted of: President: Isaac Friedlander; Vice-President: M. Hoffmann; Treasurer: Sam Blumberg [Isaac's brother in law]; Joint secretaries: Hessel Friedlander [Isaac's Brother] & Sam Blumberg.
Committee: O.I. Goldstuck, M. Rudansky, J. Thal, I. Jacobson, S. Joffe, W. Lowenberg, I. Goldberg.
The Rev. I. Borkof was the first Rabbi.
When I last visited De Aar in about 1984 the Shul was in good repair but only used on the High Holy days when sufficient people came from the surrounding districts to form a Minyan. At that time there were only two Jewish families left in De Aar. I believe that the shul finally closed in the late 1980's or early 1990's.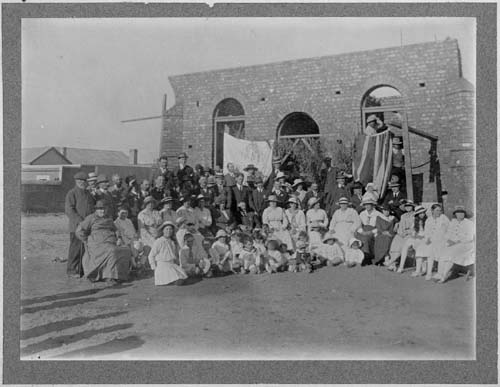 The stone-laying at the De Aar Shul in 1917

David Horwitz writes: The stone was laid by Isaac Friedlander, he can be seen sitting in the middle of the front row with his wife Alida Friedlander (nee Taurog). She's the one wearing the dark suit to his left. The lady 4th to the right of Isaac is his sister-in-law (and cousin) Jenny Friedlander. She was the wife of his brother Wolf and had come from Cape Town to represent that branch of the family (they had already left the town by then). I believe that many of the children in the picture would be Isaac and Alida's children (my g-aunts and uncles) - they had 10, the youngest (my gm) would have been about 4 at this time.