Southern Africa Jewish Genealogy SA-SIG

Cape Town Archives Repository
Editor: Dr Saul Issroff
Copyright © 2003 Saul Issroff, Mike Getz, SAfrica SIG
and Jewishgen Inc.
URL: http://www.jewishgen.org/SAfrica/formal_sources/archive-ct.htm
New: 8 June 2004
FOR ENLARGEMENT, CLICK ON THE IMAGE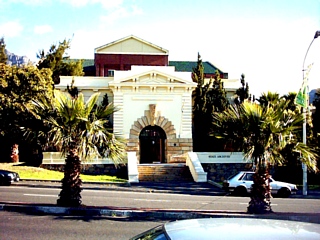 Cape Town Archives Repository
Formerly the Roeland Street jail

Many of the following details have been copied from an explanatory leaflet which is available in the foyer of the Cape Town Archives Repository.

Address: Roeland Street, Cape Town. In the former Roeland Street jail, near the top/south end, between Solan St and McKenzie St, below the intersection with De Waal Drive and Jutland Avenue). Reserved parking is available by prior arrangment in nearby Drury Lane.

Telephone: 021-462 4050.
Facsimile: 021-465 2960.
E-mail: capearch01@hotmail.com
Web-site: http://www.national.archives.gov.za
Hours of Customer Service

The reading room is open

Monday-Wednesday: 0800-1600
Thursday: 0800-1900
Friday: 0800-1600
Sat-Sun: closed

Reading room tables are allocated at random by the security personnel in the foyer.

Fire-arms, handbags, briefcases, umbrellas, etc.

No fire-arms, bags including handbags, briefcases, paperbags, moonbags and computer bags as well as umbrellas may be taken into the reading room by customers. Lockers are provided for the storage of these items. [A rucksack measuring 14 inches x 12 inches x 7 inches fitted easily into a locker]

Cell phones (mobile phones) must be switched off.

Photocopying, microfilm and computer facilities

Photocopying may not always be available due to frailty of paper files. When available, all photocopies are executed by repository personnel. Customers may copy documents by means of their personal digital or film camera.

Consulting of documents

The use of fountain and ball point pens is prohibited. Pencils are supplied free of charge. [Pencils were not available on 7 June 2004]
Stationery and equipment to be brought into the reading room are confined to one notepad or writing pad and a laptop computer. [Electrical power outlets are situated beneath the reading tables. The outlets will accept a three-pin (round-pin) 240volt 15amp connector. Check availability beforehand.]

Documents in the Closed Period

In accordance with the National Archives and Records Service of South Africa Act (Act 43 of 1996 as amended) documents in the custody of the Repository which are 20 years or older are available for public access. Access to documents younger than 20 years (the closed period) may be approved upon written request directed to the Head of the Repository.