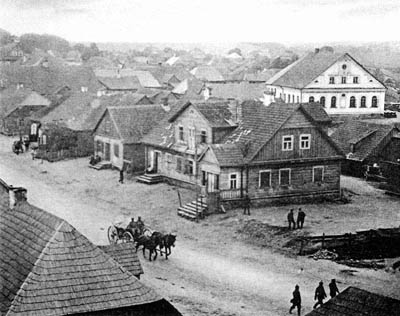 History
Courtesy of
Hank Propp
Shkudvil, Lithuania
1998 marked the addition of the following searchable databases, now grouped under the RESEARCH category on the newly designed home page:

--·

"Phoenix Project" - A database of 12,000 residents of the Brest ghetto, Soviet victims of the Nazis with links to original signatures --· "French Deportations Database - Index to Germans, Swiss and Austrians deported from France, 1942-1944." compiled by Peter Lande --· " Index to over 9,000 records of U.S. Consulates in Jerusalem, Jaffa and Haifa, 1857-1935." compiled by the JGS of Greater Washington --· " Grodno Gubernia 1912 Voters Database - Names of over 26,000 men eligible to voter in the Russian parliamentary elections of 1912" --· "Keidan Cemeteries - Tombstone inscriptions from seven cemeteries: in Lithuania, New York, Chicago" compiled by Ada Greenblat --· "Bristol Cemeteries - Indexes of three cemeteries in Bristol, England, with tombstone photographs", compiled by Sheila and Alan Tobias, Judith Samuel, Michael Hill, Audrey Greenwood, Marlene Sutton, Sam Silverman, Sam Nirenberg and Rabbi Hillel Simon. --· "Boston Jewish Advocate Obituaries - Index to thousands of obituary notices from this Massachusetts newspaper", Compiled by David Rosen

Other accomplishments for 1998 included

--·Newly designed Home Page --· New JGFF options: A new "list" option, to easily view your own entries. A new country filter for searches. --· Missing Identity website, which helps child survivors of the Holocaust find their identity. --· German SIG web pages --· Belarus SIG web pages --·50 Yizkor Books now online at first anniversary of this project --·ShtetLinks Project was restructured to be able to handle the growth it was experiencing. --·SIG Mailing Lists Message Archive goes online. --·Revamped the JewishGen Discussion Archive --·JewishGen ShtetlSchleppersSM introduced- Visit your ancestral shtetl and share in preserving history for future generations.

--· Yizkor Translation Project saw over 50 translations go online in the first full year of operation of this exciting new project.

On the technological level and through the continued generosity of the Zantker Charitable Foundation we were able to make significant capital purchases to keep up with the increasing demands. We purchased a high end listserver, Lyris which was put on it's own server to handle the JewishGen mailing list and all the lists of the SIGs we host. In November, our servers were moved to a T-1 line and housed at our ISP. Complete remote administration was implemented.

JewishGen implemented it's own version of the Family Tree of the Jewish People and by years end there were over 300 trees and 400,000 names. We began retooling the engine for our own system in the latter part of 1998 and went live early part of 1999.

1998 saw the continuation of cooperative relationships with institutions of higher learning. With Arizona State University, The Phoenix Project went online and for the first time allowed viewing of original documents and signatures of those in the Brest Ghetto applying for "passports". Most recently the Yizkor Book Project received permission from the Indiana University Press to present three chapters of the classic book "From a Ruined Garden" prior to their June publication date.The JewishGen Global Holocaust Registry is working in close coopoeration with The Shoah Foundation to insure that no stone is left un-turned in comparing our respective databases. JewishGen began negotiations with Beth Hatefutsoth and IAJGS to merge the family tree data from the three organizations into one master database accessible to the largest number of people ever.

Not to be minimized is the energy and creative contribution of our operations team, Carol Skydell, Warren Blatt, Iris Folkson, and Michael Tobias. Further, we are fortunate to have a Board of Directors holding tight to the vision which has become the hallmark of JewishGen. JewishGen is looking forward to continuing and expanding on our vision as we continue a momentum to the new millennium with a grassroots effort for "preserving our history for future generations".
Copyright © 1999 JewishGen, Inc. All rights reserved
JewishGen® is a trademark of JewishGen, Inc.