JCR-UK is a genealogical and historical website. It is not the official website of this congregation.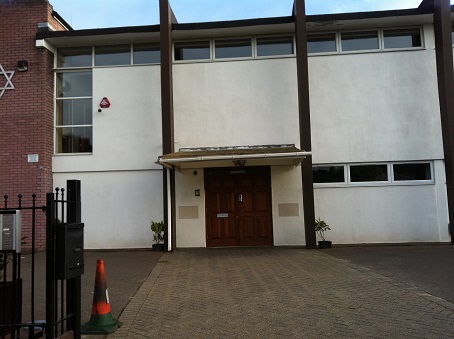 Barnet Synagogue
© David Newman 2011

Name:

Barnet Synagogue (from 2006(i))

Former Names(ii):

Barnet and District Affiliated Synagogue (1954 to 2006)

(also known as Barnet Affiliated Synagogue and Barnet and District Synagogue)

previously Barnet and District Hebrew Congregation (until 1954)

Address:

Eversleigh Road, New Barnet, Herts. EN5 1NE (since about 1965)

Previously at 1 Netherlands Road New Barnet(iii)

Current Status:

Active

Date Formed:

1948(iv)

Ritual:

Ashkenazi Orthodox

Affiliation:

A full member of the United Synagogue since about 2010(v), having previously been an affiliated synagogue from 1954.(vi)

Website:

Ministers & Rabbinical Team:

Rev. Bernard Koschland - from about 1965 until about 1969(viii)

Rev. (later Rabbi) I. Newman - from about 1969 until about 1989(ix)

Rabbi P. Rosenheim - from about 1989 until about 1995(x)

Rabbi Shaul Robinson (& Rebbetzen Sarah Robinson) - part-time from 1997, full-time from 1998 until 2005(xi)

Rabbi Barry Lerer (& Rebbetzen Naomi Lerer) - from June 2006 until present (July 2018)(xii)

Membership Data:

Number of male seat-holders(xiv)

1954 - 50 male seat-holders
1960 - 65 male seat-holders
1970 - 175 male seat-holders

Charitable Status:

As a constituent of the United Synagogue, the congregation operates within that organisation's registered charity status (registered charity no. 242552).

Local Government Districts:

The area known as New Barnet is in the London Borough of Barnet and was previously (until 1965) part of the county of Hertfordshire and within the former Urban District of East Barnet.(xv)

Registration District (BMD):

Barnet (since founding of Congregation) - Register Office website

Cemetery
Information:

For United Synagogue cemeteries, see Cemeteries of the United Synagogue.

Notes & Sources (↵ returns to text above)
On-line Articles and Other Material
relating to this Congregation
on JCR-UK

List of United Synagogue Congregations
Jewish Congregations in the London Borough of Barnet
Jewish Congregations in Greater London
Page created: 15 November 2006
Latest revision or update: 29 July 2018
---
Explanation of Terms | About JCR-UK | JCR-UK home page

Contact JCR-UK Webmaster:
jcr-ukwebmaster@jgsgb.org.uk
(Note: This is to contact JCR-UK, not the above Congregation)

Terms and Conditions, Licenses and Restrictions for the use of this website:
This website is owned by JewishGen and the Jewish Genealogical Society of Great Britain. All material found herein is owned by or licensed to us. You may view, download, and print material from this site only for your own personal use. You may not post material from this site on another website without our consent. You may not transmit or distribute material from this website to others. You may not use this website or information found at this site for any commercial purpose.


Copyright © 2002 - 2018 JCR-UK. All Rights Reserved