The Survivors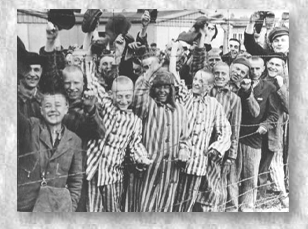 1945: The Liberation of Dachau
We need your testimonies! It is extremely important for Survivors and any other witnesses to the atrocities of the Holocaust to document their testimonies. If you'd like to participate in this important project by sharing your own testimony as a Survivor, just just send an e-mail to Vincent Châtel or Gord McFee (in French or in English).

Thank for your help.
---
Auschwitz:
Auschwitz by Richard Suffit, a Belgian survivor of Auschwitz and Buchenwald.
Buchenwald:
Flossenburg:
Hirshberg:
Hirshberg by Jay Kuperman: Jay tell us about his experience in Hirshberg, a sub-camp of Gross-Rosen, and Buchenwald concentration camps.
The Nazi Occupation in Holland:
Westerbork:
Westerbork by Gabrielle Stilten, survivor of Theresienstadt. This text describe the conditions of life in, a transit camp located in Holland which was the first stop before the extermination camps.
The Lebensborn: