Sassmacken Voter List 1907

The list of voters for the Russian parliamentary elections (Duma) in 1907 provides names of 56 males, both Gentile and Jewish. Because of the requirements for inclusion in the voter lists, the Jews included in the list are mainly businessmen. All the names have been transcribed from the Russian, and complemented by a unique and invaluable addition: the personal memories of Solomon Katzen, who was born in Sassmacken in 1902 and kindly recorded these recollections in 1999 at the age of 97.
Sassmacken Voter List 1907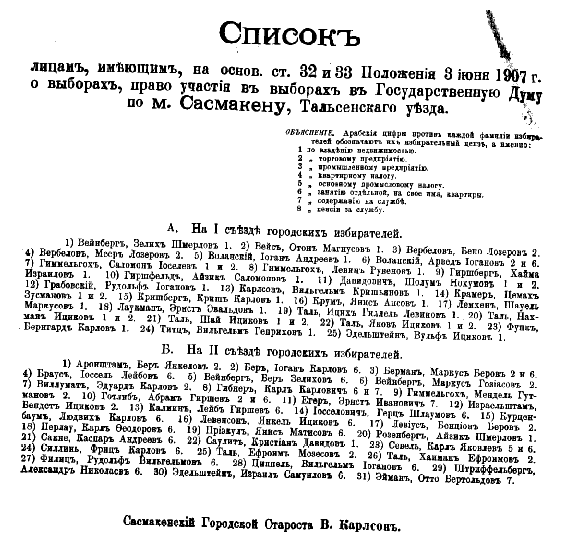 Qualifications required to vote in various categories:


1. Owners of real estate;
2. Business owners;
3. Individuals who produce products;
4. Property taxes, based on where the individual was living;
5. Persons paying taxes based on their business;
6. Persons with rooms rented in their names;
7. Persons who are employed;
8. Pensioners.



Voter Lists
Numbers in parentheses following names correspond to voter categories above; descriptions following some of the names (mainly Jewish ones) are Solomon Katzen's recollections of the people concerned.
Category A:

1. WEINBERG, Zelig Schmerlov (1) Zelig Weinberg's father's name was Shmerl, derived from the Hebrew shmero ("listen"). Weinberg was the most common Jewish name.
2. VEIS, Oton Magnuson (1)
3. VERBELOV, Beno Loserov (2)
4. VERBELOV, Meier Loserov (2) Benno Verbelov and his brother Meir were partners in a yard goods store, which also had some hardware items, like the steel strips that were the wagon equivalent of tires.
5. VOLANSKIA, Iolan Andreiev (1) Volanski, non-Jewish, owned the only hotel in town.
6. VOLANSKIA, Arved Ioganov (2 & 6)
7. HIMMELHOCH, Salomon Josselev (1 & 2)
8. HIMMELHOCH, Levin Rubinov (1)
9. HIRSCHBERG, Chaima Israelov (1)
10. HIRSCHFELD, Aizik Salomonov (1)
11. DAVIDOVITCH, Solomon Nachumov (1 & 2) Full name was Sholem Tsemach. Owned grocery store and matzah bakery.
12. GRABOVSKIA, Rudolf Yoganov (1)
13. KARLSON, Wilhelm Krisyanov (1) The Elder of the town and owner of the house in which the Katzen family lived. Solomon remembers a pig being brought there for slaughter.
14. KRAMER, Tsemach Zusmanov (1 & 2) Had a dry goods store, sold cloth and sewing stuff.
15. KRISBERG, Kris Karlov (1)
16. KRUM, Yanis Anson (1)
17. LEMCHEN, Saul Markuson (1)
18. LAOKMAN, Ernest Evandov (1)
19. THAL, Itzik Hillel Levinov (1)
20. THAL, Nachman Itzikov (1 & 2)
21. THAL, Shai Itzikov (1 & 2) Shai Tal was not only the wealthiest man in town but also acted as a banker for people who entrusted their savings to him. He ran the general store and had an ice house in his yard. He was especially busy on market day. He was childless.
22. THAL, Yakov Itzikov (1 & 2) Yakov and family lived in the former German school. Yakov and Nachman (Cheme) Thal, brothers, ran a tannery. Yakov, the oldest brother, also operated a leather goods store. Cheme Tal was known to go to Riga for some kind of business.
23. FUNK, Bernhard Karlov (1)
24. TITCH, Wilhelm Henrichov (1)
25. EDELSTEIN, Wolf Itzikov (1) Was the landlord of the town's only bakery. He also owned the only facility in town where men working for him prepared the uppers of leather shoes. Wolf was the first man in town to own a gramophone, which he probably bought in Riga. People would go to his home to listen -- Solomon never went inside, but saw the amazing gramophone from the outside of the house and could hear the music as he walked by. Wolf Edelstein's son was already in South Africa and sent for his beloved, the daughter of one of the Verbelovs. They married in South Africa.



Category B:

1. ARONSTAM, Ber Yankelov (2)
2. BER, Yohan Karlov (6)
3. BERMAN, Markus Berov (2 & 6)
4. BRAUS, Yossel Leibov (6)
5. BEINBERG, Ber Zelichov (6)
6. BEINBERG, Markus Hoziason (2)
7. BILLUMAT, Eduard Karlov (2)
8. GIBNER [HIBNER], Karl Karlovich (6 & 7)
9. HIMMELHOCH, Mendel Gutmanov (2)
10. GOTLIEB, Abram Hirshev (2 & 6)
11. EGER, Ernst Ivanovich (7)
12. IZRAELSTAM, Bendet Itzhikov (2)
13. KALMIN, Leib Hirshev (6)
14. YOSSELOVICH, Hersch Slaumon (6)
15. KURCHENBAUM, Ludvich Karlov (6)
16. LEVENSON, Yankel Itzikov (6) Yankel Itzikov Levinson might have been the rabbi. [1912 Courland Directory shows Yankel Levenson as a shoemaker, with Abram L÷wenberg as the rabbi.]
17. LEVIUS, Benzion Beron (2) Operated the town's biggest drug store (as opposed to an apothecary -- could not dispense drugs, just cosmetic type stuff and other goods).
18. PERLAU, Karl Theodorov (6)
19. PRIZKUL, Yanis Matison (6)
20. ROSENBERG, Aizik Shmerlov (1)
21. SACHNE, Kaspar Andreiev (6)
22. SAULIT, Kristian Davidov (1)
23. SEREL, Karl Yakovlev (5 & 6)
24. SELLIN, Fritz Karlov (6)
25. THAL, Ephraim Mozecov (1) Had a general store.
26. THAL, Heiman Ephraimov (2)
27. FILITZ, Rudolf Wilhelmov (6)
28. SHISSEL, Wilhelm Yohanov (6)
29. STRIFFELBERG, Aleksander Nikolaiev (6)
30. EDELSTEIN, Israel Samuelov (6)
31. ZIMAN, Otto Bertoldov (7)



---