Page created: 25 July 2003
Latest revision or update: 6 December 2016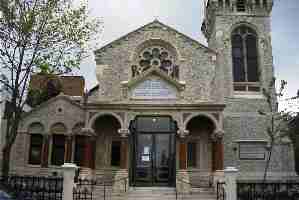 Chatham Memorial Synagogue
Chatham and the Borough of Medway
The Kentish towns of Rochester, Chatham, Gillingham and one or two other small towns near the Thames estuary in southeast England, form a single conurbation, and are known as the Medway Towns, named after the river Medway on, or close to which, the towns are situated. In 1974, the local government district, known as the Borough of Medway, was formed, within the county of Kent, by the merger of the municipal boroughs of Rochester (which then had City status) and Chatham, together with adjoining areas. In 1979, it was renamed the Borough of Rochester-upon-Medway, and in 1982, the City of Rochester-upon-Medway. In 1998, it was enlarged by the incorporation of the adjacent district of Gillingham, was renamed the Borough of Medway and become a unitary authority.
Medway Jewish Community
The has been a Jewish community in the Chatham and Rochester for nearly 300 years, and prior thereto, there had been a medieval Jewish community in Rochester. The community's synagogue, although called the Chatham Memorial Synagogue, is actually situated in Rochester.
Congregation Data

Name:

Chatham Memorial Synagogue

Predecessor Synagogue:

Cottage Jews' Tabernacle Synagogue

Address:

366 High Street, Rochester (rebuilt 1869/70, in memory of Captain Lazarus Simon Magnus, on site of previous synagogue)

Date Founded:

1740

Current Status:

Active

Ritual:

Ashkenazi Orthodox

Marriage Certification:

Group for Certification: Board of Deputies
Appears in 1998 General Registrar Official List
Worship Number: 30747
Registration District: Chatham

Membership Numbers:

1852 - 30 seatholders (Board of Deputies return)

1860 - 31 seatholders (Board of Deputies return)

1870 - 34 seatholders (Board of Deputies return)

1880 - 30 seatholders (Board of Deputies return)

1890 - 15 seatholders (Board of Deputies return)

1900 - 10 seatholders (Jewish Year Book 1896/7)

1905 - 10 seatholders (The Jewish Year Book 1906)

1999 - 38 members (Board of Deputies return)

Website:
On-line Articles and Other Material relating to the
Medway (Chatham & Rochester) Jewish Community
on JCR-UK
Chatham & Rochester Jewish Cemetery Information
Jewish Cemeteries in Chatham and Rochester
Chatham Old Jewish Burial Ground (actually situated in Rochester). It is behind the synagogue at 366 High Street, Rochester and is the only cemetery in the UK attached to a synagogue. It was in use from the 1780s.

Articles and other material on JCR-UK:

Chatham Cemetery, by Martyn Webster, includes an introductory article to the Chatham Cemetery database (above).

Chatham Municipal Cemetery, Jewish Section
(See also IAJGS Cemetery Project - Chatham & Rochester)
Jewish Population Data
(excluding student population)

1901

67

(The Jewish Year Book 1901)

1905

103

(The Jewish Year Book 1906)

1915

111

(The Jewish Year Book 1916)

1934

100

(The Jewish Year Book 1935)

1945

60

(The Jewish Year Book 1946)

1955

120

(The Jewish Year Book 2056)

1965

150

(The Jewish Year Book 1966)

2004

50

(The Jewish Year Book 2005)
Records

Synagogue Records: