[Page 490]
Abraham Berkovich*
By Fruma Tzitreen (Rogovin)- Tel Aviv
Translated: by Matz Dany and Matz Rivka
– A. Berkovich's granddaughter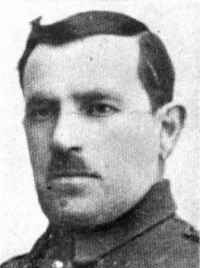 Abraham Berkovich was a notable and important person in Volozhyn. For that reason, I can still clearly recall his character traits. He was very handsome, of average build, smart and always in a humorous mood.
He came from Minsk. His parents were orthodox Jews and they wished to send him to study in the Volozhyn yeshivah. However, he preferred secular studies, and with his father's permission, he attended a high school in Minsk. After his father's sudden death, he was forced to leave his high school studies so he could help his mother with the household income. He continued with night lessons. He learned on his own and read many books. He was able to gain a great deal of knowledge.
He settled in our town when he married Keile from Volozhyn. He opened a pharmacy in the most central location, in the market place, in the house of Mushka Persky (the baker). The pharmacy was decorated in very good taste. Two of its walls were covered with fitted polished shelves and on them were medicines in bright glass jars. The floor was polished with red varnish and covered with carpets, which were made by local farmers.
For a few years the pharmacy was the family's only source of income. When the children grew up and the parents decided to send them to a high school in Vilna, Keile opened a fabric store to supplement their income. The business succeeded and it enabled them to cover the large expenses they had acquired for their children's education in the big city.
Abraham Berkovich had his hands everywhere. There was not a trade that he was not proficient in. He truly had golden hands. He was familiar with various construction skills (although he never officially studied them). After the big fire burned the town in the twenties, he remodeled his shop in the Perelman's building, so he could still make a living. At a later time he bought from Yehuda Abraham Persky, the ritual slaughter, his burnt bricks building. He cleared the damage and the water and rebuilt it. His power of invention was revealed when he invented a round heating oven covered with tin-a real invention in Volozhyn of those days. He knew carpentry, and the furniture in his home, which had an original style, was all hand made.
Prior to every Passover, he would work diligently to beautify and to decorate his house with many colors and ornamentation. The sight was heart warming and cheerful. He also excelled in sign painting posters and announcements. He likewise applied make-up for the theater actors. Those deeds revealed his artistic talent and creative imagination. In addition, he would read the Torah and would blow the Shofar in the synagogue. Although in all these skills he was self-taught, all things he did turned to artwork.
"The Fire Brigade" was his main hobby. He founded it and chaired it until 1935. From that year on, the Polish government took away the management of the association from the Jews and gave it to the district governor. Berkovich remained as a consultant and an honorary member only.
Berkovich was always very active and restless (due to his good physical health). His hands were always occupied with toil. His brain was always engaged with ideas and plans. For instance he realized that the city needed an optician. He gained quick knowledge in this area, he brought an optical instrument and the problem was solved. A story was told about him: once someone came to him to order glasses. Berkovich checked his vision and found it quite normal, but the "patient" insisted he needed glasses. Berkovich gave him clear glasses and asked him to come for a check up after some time. The man came back and was very satisfied that the "glasses" saved his power of vision.
Many who knew Berkovich mentioned in many occasions his stories and fables, we'll present some of them.

Once a woman came to his pharmacy she was desperate and requested poison to end her life. Berkovich tried to dissuade her and encourage her to abandoned her plans but she persisted in her request. Finally he gave her a large amount of castor oil. She took the medicine and immediately rushed home, so she can end her life peacefully. When the medicine started working and she felt pain, she became aware that her dying day isn't better that her day of birth, and since there is such pain in dying, she decided to stay alive.

Here is a tale of two who disagreed and each of them stuck to his opinion. Once a drunk strolled in the street and made a lot of noise. A policeman approached him and demanded the drunk to stop yelling. The drunk said: "it's my business, policeman".

policeman said: "if you don't obey me I'll arrest you". "That's your business," replied the drunk.

A tale of a painter who painted the walls first and only than the

Ceiling. Berkovich remarked that it is logical to paint the ceiling first as to not soil the walls. The painter answered angrily: "I work in this profession over forty years the same way, I don't need any advice from a nonprofessional"…

---
* Reuven Rogovin told the life story period of Berkovich before he came to Volozhyn. Back
---
[Page 492]
Yaakov (Yani) Garber
By Lea Baksht (Fayguenboym) – Netanya
Translated by M. Porat z"l
Edited by Sandra Krisch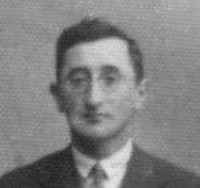 Yaakov (Yani) Garber was one of the prominent and most honored figures in our town. He came to Volozhin from Nikopol in Ukraine, where he met his future wife, Haya-Dina, born Perlman. The Perlman family lived in Nikopol during the First World War. Yani had an advanced academic education. His inner character was revealed in his behavior and attitude toward people. He honored everyone with whom he dealt.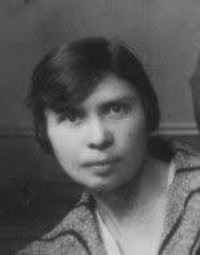 Haya-Dina was a highly intelligent woman. One always imagined her reading a book of Russian classics. She died at a young age during an appendectomy, which was carried out at the Volozhin hospital in1933. Mourning was announced in Volozhin. All Chanukah events were canceled.

Yani owned oil, flour, and wine stores. Yani and his family lived in the big stone house built by count Tishkievitsh for R' Hayim and ultimately inherited by Malka Perlman (born Itskhaykin), Haya-Dina's mother. The stores were situated in its large cellars. Yani also managed his business from this house.

Yani was a wealthy man, but he did not chase after power and money. He worried a lot about the shtetl's poor population. The congregation offered him as a candidate to be the town head. The Jew's candidacy was rejected by the Polish authorities. He was elected, though, to represent the Jewish inhabitants in the town council. Yani considered this position to be an important function and worked hard to defend and to satisfy his congregation.<9> Yani was a devoted Zionist. After the pogrom in Pshitek, Poland in 1937, I was ready to make aliya. I asked Yani's advice. He took the pogrom seriously. He considered it a dangerous sign for Polish Jewry. Yani encouraged my decision and was very sorry not to be able to stand up and do it himself. Every Jew, in his opinion, was obliged to go to the land of Israel to build a home for our persecuted people. Such was his opinion but, like the great majority, he and his two sons did not move.

Yani was musically talented and blessed with perfect pitch. He often joined the Beytar amateur chorus. The choir's singing became a true multi-voice concert when Yani added his voice.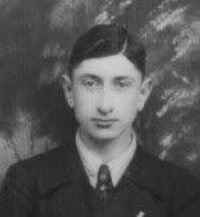 A piano stood inside the big salon of the stone house. It was the only piano in the shtetl. Dania, the elder son, practiced on it. He was taught by a Russian woman.
Gossip held that Malka, Dania's grandmother, once said "The teacher woman is already covered with gold while Dania is still playing octaves." But Dania continued his piano studies in spite of the shtetl's sayings. In parallel with high school studies he took music lessons in the Vilna conservatory, and he used to play concerts in public. Ultimately the piano saved his life. During the Soviet rule the authorities invited him to teach piano in Russia. There he married a Bobruysk-born girl; she too was a pianist. They lived in Russia when the Germans occupied Volozhin. Dania the pianist survived the war.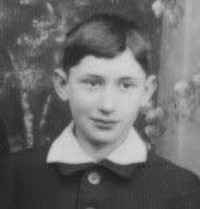 Monia, Yani's younger son, carried out a prank during the Russians' rule. He tore Stalin's mustache from a wall journal at the Volozhin high school. The Soviet NKVD did not like such pranks. Monia Garber was arrested in March 1941 and was sent to the Soviet Gulag camps. After the Stalin-Sikorski agreement in 1942, he joined the Polish Anders army. With this army he reached Israel via Teheran. He could not remain in the Land and was obliged to go to Italy with his Polish unit.

Monia (Moshe) Garber was killed in the Monte Cassino battle against the Germans as a soldier of the Polish army.

After the Germans occupied Volozhin, Yani Garber was nominated to function as head of the Volozhin Judenrat. The SS ordered him to gather 300 Jews to carry out a job near the military sport stadium. The assembled group was confined in the cinema building near the stadium. Word spread that all of them would be executed in the stadium. Yani understood that the Germans cunningly lied. As the Judenrat head, he could go free. But it was against his nature. Yani asked to be the first to be shot. His request was fulfilled. Yani Garber, one of the most honored Volozhin citizens, head of the town's Judenrat, was murdered at the sport stadium in Volozhin on October 28th 1941.

Yani Garber was the first Volozhin martyr in the first Volozhin mass slaughter.
---
This material is made available by JewishGen, Inc. and the Yizkor Book Project for the purpose of
fulfilling our mission of disseminating information about the Holocaust and destroyed Jewish communities.
This material may not be copied, sold or bartered without JewishGen, Inc.'s permission. Rights may be reserved by the copyright holder.
---
JewishGen, Inc. makes no representations regarding the accuracy of the translation. The reader may wish to refer to the original material for verification.
JewishGen is not responsible for inaccuracies or omissions in the original work and cannot rewrite or edit the text to correct inaccuracies and/or omissions.
Our mission is to produce a translation of the original work and we cannot verify the accuracy of statements or alter facts cited.

Valozhyn, Belarus

Yizkor Book Project

JewishGen Home Page
---
Yizkor Book Director, Lance Ackerfeld
This web page created by Lance Ackerfeld
Copyright © 1999-2022 by JewishGen, Inc.
Updated 23 Sep 2006 by LA