[Page 168]
b) Poets, Writers, Scholars, public figures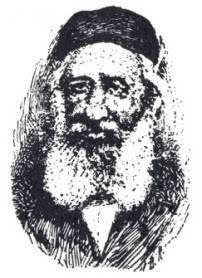 Shulman, Kalman
Writer



He was Rabbi Itsele's cherished student. Born in 5579 Av 18th (9.8.1819), in old Bikhov (Mohilev Region - Belarus). He was a remarkable "haskala" (Enlightenment) writer. "The world History" is known among his important books. Shulman also had translated and edited the "Mysteries of Paris". He died in 5659 Shvat 5th (15.1.1899), in Vilna.




Nakhmany, Mordkhay
Public personality



He was Hanaziv's and Rabbi Hayim Soloveytshyk's student (studied in Volozhin for four years). Born in 5638 (1867), Kislev 28, in Nisvizh (Belaruss, Minsk region). He made Aliya in 5650 (1890) and was active in the Rehovot founding. He was active in the village council, in the agriculture committee and in the area of religious education. Died in 5710, at the first day of Shvat (19.1.1949), in Rehovot. - For article, see Table of contents, code 22.11





Visotski, Klonimus Zeev
Donator


Studied in Volozhin for three years, as Rabbi Itsele's student. Born in Old Sand (Kovno region). He became very rich from dealing with tea. A part of his wealth was dedicated for the Erets Israel settlement. An important part of his inheritance enabled the establishment of the Haifa Technion (Engineers School). He also invested money in the foundation of Petah-Tikvah. Died in 5664 (1904) in Moscow.

---
This material is made available by JewishGen, Inc. and the Yizkor Book Project for the purpose of
fulfilling our mission of disseminating information about the Holocaust and destroyed Jewish communities.
This material may not be copied, sold or bartered without JewishGen, Inc.'s permission. Rights may be reserved by the copyright holder.
---
JewishGen, Inc. makes no representations regarding the accuracy of the translation. The reader may wish to refer to the original material for verification.
JewishGen is not responsible for inaccuracies or omissions in the original work and cannot rewrite or edit the text to correct inaccuracies and/or omissions.
Our mission is to produce a translation of the original work and we cannot verify the accuracy of statements or alter facts cited.

Valozhyn, Belarus

Yizkor Book Project

JewishGen Home Page
---
Yizkor Book Director, Lance Ackerfeld
This web page created by Lance Ackerfeld
Copyright © 1999-2022 by JewishGen, Inc.
Updated 14 Jul 2021 by JH