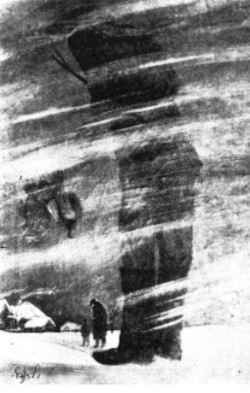 "Zhedka with the hens."
Oil painting from José Landau, Rio de Janeiro, Brazil
A sewing class sponsored by
distributors of Singer sewing machines
From right: Aharon Gurfinkel – representative of Singer.
From left: Mara, the sewing instructor (early 1930s).
---
Agricultural Workers, Field and Forest Contractors
Shmuel Kurmansky
Translated by David Goldman
At the outset of our survey, we should note that real farmers, that is, Jews who worked with their hands, were very few in Yedinitz. Those who worked the land with their hands were Berl Dudeleches (near the Pansky River) and Mordechai Davids (near the Seminary River). The word "river" does not mean a real river, but a standing pool. As farmers, they also included Jewish tobacco growers who cultivated dozens of acres of land.
---
Social Assistance Institutions
Mordechai Reicher
In Yedinitz, just like everywhere else, there were all types of associations, committees, and public institutions intended to assist the needy, of which there were many. These were voluntary charity institutions. The activists and contributors were volunteers. These associations and committees had Hebrew names that were common and accepted in Jewish communities: [English translations:] Aid for the Poor, Free Loan Society, Poor Bride Aid Society, Aid for the Sick, Passover Aid Society, Clothing Fund, Anonymous Charity Fund, etc. These committees were mostly unelected, and the activists considered their work to be sacred tasks.
---
Women's Committee to Provide
Food for Poor Students
1. Chayka Parikmacherin 2. Katz-Ronberg 3, 4. ----- 5. Sarah Fried 6a. Dora Bitner
7. ------ 8. Chaya Eisenberg 9. ---- 10. Yehudis Riesman 11. Zlata Zonenschein 12. Fanya Kormansky 13. Lisa Galperin 14. Chana Axelrod 15. ------ 16. Chaya Mayansky 17. ---- 18. Zvia Fishman 19. Manya Gerstein 20. Feiga Monstein.
---
This material is made available by JewishGen, Inc. and the Yizkor Book Project for the purpose of
fulfilling our mission of disseminating information about the Holocaust and destroyed Jewish communities.
This material may not be copied, sold or bartered without JewishGen, Inc.'s permission. Rights may be reserved by the copyright holder.
---
JewishGen, Inc. makes no representations regarding the accuracy of the translation. The reader may wish to refer to the original material for verification.
JewishGen is not responsible for inaccuracies or omissions in the original work and cannot rewrite or edit the text to correct inaccuracies and/or omissions.
Our mission is to produce a translation of the original work and we cannot verify the accuracy of statements or alter facts cited.

Yedintsy, Moldova

Yizkor Book Project

JewishGen Home Page
---
Yizkor Book Project Manager, Lance Ackerfeld
This web page created by Lance Ackerfeld
Copyright © 1999-2018 by JewishGen, Inc.
Updated 7 Sep 2002 by LA