| | |
| --- | --- |
| | Tarbut Library Committee, Yedinitz |
| 1. Pinchas Grobman 2. Antshel Sheindelman 3. Yisrael Shott 4. Chaim Gukovsky 5. Hillel Dubrow 6. Shimshon Bronstein 7. Y. Nemitchinitser 8. Moshe Steinbortz 9. Y. Bar-Zion Borochin (Tel Aviv) |   |
Public Libraries
Mordechai Reicher
Translated by David Goldman
        The Tarbut Library was one of the most stable cultural institutions in Yedinitz. For many years it was the only public library in town. Prior to it was the Popular Library established by Prince Kazimir at the end of the 19th century. It was located on "China". Most of its books were in Russian.
---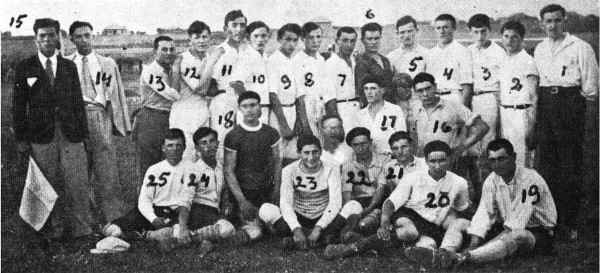 After a soccer match between the Yedinitz team and another team



1. ------ 2. Oren Friedman 3. Yasha Shitz (Israel) 4. Nyuma "Chort" 5. Yaakov Vinokur (Avraham Velvels) 6. Nyunya Friedman (killed in battle) 7. Aharon Schwartz 8. Avraham Weintraub 9. David Lieberman 10. Avraham Friedman 11. Misha Feinbaum 12. Baruch Vinokur The rest are not from Yedinitz.
Maccabi and Sports Activities
Attorney Meir Weissman
        People in Yedinitz thought that Maccabi was mainly an organization of wealthy students, and did not have any defined intellectual orientation. The truth was quite the contrary. The beginnings of the organization – at the time more general and with no name – were in the early 1920s. It appeared together with other Zionist youth organizations.
---
This material is made available by JewishGen, Inc. and the Yizkor Book Project for the purpose of
fulfilling our mission of disseminating information about the Holocaust and destroyed Jewish communities.
This material may not be copied, sold or bartered without JewishGen, Inc.'s permission. Rights may be reserved by the copyright holder.
---
JewishGen, Inc. makes no representations regarding the accuracy of the translation. The reader may wish to refer to the original material for verification.
JewishGen is not responsible for inaccuracies or omissions in the original work and cannot rewrite or edit the text to correct inaccuracies and/or omissions.
Our mission is to produce a translation of the original work and we cannot verify the accuracy of statements or alter facts cited.

Yedintsy, Moldova

Yizkor Book Project

JewishGen Home Page
---
Yizkor Book Project Manager, Lance Ackerfeld
This web page created by Lance Ackerfeld
Copyright © 1999-2017 by JewishGen, Inc.
Updated 24 July 2003 by LA