The Teacher
Mordechai Reicher
Translated by David Goldman
With fear and trembling I write my memories of our teacher Hillel Dubrow, who taught us so much from the fountain of his great spirituality, from which we drank, both young and old. We called him "Teacher." Just "Teacher." Even before we knew about the word Rebbe and about Rabbi Judah the Prince, we just called him Teacher, without any additional description.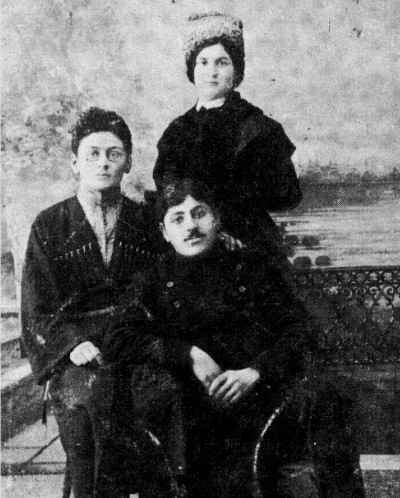 Senior leaders in Yedinitz in the first decade of the 20th century.
The girl wearing the fur hat is Zippora Kaufman, who eventually became Dubrow's wife and the first kindergarten teacher in Yedinitz. She died there in 1923. (See previous page). The other two people are unknown. The style of the photo was typical in those days
---
Outstanding Personality
Eliyahu Naor-Bitchutsky
        I first met Hillel Dubrow when I was a boy of thirteen. I once heard the sounds of happy children, which was during the recess period in the school. The children in the area and I immediately knew that at the open door of the new school the teacher sang and danced with his students. We looked over at the new school and saw a strange yet wonderful sight.
---
The Teacher Baruch Yashchikman
Yosef Magen-Shitz
For two decades, the teacher Baruch Yashchikman was one of the central figures among those involved in Hebrew education for the youth of Yedinitz. For most of the time, he served as a teacher in the Talmud Torah school, which was located in the Sha'rei Zion synagogue. After the teachers Toporov, Hillel Dubrow and others moved to Palestine, Baruch Yashchikman carried the burden of Hebrew and nationalist education for the younger generation.
The gravestone on the grave of Baruch Yashchikman.

From right, Eliyahu Rosenberg. Left, ritual slaughterer R. Yeshayahu Elkis (emigrated in 1972).
---
The Researcher and Linguist Yisrael Toporovsky
Yisrael Zamora
        The knowledge of ancient Hebrew literature – poetry, philosophy and other subjects – and the study of its history in order to subject all the confusion, distortion and importance to clarification and analysis – were not merely ordinary issues for Y. Toporovsky. They were of immediate importance. He was totally immersed in this, and totally devoted to it.
Boxed Article Below: Yisrael Toporovsky – His Biography
---
This material is made available by JewishGen, Inc. and the Yizkor Book Project for the purpose of
fulfilling our mission of disseminating information about the Holocaust and destroyed Jewish communities.
This material may not be copied, sold or bartered without JewishGen, Inc.'s permission. Rights may be reserved by the copyright holder.
---
JewishGen, Inc. makes no representations regarding the accuracy of the translation. The reader may wish to refer to the original material for verification.
JewishGen is not responsible for inaccuracies or omissions in the original work and cannot rewrite or edit the text to correct inaccuracies and/or omissions.
Our mission is to produce a translation of the original work and we cannot verify the accuracy of statements or alter facts cited.

Yedintsy, Moldova

Yizkor Book Project

JewishGen Home Page
---
Yizkor Book Project Manager, Lance Ackerfeld
This web page created by Lance Ackerfeld
Copyright © 1999-2017 by JewishGen, Inc.
Updated 24 July 2003 by LA