[Page 229]


The Sheindel Baum Organization
Mordechai Reicher
Translated by David Goldman
        The Sheindel Baum Organization (namesake was known as Sheindel Itses) was a medical organization on its own. Sheindel was a unique woman, a very old, short, heavy and slow person. On her spotted face she wore glasses, and behind them there were smiling, encouraging, motherly eyes. As she walked on the street she was helped along by a heavy cane, and in her other hand she carried a large bag filled with medical equipment and medication. In the winter nights before electricity was introduced into town, she was forced to carry a lantern to illuminate her way.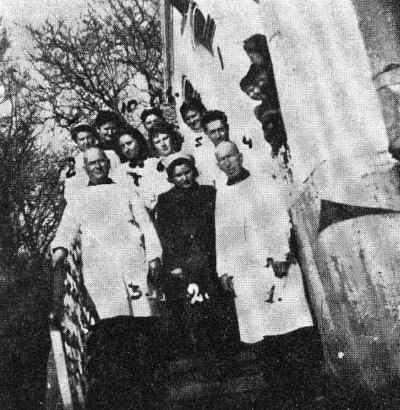 The staff of the Loibman Hospital after the War in 1945-46
1. Dr. Sobolevsky 2. Clinic staff person (a Russian) 3. Avraham Chayos, country doctor 4. Dr. Ferdman, today Bosin, a surgeon at Beilinson Hospital in Israel. 5. An assistant nurse (a Christian) 6. A Jewish Soviet doctor 7. Yaffe Rosenthal, today Rosenzweig in Netanya. She was then a nurse, and gave us this photo. 8. Buzya Steiff, a nurse in Yedinitz 9. Esther Wasserman (from the Mutchniks), secretary of the clinic 10. Assistant nurse (a Christian).
---
Popular Medicine and Faith in Prayer
Mordechai Reicher
        There were many occasions when medical intervention, doctors or medication, did not help an individual patient or the entire population when an epidemic broke out.
---
Dr. Rosa and Yisrael Shott


The came to Yedinitz in 1920 and visited Palestine in the 1930s. Yisrael Shott died in Bucharest in 1947, and Dr. Rosa Shott died in Solka in 1953
---
This material is made available by JewishGen, Inc. and the Yizkor Book Project for the purpose of
fulfilling our mission of disseminating information about the Holocaust and destroyed Jewish communities.
This material may not be copied, sold or bartered without JewishGen, Inc.'s permission. Rights may be reserved by the copyright holder.
---
JewishGen, Inc. makes no representations regarding the accuracy of the translation. The reader may wish to refer to the original material for verification.
JewishGen is not responsible for inaccuracies or omissions in the original work and cannot rewrite or edit the text to correct inaccuracies and/or omissions.
Our mission is to produce a translation of the original work and we cannot verify the accuracy of statements or alter facts cited.

Yedintsy, Moldova

Yizkor Book Project

JewishGen Home Page
---
Yizkor Book Project Manager, Lance Ackerfeld
This web page created by Lance Ackerfeld
Copyright © 1999-2017 by JewishGen, Inc.
Updated 7 Sep 2002 by LA