[Page 191]

SECTION TWO: ECONOMIC, INTELLECTUAL,
AND SPIRITUAL LIFE IN YEDINITZ (H,Y)
Translated by David Goldman
Domestic Economics, Society and Social Services


Health Care Institutions


Education, Culture and Theater


Teachers, Schools and the Gymnazia High School


Intellectuals / Spiritual Persons Religion
Status of Jewish Loan and Savings Fund in Yedinitz - as of 1/1/1929

Extract from the Report on the activities of the Loan and Savings Fund in Bessarabia prior to 1928.


a. Membership of the professional category – number of members as of 1/1/29: 761

b. Monetary activity

c. Growth of share capital, number of shares, and share average as of 1/1/29.

d. Loans issued in 1928; number of borrowers: 741

e. Distribution of loans based on purpose; amounts of issued loans

Distribution of agriculture loans

f. Administrative costs in 1928

ECONOMICS, SOCIETY and SOCIAL SERVICES
Jewish Occupations
by Shalom Caspi-Serebrenick
According to the last Romanian census of 1932, there were a total of 6,000 Jews in the Yedinitz on the eve of World War II. Over the generations Jews lived in relative calm and earned their livelihoods, making more or less money in business and trades, and yet others in agriculture and small industries.


Founders of the Loan and Savings Fund.
Audit Committee Directors.
Founded 10/17/1926.
1. Asher Kaufman (Froykes) 2. ---- 3. Hillel Dubrow 4. Aharon Bronstein
5. ----- 6. Meir Walevitch 7. Yechiel Nemichinitser 8. ---- 9. Yosef Speier
10. Yankel Moteses Schwartzman 11. Shmuel Ludmir
12. Itsik Yaakov-Shayas Greenberg 13. Attorney Yisrael Korman
14. Yosef Riesman 15. ---- 16. Lyovo Gukovsky
17. Mina Parnes (Yisrael), 18. Raphael Cooperman
---
[Page 197]
Growing Tobacco in our City
Aharon Chachmovitch
Aharon Chachamovitz, who was a farmer in Yedinitz and who grew tobacco for many years, currently lives in Israel at his son Yosef's kvutsa, where Yosef was one of the founders of Chanita. Ephraim Schwartzman-Sharon transcribed his words.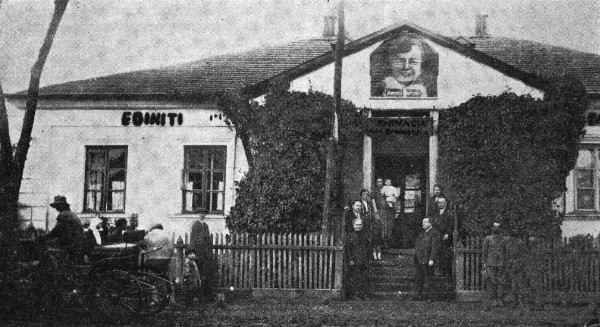 Avraham Bronstein's pharmacy on the Post Office Street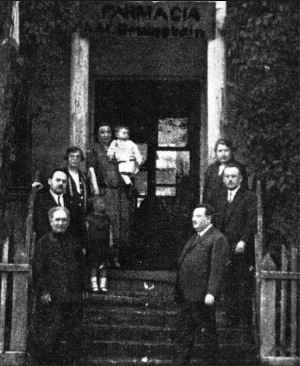 On the Steps of Avraham Bronstein's Pharmacy
Standing (from right, bottom to top): Shimon Shorr (died in Israel), Shimon Shrentsel (died in Chernovitz), Hinda (née Shorr) the wife of Avraham Bronstein (died in Israel).

From left, (from bottom to top): Dr. Silberman (died in Kishinev), Moshe Voskovoynik (died in Bucharest), Leah Galperin (in Israel), next to her the girl Zippora, Zvia Voskovoynik (in Israel), in her arms the child Yaakov (died on the front).
---
This material is made available by JewishGen, Inc. and the Yizkor Book Project for the purpose of
fulfilling our mission of disseminating information about the Holocaust and destroyed Jewish communities.
This material may not be copied, sold or bartered without JewishGen, Inc.'s permission. Rights may be reserved by the copyright holder.
---
JewishGen, Inc. makes no representations regarding the accuracy of the translation. The reader may wish to refer to the original material for verification.
JewishGen is not responsible for inaccuracies or omissions in the original work and cannot rewrite or edit the text to correct inaccuracies and/or omissions.
Our mission is to produce a translation of the original work and we cannot verify the accuracy of statements or alter facts cited.

Yedintsy, Moldova

Yizkor Book Project

JewishGen Home Page
---
Yizkor Book Project Manager, Lance Ackerfeld
This web page created by Lance Ackerfeld
Copyright © 1999-2018 by JewishGen, Inc.
Updated 7 Sep 2002 by LA