INTRODUCTORY SECTION
Blessings Upon Completion
[Hebrew]
Translated by David Goldman
With blessings we offer this Memorial and Yizkor Book to the surviving remnant of the Jews of our hometown, Yedinitz. This book is something of a monument to the gray daily lives and full Jewish, human and creative lives that poured forth in our hometown. May it be a memorial stone to both the great and simple folk who died: those who died a natural death, and those who died at the hands of their gentile neighbors and wicked murderers; those who lost their lives during the years of the Holocaust and blood in our hometown, and those who died in faraway places where they had been expelled and exiled; those who died or were killed in our ancient homeland that has been re-established; and those whose children died in the wars of Israel. Therefore we gave this book a name using a pun in Hebrew: Yad Le-Yad-initz [Monument {Yad means "hand" and "monument"} to Yedinitz]
---

Above: Memorial to the martyrs and the deceased;
Below: Rabbi D. B. Burstein eulogizes the community that was destroyed.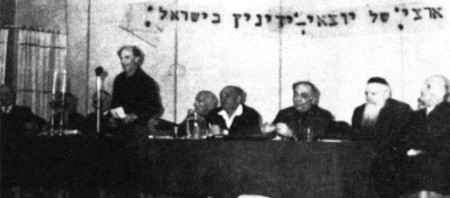 Mordechai Reicher (above) and Eliyahu Naor-Bitshutsky (may his death be avenged)
(below) speak to the audience


The second meeting of Yedinitz Emigrés in Israel
[Hebrew and Yiddish]
3/7/1967
At the head table, right to left: Mina Dubrov, Asher Goldberg, Perl Shorr-Goldberg, Leah Mann-Parnas, Alexander Melechson, Chaim Hurvitz, Shalom Kaspi- Serebrenik, Shimshon Burstein, Mordechai Reicher, Cantor Ungar, Ephraim Schwartzman-Sharon, Eliyahu Naor-Bitshutsky, Dr. Elimelech Blank

---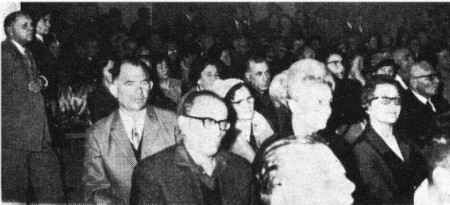 Anniversary of the death of M. Reicher
[Hebrew]
"Beit Notta" – Petach Tikvah

At the head table:
1. Yitzchak Shapira (Agricultural Center). 2. Chaim Billi (Secretary, M.P. [probably stands for "Merkaz or Machon Poalim" or something similar – Workers' Center or Institute.], Petach Tikvah. 3. Shalom Kaspi (on behalf of people from Yedinitz). 4. Yosef Chanani (Author and educator). 5. A. Reuveni (Director, Beit Notta, after the death of M. Reicher).

In the audience:
First row, among others: 1. Shoshana Reicher. 2. Polia Sharon. 3. Chanan Magen. 4. Yosef Magen-Shitz.
---
This material is made available by JewishGen, Inc. and the Yizkor Book Project for the purpose of
fulfilling our mission of disseminating information about the Holocaust and destroyed Jewish communities.
This material may not be copied, sold or bartered without JewishGen, Inc.'s permission. Rights may be reserved by the copyright holder.
---
JewishGen, Inc. makes no representations regarding the accuracy of the translation. The reader may wish to refer to the original material for verification.
JewishGen is not responsible for inaccuracies or omissions in the original work and cannot rewrite or edit the text to correct inaccuracies and/or omissions.
Our mission is to produce a translation of the original work and we cannot verify the accuracy of statements or alter facts cited.

Yedintsy, Moldova

Yizkor Book Project

JewishGen Home Page
---
Yizkor Book Project Manager, Lance Ackerfeld
This web page created by Osnat Ramaty
Copyright © 1999-2017 by JewishGen, Inc.
Updated 18 July 2003 by LA