Old Website Town Pages
Important Note
The information on this page has been compiled by Ukraine SIG long time ago.
As JewishGen and the Ukraine SIG evolved, the contents of the page became redundant with other areas of
JewishGen (specially the KehilaLinks) and the new SIG website.

This page will be temporarily hosted by the Ukraine SIG site until this contents is transferred to the corresponding
KehilaLink and/or indexed into the Ukraine Database. Then it will be removed.
Kiev city
Kiev Province
Babi Yar Memorial in KIEV
In Kiev, a memorial was erected to those who were murdered between the years of 1941-1943. On September 29-30, 1941 alone, 33,771 Jews were shot. It is estimated that 300,000 people - Jews and Gypsies for the most part - were killed at Babi Yar.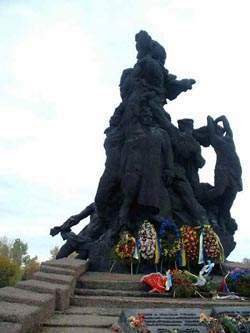 (click to enlarge)