| | | | |
| --- | --- | --- | --- |
| DENMARK | | | |
My new home country
On a dark January night in 1950 I said goodbye to family and friends in Stockholm and started the long journey with my husband to my new home.
Denmark became my home country. Because I was so young I found it easy to settle in Copenhagen. The laughing and singing of my daughters - Susan and Monica -were my riches.
Many years passed, barely noticed, as I worked for the common future of the family.
The origins of the impulse are uncertain. It may have been my father's beautiful handwriting, or it may have been my father's beautiful handwriting, or it may have been my mother's love of painting the house, every year, from top to bottom. But I became increasingly interested in art. And it became my job.
Introduction to the art world
In 1957 we moved to Hellerup, a suburb to the north of Copenhagen, although still only ten minutes by car from the city centre. The fireplace mosaic in the living room fascinated me. It was composed of various shades of blue - no pattern, no motif. It was simply decorative. Every time I entered that room, my eyes turned to the mosaic.
Many years passed before I myself could start producing mosaics.
My husband was away for a week on a business trip, and it struck me that time was ripe to make a start. I got the necessary materials: glass, glue, a sketching pad, coloured pencils and a ruler. When I had put the children to bed, I sat on the sofa and studied the mosaic on the floor for a long time. I thought: "Now I'm going to start working myself." The house was silent, inspiringly so, and deep within I felt the need to express something, something that mattered to me. The motif came to me spontaneously - it was my family. The life between my husband and me Susan and Monica and our little dog Kvik. We held each other by the hand. I myself was surprised at how quickly the motif itself had taken shape, and as I didn't have a wooden board, I decided to place the motif on the table in front of the sofa.
A brilliant idea, I thought. The size was right, and the table happened to be there. The table-top also happened to be eminently suitable. It could be turned - black formica on one side, teak on the other.
The table had been designed by an architect.
I drew the motif on the side. I took a hammer and a big apron, into which I put the glass. Then I kept hammering at the bits of glass. In this way I got bits of many various sizes. I spent hour after hour to find the exact size to fit the motif.
Then I glued the pieces together. In the morning, before the children were awake, I turned the table-top. It was to be a surprise for my husband. Throughout the day I was virtually obsessed with the thought - if only evening would come, so that I could resume work on my picture.
It was like that the whole week. I could imagine how pleased my husband would be when he saw my picture. A gift from me to him.
When he saw it, he lifted it up, put it under his arm and carried it out to the garage.
It's still hanging there. That was my start as a mosaic artist.
In 1969 I had my first exhibition of mosaics in Copenhagen. Since then I've had many - and it's always a great experience.
In 1971 I attended an art school in Paris, and two years later I travelled to Ravenna to develop my technique.
In 1973, when I was invited to exhibit my mosaics in the museum in Rostock, the family travelled with me to attend the opening. The director of the museum, Herr Zimmermann, asked me to arrive at eight p.m. on the dot, not a minute before.
When I entered that huge exhibition hall, everything was in darkness. In the middle of the hall a pyramid of white candles had been erected, and a pianist was playing Beethoven's Moonlight Sonata.
It was an act of devotion. Performed for my sake. It was almost too much for me, but I had the support of my husband and Susan. When the last note had been played the lights were switched on and all the guests applauded me.
In 1974 I was invited to exhibit my mosaics in Moscow. The Soviet ambassador to Denmark attended the formal opening. The organiser had asked me to make a speech. I knew that the opening was being broadcast on radio and TV. I didn't sleep a wink the night before. I had rehearsed my speech. I was paralysed with nerves, worried that I might forget the text. My husband had said that he would take up a position so that I could see him, and that he would help me. When I stood before the big assembly - and the microphones and the cameras - my nervousness suddenly disappeared. I remembered the text.
My husband and I, and my interpreter, had been invited to dinner that evening by the director of the museum and an official from the Ministry of Culture. The dinner was held in the exhibition centre's large dining room. The room was about sixty square metres, and in the middle of that room was a table set for five. A joy for the eye, gold bordered china, silver for five courses and five different diamond crystal glasses. And a waiter for each person. The food was served on huge silver trays, and we had the choicest Russian specialities - delicious.
In 1975 The Jewish Museum in New York invited me to exhibit my oil paintings - those permanently on display at "Frihedsmuseet" in Copenhagen, the museum built to commemorate the Danish resistance movement during the Second World War.
It was a major exhibition, including works by Chagall, Hundertwasser and many others. So I was in distinguished company. The opening of the exhibition was scheduled for the 16th of October, so I had all summer to improve my English. I travelled to Cambridge, for a three-week intensive course, concentrating on the subjects I would probably have to discuss in New York.
In October I was ready for the opening. I spent some time in New York - most of it at the museum. The attendance figures were remarkable. They had to call the police to handle the queues. There were film photographers, and the place was swarming with journalists. I was asked if I would participate in a film. I was prepared, so I said yes. I was to stand in front of my picture. The crew were working in several rooms, and when they came back the director asked me to tell about my picture - in Hebrew.
The result was that I stood there in front of my picture and stared into the camera - without uttering a single word. I don't know any Hebrew.
In 1978, when I was to start on my exhibition "Kaddish - a mourner's prayer for my father", it was with conflicting emotions. There must have been a very good reason for inviting me to produce material for an exhibition at "Frihedsmuseet". And so there was. The museum - which is officially called "The Museum of Denmark's Fight for Freedom 1940-45" - is run by Jørgen Barfod, who deserves respect and recognition for his work. The museum upholds the right ideals. It shows, proves and provides information about the injustices perpetrated against human beings and warns that it can happen again if we are not constantly on guard.
Deep within I had no desire to occupy myself with that period of my life: 1944-45. I thought that I had buried it, hidden it away so well - so well that I never needed to bring it into the glare of daylight. I was afraid that the memories would destroy me, if I revealed the scars left on me by the internment, the starvation, the human degradation and the injustice.
Through all the years I had tried to process, to repress, to hide and to mask that period of my life, to rescue myself physically and mentally. I believe that I succeeded.
And I also had to think of my husband and children. Deep within I did not want to become an embittered person. I wanted so desperately not to hate Germans. I fought those feelings - through meditation, through work.
I now felt that a certain responsibility had been placed on my shoulders, a certain duty to tell young people and others too about what had really happened in the concentration camps.
"But why should it have to be me?" I heard a voice say within me.
I had to go through harrowing days and weeks of nightmares and sleeplessness before I could begin work on pictures for that exhibition. I was in a constant state of conflict with myself. A single newspaper article changed all that.
I read one day that a young lawyer in Germany maintained that all the talk about concentration camps was a pack of lies, pure invention.
That article made me begin work on the pictures that were hung for the exhibition opened at "Frihedsmuseet" on the 3rd of October 1978.
For me 1978 was a year of suffering. For many months it was as though my soul was blotted out. While I worked, day was turned into night, night into day.
Today I can confidently state that my decision to go ahead with the work was the right decision. The exhibition has since been on tour, exhibited at libraries throughout Denmark. In 1984 it continued its tour - to school libraries.
That work helped me. Today I can write about the subject, deliver lectures on it.
To my father and about my father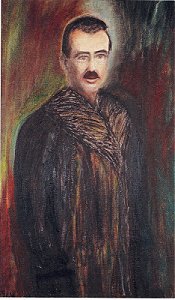 My father as I remember him
I remember you clearly, and you are always close to me. All the many, many times you waited for me after school, the joy of strolling to that restaurant where the two of us used to dine together. You were always concerned about my progress at school and my future. You learned to respect the work a person devotes himself or herself to, you realised the importance of being able to give, to offer something -physically, mentally and morally.
You, dear Father, had confidence in me, the confidence to involve me in your joys and troubles, even in your business. I was proud of you. You were loved by young and old, by Christian and Jew alike. For many years you were chairman of the Jewish community in Miercurea-Niraj in Transylvania. You were also chairman of the local Christian football club. I remember how you once arranged a match between the old boys' teams, with yourself as centre forward. Oh, how you ran after that ball when it was at the other end of the pitch, although you were a bit reserved when it actually came to you. You were so funny! And then all the lemons you distributed during half time - how busy you were!
I remember - I'll never forget it - in 1940 how proud and pleased he was to go to the gates of the town with all his medals from the 1914-18 war, waiting to welcome the first Hungarian soldiers. He was sent home again, because he was a Jew. A few days later he was beaten up and chased out of the town - during the night. Banished for three months, ordered not to return earlier. I saw and photographed his body. Black and blue welts. He was never the same again.
The last time I saw you was in 1944 in Auschwitz, when we were separated from one another. You had the belt of my coat, and you threw it over to me, shouting: "Put it on so you won't feel cold!"
He trusted people so much that he asked his captors for help with his pains. He had hernia. That was to be his fate. He probably ended up in the crematorium in Dachau.
I think of you, dear Father, with love, devotion and gratitude, and I am glad to be able to say you were my father.
This is my Kaddish, my commemorative prayer.
Your daughter
---

January 1980. Reunion with Helen from Bergen-Belsen
In January 1980 my husband and I visited my mother in Miami Beach.
The town is a paradise for elderly people. One day my mother suddenly said:
"Olly, Helen is alive."
"What Helen?" I asked.
"Helen, whom you used to work with in the kitchen in Bergen-Belsen."
Helen, alive!
The images came in a jumble. Beautiful, cheerful, smiling Helen.
And then: the camp, the SS kitchen chef, our lie - the story about helping in the kitchen in Auschwitz. Our fear. How we got the job - and later got jobs in the same place for my mother and Alice. That gave us the chance of helping many others. And I'm glad today that many of them are still alive.
I telephoned Helen, who was now living in Chicago. The conversation with Helen ended in a flood of tears, and we agreed to continue the talk the following day. Of course, I was to fly to Chicago.
Next morning I arranged the details with Helen over the phone.
I arrived in Chicago airport on the 8th of January1980. She stood there waiting. We embraced, and the tears flowed again - it was nearly beyond human comprehension. We went home to her marvellous house and Helen proposed that we have our meals at restaurants, to give us more time for talk.
That evening some visitors came round - I knew some of them from the years in Stockholm. It was a wonderful evening - the laughter alternating with the tears.
Here we sat - Helen and I - two of the fortunate ones - two of the most fortunate of all.
I decided to leave a day later than planned.
The next day the house was crowded with journalists and photographers. This was no ordinary story. That evening we went to a nightclub to celebrate our reunion.
The next day I had to leave. But what wonderful days I had to remember. To meet Helen again - thirty years later...
Many years later
16th March 1980
I dreamed last night that I was a schoolgirl, and that we were having our singing lesson. We were to sing parts, and were thus divided into three groups, with about twenty girls in each group. I was among the "firsts".
Our conductor used a tuning fork to strike the right note, and indicated that we were to begin. We began, but something was wrong. He stopped us. A new signal to begin. We are singing, and I am doing my very hest. He approaches our group and listens attentively - for a long time. He draws closer, comes up to me, and continues to listen. "You, little Olly, it will be best if you transfer to the seconds."
I moved to the second's group. We began again, but before long the conductor approached our group. He listened: "You, little Olly, it will be best if you join the thirds."
Now I saw it all clearly. This was where I actually belonged. We started up again, and I felt happy at finally being where I could really make an effort, and I really tried. But no. The conductor came to me again, listened and with an embarrassed expression said: "Little Olly, it will be best if you leave the choir."
There is an association of some kind when I remember the episode in Bergen-Belsen after the liberation. Helen and I and some of the other girls decided to go outside the camp to see if we could get something to eat.
We reached a military area occupied by French troops. It was in the middle of the day, and the spring sunshine radiated a delightful warmth. The street was very quiet. From someplace or other I heard a lively cackling. Hen - boiled hen. It sounded delicious.
I ran after Helen. We came into a farmyard where there were lots of hens. But it was difficult to catch a hen. We picked one out. This one was to be ours.
I spoke to it, hoping to calm it down, hopping round it, trotting after it. But it was Helen who caught it.
I walked along the street. Everything was so peaceful. I thought that I too should bring something home. But how?
I began to sing "Allons enfant de la patrie" - the French national anthem. I sang and sang - at the top of my voice.
Before long the windows were flung open. I was called over to the windows - and arrived back in the camp with a rucksack full of biscuits and sardines.
For once in my life my singing voice brought some joy.