Southern Africa Jewish Genealogy Special Interest Group (SA-SIG)
http://www.jewishgen.org/safrica/rabbis&cantors/goldberg_h/index.htm
Click to return to Rabbis & Cantors page.

Reverend Hirsch Goldberg

FOR ENLARGEMENT, CLICK ON THE IMAGE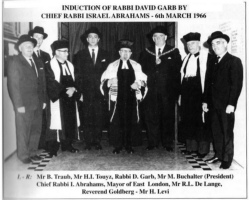 Reverend Hirsch Goldberg is second from the right
In April 2005, Ed Goldberg of Vancouver, Canada, wrote:

My late grandfather was Reverend Hirsch Goldberg. He arrived in Cape Town from Lithuania in 1927 and went up to Rouxville in the Orange Free State.

He was sponsored to South Africa by his cousin Rabbi Mirvish in Cape Town. In 1933 he moved to Livingstone in Northern Rhodesia and during his time there he also assisted up in the Belgian Congo. In his passport are two sets of stamps for visits he made to the Belgian Congo in 1933.

From Livingstone he went to Caledon in the Cape and then to Uitenhage in 1936. He was in Uitenhage for some time and then he moved to Pretoria for a short time and finally to East London.

While in East London he also used to officiate in King Williams Town. In the book from the East London Hebrew Congregation One Hundred Year History 1898-1998 there is a picture of him from 1966 at the induction of Rabbi Garb.

He was the shochet, mohel, teacher and second reader and the book refers to him as the second minister. In the list of marriages in the book the first marriage that lists him as the officiating Reverend is in January of 1962 and his last marriage ceremony is in July of 1967.

He died just 18 days later and is buried in East London. His shochet and mohel instruments are in the Jewish Museum in Johannesburg.