The Establishment of Golders Green Synagogue by Lynne Fertleman
THE EARLY YEARS
The Jewish Community started to move into Golders Green soon after the underground station opened in June 1907.(8) They generally came from the East End rather than from the west of London.(9) The first record that religious services were held in the area was when the Community, with a congregation of 20 members, secured a temporary synagogue for the High Festivals in 1913. They used the hall of the Middlesex Auto-Car Company in West Heath Drive.(10)
T
By 1915 the community had secured a temporary place of worship for the High Festivals but now they wanted to have regular services throughout the year and they also wanted to start religious classes. The first public meeting to discuss the establishment of an orthodox Synagogue and Religion Classes in the Golders Green area was opened by Mr Joseph Hyams on Sunday 18th July 1915 at the Ionic Theatre in the Finchley Road.(11)
At this meeting, Mr Benjamin Drage was elected President and a committee was elected in order to deal with the synagogue's administration. At the same time, a Ladies Canvassing Committee was formed. The accounts were also discussed and the balance sheet showed £9 in hand; the Treasurer, Mr J Victor, requested that the group present subscribe to the fund, which raised £165.
The Community made arrangements with the Rev Herbert Trundle to use St Albans Church Hall, on North End Road for religious services. It was agreed that services were to be held on weekday mornings, Friday evenings, Saturday mornings and on Sunday mornings.(12) The first service was held on Saturday 14th August 1915.
A further meeting to discuss the proposed new synagogue took place on Sunday 8th September 1915 in the presence of the Chief Rabbi, the Rev. Dr. J Hertz, and the Hon. Officers of the United Synagogue. At Dr Hertz's suggestion, members of the West Hampstead Synagogue were also invited.(13) Adverts were also placed in the Jewish Chronicle to invite the local Jewish community to the meeting.(14)
A Tenancy Agreement for the use of the hall was drawn up on 8th September 1915.(15) The Agreement was for one year and the rent was £1 per week plus 5/- per week when heat and light was used. An amount of £4.15s.0d was also charged for each set of Jewish Festivals; however, the £1 rent was not to be paid in addition to this sum.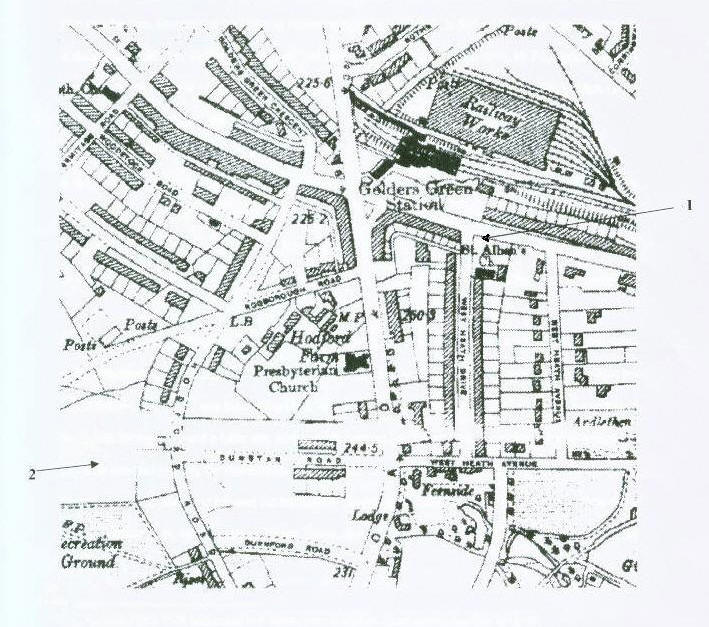 Golders Green c.1915

(Landmark Information Group Ltd)
1 ST. ALBANS CHURCH, WHERE EARLY SERVICES TOOK PLACE.
2 SITE OF GOLDERS GREEN SYNAGOGUE WHEN DUNSTAN ROAD WAS EXTENDED.
Next Page
Back to Congregation page