JCR-UK is a genealogical and historical website covering all Jewish communities and
congregations throughout the British Isles and Gibraltar, both past and present.
NOTE: We are not the official website of seed, which can be reached by clicking on the seed shul logo below.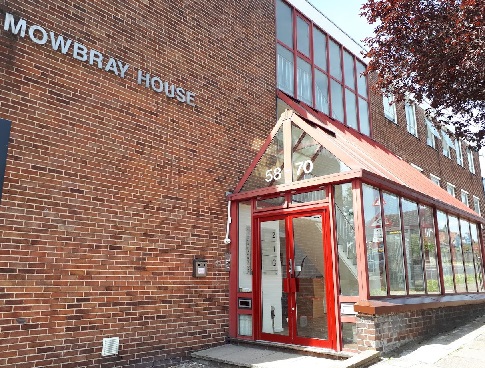 Entrance to Mowbray Housel, June 2018,
Seed Shul is on the Second Floor
© David Shulman 2018
Congregation Data

Name

Seed Shul

Address:

Mowbray House, 58-70 Edgware Way, Edgware, HA8 8DQ

(since 2005(i))

Current Status:

Active

Date Formed:

Since at least 2005(i)

Ritual:

Ashkenazi Orthodox

Affiliation:

Project seed provides adult and family Jewish education through study and informal experiences across the United Kingdom.(ii)

Website:

Rabbis:

Rabbi Joey Grunfeld - Founder & National Director(ii)

Rabbi Gary Bazak (& Rebbetzen Tanya Bazak) - from at least 2015 until present (May 2021)(iii)

Rabbi Dov Birnbaum (& Rebbetzen Tehilla Birnbaum)- From July 2017 to present (May 2021)(iv)

Legal & Charitable Status:

Project S.E.E.D. Limited is a private company, limited by guarantee without share capital, incorporated on 12 July 1999. (Company No. 03805072)(v)

Project Seed is a registered charity, registered on 27 November 1980, pursuant to a Declaration of Trust dated 6 October 1980 (registered charity number: 281307).(vi)

The governing document for Project Seed is a Declaration of Trust dated 6 October 1980.

Local Government District:

Edgware, a residential suburb in Northwest London, has a substantial Jewish minority. Most of Edgware (including the locality in which the synagogue is situated) is in the London Borough of Barnet (formed in 1965).

Registration District (BMD):

Barnet (from 1 April 1999) - Register Office website

Notes & Sources (↵ returns to text above)

List of Independent Askenazi Congregations in London
Jewish Congregations in Edgware (London Borough of Barnet)
Jewish Congregations in Greater London
Page created: 18 May 2015
Latest revision or update: 30 May 2021
---
Explanation of Terms | About JCR-UK | JCR-UK home page

Contact JCR-UK Webmaster:
jcr-ukwebmaster@jgsgb.org.uk
(Note: This is to contact JCR-UK, not the above Congregation)

Terms and Conditions, Licenses and Restrictions for the use of this website:
This website is owned by JewishGen and the Jewish Genealogical Society of Great Britain. All material found herein is owned by or licensed to us. You may view, download, and print material from this site only for your own personal use. You may not post material from this site on another website without our consent. You may not transmit or distribute material from this website to others. You may not use this website or information found at this site for any commercial purpose.


Copyright © 2002 - 2022 JCR-UK. All Rights Reserved