Page created: 7 May 2006
Latest update or revision: 25 December 2016

The Borough of Torbay
The three main towns of Torbay are Torquay, Paignton and Brixham, all situated around on of the English Channel coast of Devon in South West England. All three towns had been separate municipal boroughs until 1968 when they were amalgamated into the single county borough of Torbay. In 1974 Torbay became a local government district of the county of Devon and, in 1998, it became a unitary authority.
The Jewish Community
The Jewish community in what is now Torbay dates from World War II, when synagogues were opened in both Torquay and Paignton, primarily by evacuees from London. The congregation in Paignton did not survive long after the War. The synagogue is Torquay continued and acquired a cemetery (in Paignton) in 1962, which is still in use. However, due to dwindling numbers, the synagogue in Torquay closed in 2000.
Jewish Congregations
The following are the Jewish congregations that existed in what is now Torbay:
On-line Articles and Other Material
relating to the Torbay Jewish Community
on JCR-UK
Torbay Jewish Cemetery Information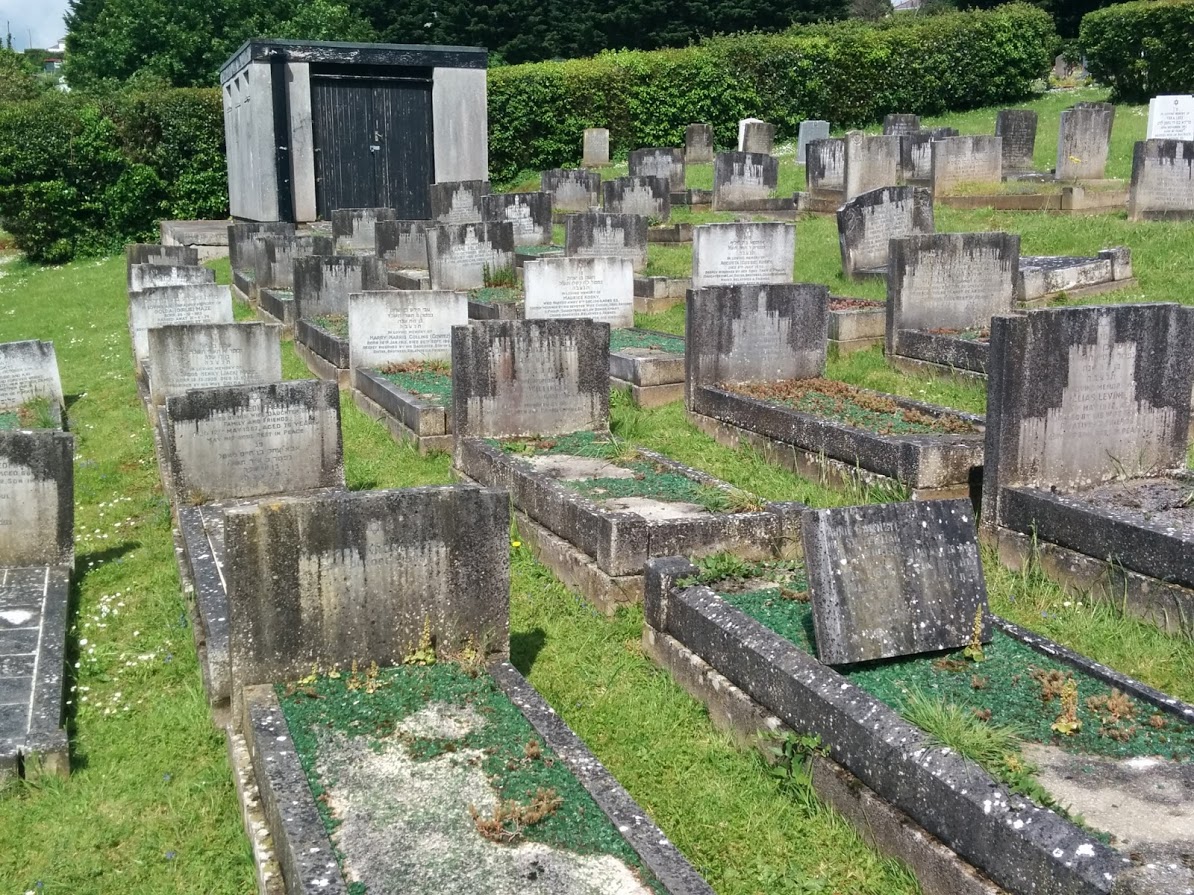 © David Shulman 2016
The only Jewish cemetery in Torbay is the Torquay & Paignton Hebrew Congregation Cemetery (being the Jewish Section of Paignton Cemetery), which is still in use and has its own prayer hall. The cemetery is situated off Ailescombe Road, Colley End Road, Paignton, and was acquired by the community in 1962. (Prior to 1962, the community generally used the cemeteries in Plymouth and Exeter.)
See a Layout of the Jewish Section of Paignton Cemetery, showing the position of each tombstone and the name of the person interred, researched by Rosemary Hoffman. There are some 90 burials.

The All-UK Database (to search, see above) contains records of the burials at this cemetery (including images of all extant gravestones).
(For additional information, see also IAJGS International Jewish Cemeteries Project - Paignton)
Torbay Jewish Population Data

1965

128

(The Jewish Year Book 1966)

1990

50

(The Jewish Year Book 1991)

1999

20

(The Jewish Year Book 2000)