Page created: 23 October 2005
Latest revision or update: 22 December 2016
The port of North Shields (population about 50,000) in the North East of England is situated on the north side of the Tyne estuary, opposite South Shields, about 8 miles northeast of Newcastle and about three miles south of the seaside town of Whitley Bay.
North Shields is now in the metropolitan borough of North Tyneside (in the metropolitan county of Tyne and Wear), which was created in 1974 upon the merger of several authorities, including the county borough of Tynemouth (of which North Shields was part), all of which auuthorities had been within the county of Northumberland.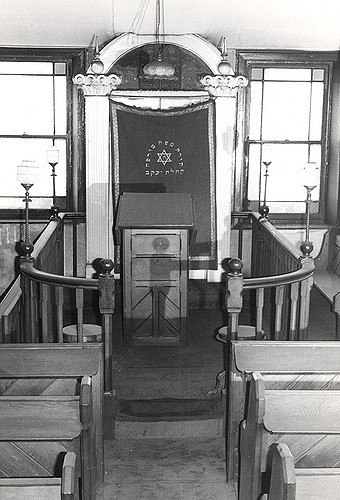 Interior of North Shields Synagogue
(Courtesy Peter Gatoff)

The North Shields Jewish Community
The North Shields Jewish community dates from the mid-nineteenth century (somewhat earlier than the establishment of the community in South Shields). The Jewish cemetery dates from at least 1856 and the synagogue was acquired in the 1870s. The community never exceeded 15/20 familes and was totally defunct by the 1960's.
Congregation Data

Name:

North Shields Synagogue

Address:

29 Linskill Street, North Shields (from about 1870, Synagogue consecrated on 22 March 1876, building reconstructed in 1880s).

Previously services held in members' homes

Date Formed:

In 1846

Current Status:

Closed in 1965, but services had discontinued somewhat earlier.

Ritual:

Ashkenazi Orthodox

Congregation Numbers:

1852 - 16 seatholders (Board of Deputies returns)
1856 - 14 seatholders (The Jewish Chronicle, 1 February 1856, page 466)
1860- 20 seatholders (Board of Deputies returns)
1870 - 12 seatholders (Board of Deputies returns)
1880 - 13 seatholders (Board of Deputies returns)
1890 - 13 seatholders (Board of Deputies returns)
1900 - 25 seatholders (Board of Deputies returns)
On-line Articles and Other Material
relating to the South Shields Jewish Community
on JCR-UK
North Shields Jewish Cemeteries Information
Details of the Jewish cemeteries in North Shields:
Preston Road Cemetery, Jewish Section, Preston Road North, North Shields. Opened in 1856. Contains approximately 60 graves.

Newcastle Reform Synagogue Cemetery. This is situated at the other end of Preston Road Cemetery and is the cemetery of the Newcastle Reform Synagogue.

There were two other, now lost, early 19th century Jewish burial plots in North Shields, at Hawkies Lane and Chirton. Those interred in the latter plot were reinterred at the Preston Road Cemetery in 1924.

Click North Tyneside, for other Jewish cemeteries in North Tyneside.
(See also IAJGS Cemetery Project - North Shields)
North Shields Jewish Population Data

1934

40

(The Jewish Year Book 1935)

1946

40

(The Jewish Year Book 1947)

1955

40

(The Jewish Year Book 1956)

North Tyneside Jewish Community home page

Jewish Congregations in Tyne and Wear