JCR-UK is a genealogical and historical website covering all Jewish communities and
congregations throughout the British Isles and Gibraltar, both past and present.
City of Ely
Ely, with a population of some 20,000, is a market town and cathedral city on the river Great Ouse in the Fens in eastern England, situated about 14 miles to the north of Cambridge. Possessing an historic cathedral and being the seat of a diocese, Ely has long been considered a city, although it was not until 1974, that it received a royal charter formally granted city status. The area where Ely stands is known as the Isle of Ely because it is situated on relatively high ground surrounded by areas which historically were frequently flooded.
It formed the City of Ely Urban District until 1974, governed at county level by the Isle of Ely County Council until 1965, when that county was merged with Cambridgeshire to form the Cambridgeshire and Isle of Ely County Council. In the 1974 local government reorganisation, Ely became part of the District of East Cambridgeshire within the somewhat enlarged County of Cambridgeshire.
Jewish Community
There was no organised Jewish community in Ely prior to 1939. During World War II, Ely and nearby villages hosted a large number of evacuated children from the East End of London, many of whom were Jewish. A synagogue was organised in Ely for these children, alongside educational and social activities. In February 1941, following the destruction of the Jews' Free School in Brick Lane during the London Blitz, the school formally transferred to Hereward Hall, at the King's School, Ely. There was a synagogue and educational and social activities.
Unless otherwise stated, our source for the war-time Jewish presence in Ely is the booklet, Bernstein's Boys. The Story of the Evacuation in 1939 of the Jews' Free School to Ely by Michael Rouse.(i)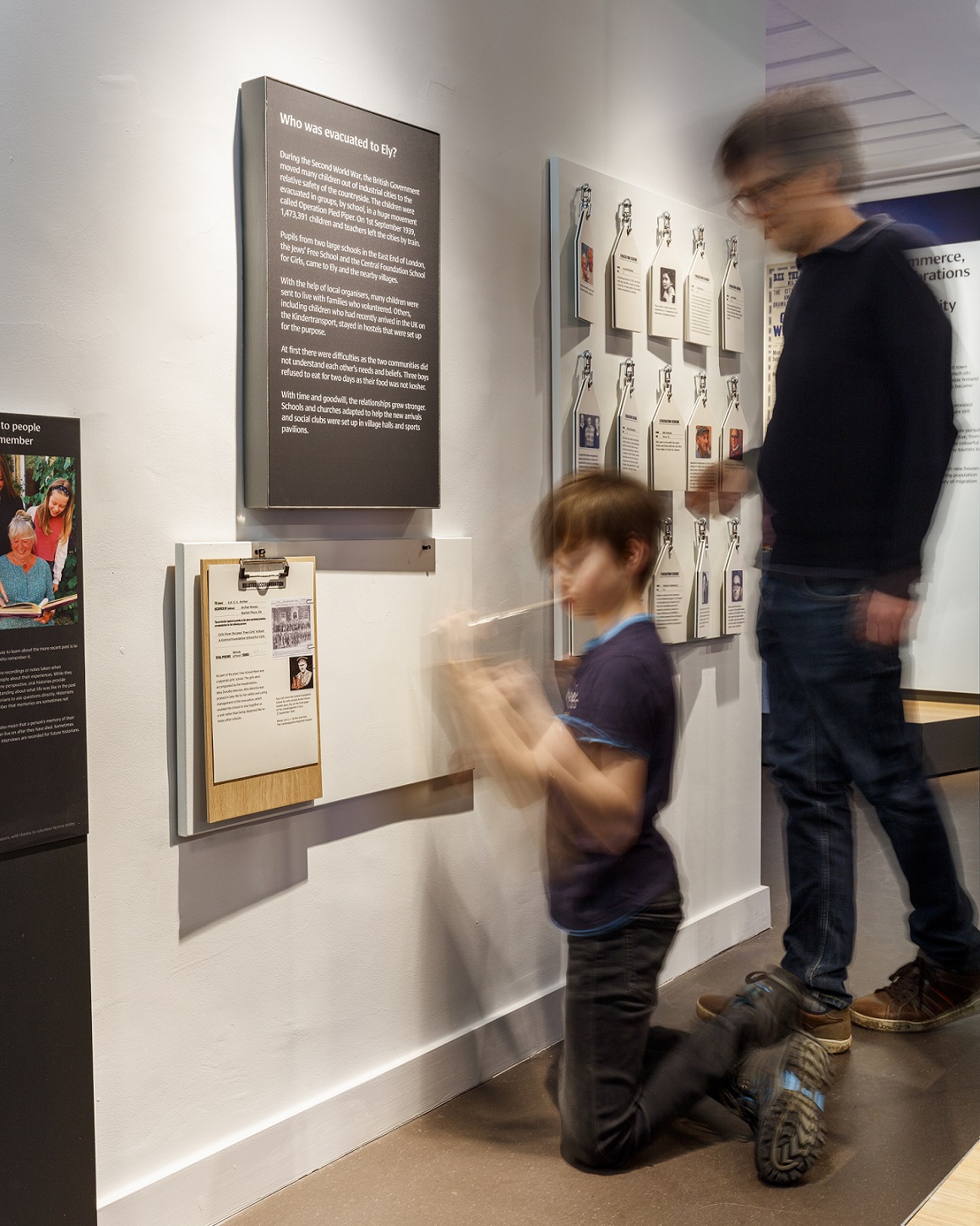 Ely Museum Display on the Jewish Evacuees to Ely
courtesy Ely Museum
Copyright © 2021 Philip Durrant
(Click on image to view an enlarge image in a new window.)
Congregation Data

Name and Address:

The formal name, if any, of the congregation is not known.

Synagogue services were held at the hall of the Countess of Huntingdon Congregational Church in Chapel Street, Ely. A Sepher Torah, Ark and curtain were brought from the Jews' Free School in London. Seder nights in 1940 were celebrated at the St Mary's parish hall.

Background:

A Jewish boys' home, principally for kindertransport refugees who attended the Jews' Free School, was opened at 37 St Mary's Street, Ely in 1939. Many of these children were previously accommodated at the Myrdle Street hostel in London's East End.

Michael Rouse lists the names and country of origin of about 40 boys who were living at the Boys' Home in late 1939. These boys signed a presentation book to Mrs Hinton Knowles, wife of the Vicar of St Mary's, Ely, who championed their cause.

Girls from the Jews' Free School were billeted in the village of Littleport about six miles north east of Ely and in surrounding hamlets.

Foundation:

The first Jewish evacuees arrived in Ely on 1 September 1939, being 500 boys from Jews' Free School. 150 of these first arrivals were billeted at Ely and others in neighbouring towns and villages such as Soham, Isleham and the village of Sutton. Other Jewish evacuees to Ely attended the Central Foundation School for Girls(ii) and the Robert Montefiore Primary School, both in London's East End.

Closure:

The Boys Home at St Mary's street closed in November 1944. Most of the evacuee children billeted independently of the Home had returned to London by about this date.

Affiliation:

The synagogue was affiliated to Jews' Free School.

Ritual:

Orthodox - Ashkenazi

Minister:

Rev. Abraham Israel Kon - from early 1940 until about 1944(v)

Head Teaching Staff:

Dr Enoch Bernstein (1887-1966), the headmaster of Jews' Free School evacuated to Ely from 1939 and he lived there until he retired, due to ill health, in August 1942. Miss Lipman then became the head teacher for all Jewish Free School pupils.

Miss Samuels, the headmistress of the Jews' Free School girls school, evacuated with her pupils to Littleport in 1939.

Cemetery:

There is no Jewish cemetery in Ely. The nearest Jewish cemeteries are in Cambridge.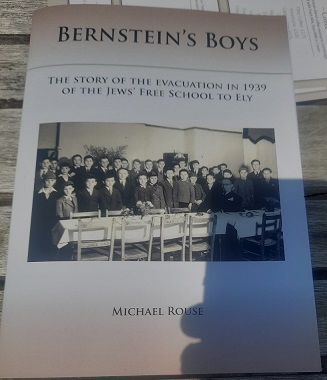 Bibliography, Online Articles and Other Material
relating to the Jews in the Ely
on JCR-UK
Bernstein's Boys - The story of the Evacuation in 1939 of the Jews' Free School to Ely by Michael Rouse, 2021.

J.F.S. The History of the Jews' Free School, London, Since 1732 by Gerry Black, 1998.

Notable Jewish Connections with Ely
(courtesy Steven Jaffe)
Henry Ludwig Mond, 2nd Baron Melchett (1898–1949), director and then deputy chairman of Imperial Chemical Industries, chairman of the Jewish Agency for Palestine, was Liberal MP for the Isle of Ely, 1923-1924. Although brought up in the Church of England, he reverted to Judaism in the 1930s.

James (Jimmy) Armand Edmond de Rothschild DCM DL (1878–1957), who in 1922 inherited the Rothschilds' Waddesdon estate, was Liberal MP for the Isle of Ely from 1929 to 1945.

Sir Clement Freud (1924-2009), grandson of Sigmund Freud, writer, broadcaster and cook, was Liberal MP for Isle of Ely from 1973 to 1983 (and then for the successor constituency, NE Cambridgeshire until 1987). Since his death, serious child abuse and rape allegations against Freud have been subject of police investigation.

Sir Arnold Wesker (1932-2016), playwright and author, was sent to Ely in 1939 with his older sister who was a pupil of the Central Foundation Girls' School and evacuated there.

The Jews' Free School's wartime sojourn is now commemorated in a permanent exhibit at Ely Museum.(x)

A menorah made by Jews' Free School evacuees in 1940, presented as a gift, stands in a church at Isleham, one of the surrounding villages which hosted them.(xi)
Communal Records

Registration District (BMD):

Cambridgeshire (since 1 October 2007) - Link to Register Office website

Previous Registration Districts:
Ely - from 1 July 1837 to 1 October 2007.
(Any registers would now be held by the current office.)
Notes & Sources
(↵ returns to text above)

World War II Evacuee Communities
Jewish Congregations in Cambridgeshire
Jewish Communities of England home page

Page created: 26 June 2023
Page most recently amended: 10 September 2023
Research by Steven Jaffe
Formatting by David Shulman
---
Explanation of Terms | About JCR-UK | JCR-UK home page
Contact JCR-UK Webmaster:
jcr-ukwebmaster@jgsgb.org.uk


Terms and Conditions, Licenses and Restrictions for the use of this website:
This website is owned by JewishGen and the Jewish Genealogical Society of Great Britain. All material found herein is owned by or licensed to us. You may view, download, and print material from this site only for your own personal use. You may not post material from this site on another website without our consent. You may not transmit or distribute material from this website to others. You may not use this website or information found at this site for any commercial purpose.


Copyright © 2002 - 2023 JCR-UK. All Rights Reserved