JCR-UK is a genealogical and historical website covering all Jewish communities and
congregations throughout the British Isles and Gibraltar, both past and present.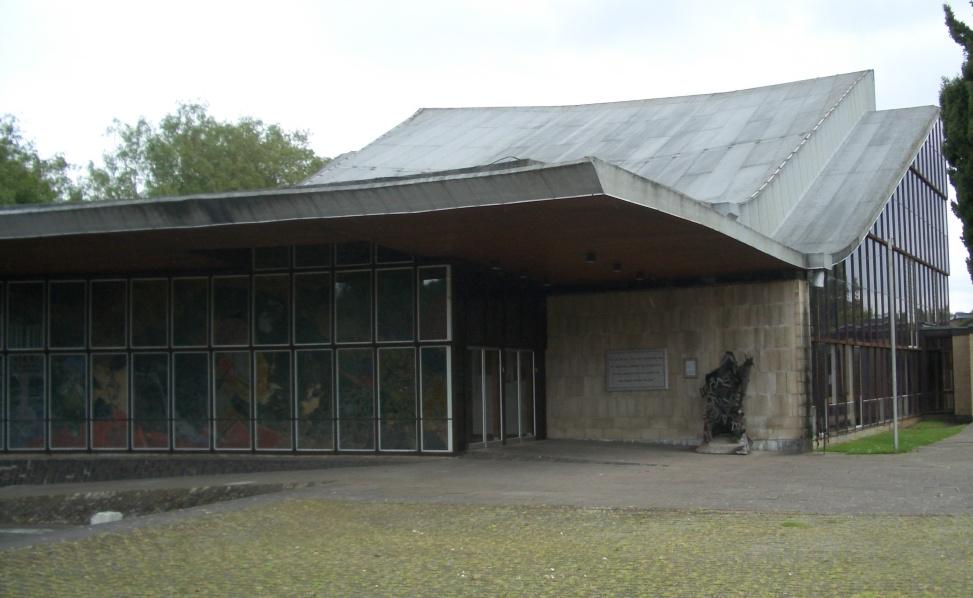 A photograph of the Synagogue at Carmel College
taken following closure of the College.
Town of Wallingford
The historic market town of Wallingford, with a population of some 12,000 is located between Reading and Oxford on the River Thames in central England. The Borough of Wallingford (created 1834) was part of the county of Berkshire until 1974, when it was merged with other authorities to form the Local Government District of South Oxfordshire iwithin the ceremonial county of Oxfordshire.
Carmel College
Carmel College was a British Jewish boarding school, modelled on British public schools, founded in 1947. Founded initially as a boys' school, it later became co-educational. The college was situated in extensive grounds along the river Thames, just to the south of Wallingford town.
Basic Information(i)

Name:

Carmel College and Synagogue

Address:

Mongewell Park, near Wallingford, Oxfordshire (previously Berkshire), OX10 8BT

The college was initially situated at Greenham Common, near Newbury, Berkshire (until 1953)

Formation:

The College was founded in 1948 by Rabbi Dr. Kopel Rosen. It was the first and only Jewish Public School in the UK.

Closure:

The College closed in 1997

The Synagogue:

The Carmel College Synagogue (built 1963-4), designed by Thomas Hancock and dedicated by Chief Rabbi Israel Brodie, was located in the heart of the campus. The roof was supported by four massive beams of Scandinavian wood, which curved upwards from the entrance of the portico to a concrete wall some fifty feet high. The curtains of the Ark were made of brass chains interspersed with pieces of silver, brass bronze and copper sheeting. The stained glass windows, created in part by the students, were exceptional and close to the entrance was a monument to the victims of the Holocaust.

Headmasters: (To view a short profile of a name appearing in blue - hold the cursor over the name.)

Rabbi Dr. Kopul Rosen - from 1948 until 1962

David Stamler - from 1962 until 1971(ii)

(Joshua Gabay - Acting Headmaster during early 1971)

Rabbi Jeremy Rosen (the eldest son of Kopul Rosen) - from 1971 until 1984

Philip Skelker - from 1984 until 1997(iii)

Registration District:

Oxfordshire, from 1 October 2001(iv) - Link to Register Office website.

Notes & Sources (↵ returns to text above)
Online Articles, Bibliography and Other Material
relating to relating to the Carmel College
on third party websites

Bibliography
Memories of Kopul Rosen. Cyril Domb (ed.) (1970).

Between Two Distant Points: Carmel College - the Jewish "Public School" on the River Thames. Shula Gilboa (2010-2011).

Seven Years at Carmel College - Reminiscences of a Pupil 1953-1960. Rabbi Chaim Simons (Online, see above) (2004)
Heritage Sites at Carmel College
Jewish Congregations in Oxfordshire
Jewish Communities of England home page

Page created: 22 March 2015
Data significantly expanded and notes first added: 6 July 2022
Page most recently amended: 4 April 2023
Research and formatting by David Shulman
---
Explanation of Terms | About JCR-UK | JCR-UK home page

Contact JCR-UK Webmaster:
jcr-ukwebmaster@jgsgb.org.uk
(Note: This is to contact JCR-UK, not the above Congregation)

Terms and Conditions, Licenses and Restrictions for the use of this website:
This website is owned by JewishGen and the Jewish Genealogical Society of Great Britain. All material found herein is owned by or licensed to us. You may view, download, and print material from this site only for your own personal use. You may not post material from this site on another website without our consent. You may not transmit or distribute material from this website to others. You may not use this website or information found at this site for any commercial purpose.


Copyright © 2002 - 2023 JCR-UK. All Rights Reserved