JCR-UK is a genealogical and historical website covering all Jewish communities and
congregations throughout the British Isles and Gibraltar, both past and present.
Town of Epsom
Epsom, the spa town known for its famous Epsom Salts and for the racecourse at which The Derby and The Oaks are run, lies immediately to the south of the administrative boundary of Greater London.
It is in the local government district and borough of Epsom and Ewell in the county of Surrey. Epsom and Ewell was a municipal borough from 1937 to 1974 and an urban district from 1894 until 1937 (known simply as Epsom until 1934).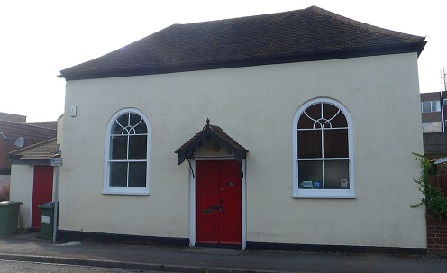 The former Epsom Synagogue, Prospect Place, 2013
Hassocks5489, CC0, via Wikimedia Commons
Epsom Jewish Community
The Jewish community in Epsom was formed during World War II, primarily by Jews evacuated from heavily populated areas of London The community was never particularly large and began to dwindle following the war, finally closing in the 1990s.
Congregation Data

Name:

Epsom & District Affiliated Synagogue(ii)

also referred to simply as Epsom Synagogue(iii)

Former Name:

Epsom & District Synagogue(iv)

Address:

Prospect Place, East Street, Epsom, Surrey.

A former Baptist chapel (known as Bugby Chapel), built in 1779 for William Bugby, an Independent Calvinist preacher who died in 1772. The building was later Unitarian, then Strict Baptist (Salem Chapel) and was consecrated as a synagogue by Dayan Dr. M. Lew in October 1954.(v) In 1994 it was converted into offices.

The former synagogue was designated a Grade II Listed building on 20 May 1975 (List Entry Number: 1232197). Historic England Listing & Description.

Previously services were held at the Lecture Hall, Upper High Street, Epsom (about 1947 to 1953(vii)) and Church House, Church Street, Epsom (from 1941 to about 1947(viii)) although some meetings were held in the Forestersí Hall in Waterloo Road.

Formation:

The first services were held in May 1941.(ix)

Closure:

Closed in 1993, merged with Sutton Affiliated Synagogue, some four miles away.(x)

Affiliation:

An Affiliated Synagogue of the United Synagogue from 1952.(xi)

Ritual:

Ashkenazi - Orthodox

Minister & Secretary:

Rabbi Dr. Paul Holzer - from at least 1945 until about 1950(xv)

Lay Officers:(xvi)

Dr. Hans Leo Lehmann - Founder, President (1941-c.1992), Acting Secretary (c.1949-c.1950), Hon. Secretary (c.1951-c.1992)(xvii) - biographical article

Dr. E. Brent - Treasurer (c.1945-c.1947)(xviii)

F. Hirsch - Treasurer (c.1947-c.1950)(xix)

M.E. Jones, Treasurer (c.1954-c.1955)(xx)

Membership Data:

Male Seatholders(xxiv)

National Reports & Surveys(xxv)

1977 - 14 male (or household) members and 2 female members.

1983 - 17 male (or household) members and 3 female members.

1990 - 20 members (comprising 12 households and 8 individual female members)

Jewish Chronicle Reports(xxvi)

1993 - 13 members (comprising 9 male or household members and 4 female members).

Registration District (BMDs):

Surrey (since 4 August 2008)(xxvii) - Link to Register Office Website.

Worship Registration:

The synagogue at Prospect Place was registered as a Place of Worship - Worship Register Number 64502 - under the Places of Worship Registration Act 1855.(xxviii)

Cemetery Details

There is no Jewish cemetery in Epsom. For details of the cemeteries of the United Synagogue, see Cemeteries of the United Synagogue.
Online Articles and Other Material relating to
the Epsom Jewish Community

on JCR-UK

on Third Party Websites
Biographical Article on Dr. L.H. Lehmann, including a history of the congregation, on Epsom & Ewell History Explorer website.
Notable Jewish Connections with Epsom
(courtesy Steven Jaffe)
Alex Carlile, Baron Carlile of Berriew CBE QC, Liberal Democrat peer, attended Epsom College.

Andrew Garfield (b.1983), American-based award-winning actor, was brought up in Epsom. His family name was originally Garfinkle and his paternal grandparents were Jewish immigrants to the UK from Eastern Europe.

Henry Knorpel, Companion of the Bath and QC (1924-2017), principal Solicitor to the Department of Health and Social Security and later Counsel to the Speaker of the House of Commons, lived in Epsom and was vice president of the Epsom congregation before its merger with Sutton synagogue (where he later served as chair).

Ralph Koltai, CBE RDI (1924-2018) a German-born, naturalised British stage designer and sculptor, came to the UK on the kindertransport in 1939 and aged 17 was re-united with his mother (who also escaped Germany) in Epsom. He first trained at evening classes at Epsom school of art (1943).

Bernie Levien (1926-2018), on course bookie, whose pitch was known as Jolly Joe, worked on 64 Epsom Derby days.

Councillor Robert Lewis was Mayor of Epsom and Ewell in 1990.

Jonathan Maitland, BBC news correspondent, playwright and broadcaster was brought up in Epsom and attended Epsom college. He wrote about his childhood in Epsom in his book, How to Survive Your Mother (2007).

Councillor Keith Mann was Mayor of Epsom and Ewell in 2002.

Hannah Primrose, Countess of Rosebery (1851-1890), the daughter of Baron Mayer de Rothschild and wife of the Prime Minister, the Earl of Rosebery, had a home at The Durdans in Epsom. She and her husband resided there occasionally and for the week long Epsom Derby. Their connection to Epsom is commemorated by Rosebery Park, Rosebery school and Rosebery house at Epsom college.

Owners of Epsom Derby winners who were Jewish or of Jewish ancestry:

Michael Tabor, businessman, is a joint owner of multiple Epsom Derby winners: in 2001 (Galileo); 2002 (High Chaparral); 2011 (Pour Moi); 2012 (Camelot); 2013 (Ruler of the World); 2014 (Australia); 2017 (Wings of Eagles); 2019 (Anthony Van Dyke); and 2020 (Serpentine).

Mayer A de Rothschild - 1871 (Favonius).

Lionel de Rothschild - 1879 (Sir Bevys).

Leopold de Rothschild - 1904 (St Amant).

Jack Barnarto Joel - 1911 (Humorist); and 1921 (Sunstar).

Solomon Joel (brother of Jack Barnardo Joel, previous winner) - 1915 (Pommern).

6th Earl of Roseberry (son of Hannah Rosebery née de Rothschild) - 1939 (Blue Peter); and 1944 (Ocean Swell).

Sir Victor Sassoon - 1953 (Pinza); 1957 (Crepello); 1958 (Hard Ridden); and 1960 (St Paddy).

Piere Wertheimer - 1956 (Lavandin).

H.J. (Jim) Joel (son of Jack Barnarto Joel, previous winner) - 1967 (Royal Palace).

Sir Michael Sobel - 1980 (Troy).

Louis Freedman CBE - 1987 (Reference Point).

Anthony Oppenheimer - 2015 (Golden Horn).
Other Epsom Jewish Institutions & Organisations
Epsom Jewish Population Data

1964

about 50

(The Jewish Year Book 1965)
Notes & Sources
(↵ returns to text above)
List of United Synagogue Congregations
World War II Evacuee Communities
Jewish Congregations in Surrey
Page created: 2 May 2006
Data significantly expanded and notes first added: 27 January 2023
Page most recently amended: 10 September 2023
Research by David Shulman, Harold Pollins and Steven Jaffe
Formatting by David Shulman
---
Explanation of Terms | About JCR-UK | JCR-UK home page
Contact JCR-UK Webmaster:
jcr-ukwebmaster@jgsgb.org.uk


Terms and Conditions, Licenses and Restrictions for the use of this website:
This website is owned by JewishGen and the Jewish Genealogical Society of Great Britain. All material found herein is owned by or licensed to us. You may view, download, and print material from this site only for your own personal use. You may not post material from this site on another website without our consent. You may not transmit or distribute material from this website to others. You may not use this website or information found at this site for any commercial purpose.


Copyright © 2002 - 2023 JCR-UK. All Rights Reserved