JCR-UK is a genealogical and historical website covering all Jewish communities and
congregations throughout the British Isles and Gibraltar, both past and present.
NOTE: We are not the official website for this community.

City of Brighton and Hove
The Sussex seaside resort of Brighton (originally known as Brighthelmstone) and adjoining Hove to its west, on England's south coast, have a population of nearly 250,000. Until 1974, Brighton was a county borough and Hove, a the municipal borough in the county of East Sussex. They were then united to form the district of Brighton & Hove in the county of East Sussex. In 1997, Brighton & Hove became a unitary authority, and in 2000 it was granted city status.
The Brighton and Hove Jewish Community
Brighton & Hove has the fifth largest Jewish community in the United Kingdom, and there exists a Brighton & Hove Jewish Representative Council. There were Jewish residents in Brighton from the second half of the 1700's, the earliest Synagogue (in Jew Street) having been established in 1792.
Jewish Congregations
The following are the Jewish congregations that exist or existed in Brighton and Hove:


* An active congregation.
The following are former or alternative names of the above congregations:

The records in the database associated with Brighton and Hove include:
UK Jewish Communal Leaders Database

Jewish Directory for 1874 (24 Brighton records);

Jewish Year Book 1896/97 (6 Brighton records)

JCR-UK Listings (41 Brighton records - as of 30 September 2021);

1851 Anglo Jewry Database (updated 2016)

Individuals in the 1851 Anglo Jewry Database who were living in:
Brighton during the 1770s (2 records), 1780s (2 records), 1790s (3 records), 1800s (11 records), 1810s (11 records), 1820s (30 records), 1830s (73 records), 1840s (95 records), 1850s (141 records), 1860s (75 records), 1870s (64 records), 1880s (44 records), 1890s (33 records), 1900s (23 records) and 1910s (12 records); and
Lewes during the 1800s (2 records), 1810s (3 records) and 1850s (4 records).
On-line Articles and Other Material
relating to the Brighton and Hove Jewish Community
on JCR-UK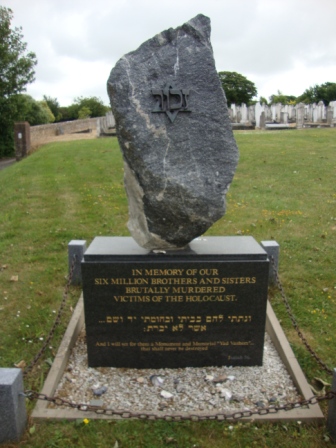 Holocaust Memorial at Brighton Meadowview Jewish Cemetery
(© 2011 Gina Marks)

Other Brighton Jewish Institutions & Organisations
(that had been formed by 1900*)
Educational & Theological
Other Institutions & Organisations
Brighton Hebrew Philanthropic Society (founded by 1874, but did not appear in Jewish Year Book of 1896 and later) for the relief of Jewish poor.

Jewish Board of Guardians (founded by 1896) to relieve of residents and casual poor.
* As listed in the Jewish Directory of 1874 and the Jewish Year Books 1896 & 1900

Brighton and Hove Jewish Cemeteries Information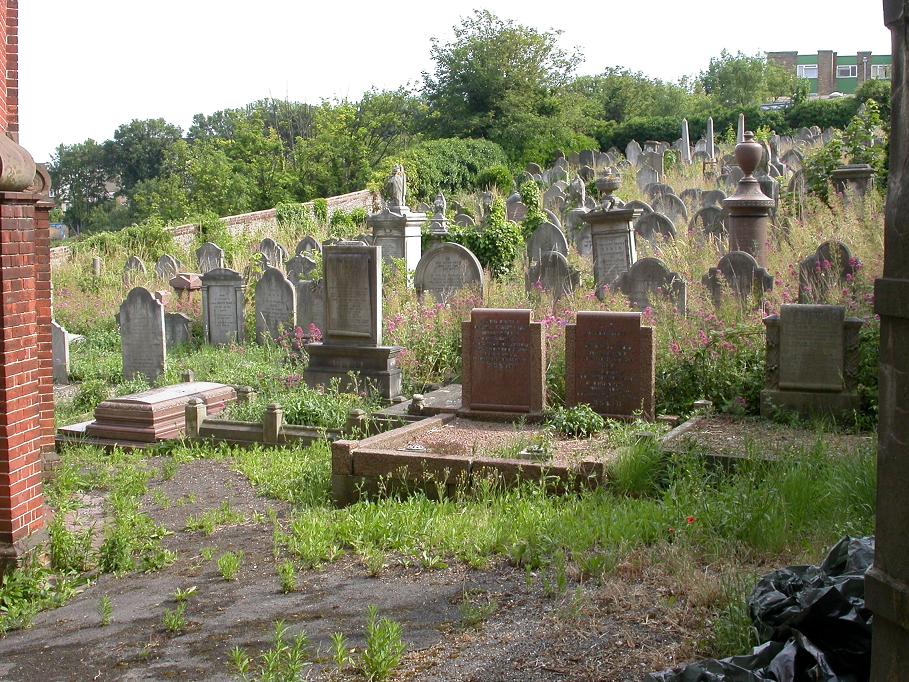 Florence Place Jewish Cemetery
Brighton and Hove have the following Jewish cemeteries:
Florence Place Old Jewish Burial Grounds, Ditchling Road, Brighton BN1. This is the original Orthodox Jewish cemetery, opened in 1826.

Bear Road (Meadowview) Jewish Cemetery, Meadowview Road, Bevendean Road, Brighton, Brighton BN1. The Orthodox Jewish cemetery currently in use, opened in 1920 and enlarged in 1978.

Hove Cemetery, Jewish Sections, Old Shoreham Road, Hove This is the cemetery of Brighton's non-Orthodox congregations, the Brighton & Hove Reform Synagogue and Brighton & Hove Progressive Synagogue.
In addition, the structure at 83 St. George's Road and Paston Place, Kemp Town, Brighton, BN2 (now part of Hanbury Arms public house) was the Mausoleum of Sir Albert Sassoon Family. Remains removed 1933.
(For additional information, see IAJGS Cemeteries Project - Brighton)

Brighton & Hove Jewish Population Data

1813

only 9 adult male Jews

(Brighton Herald 1813)

1851

estimated 150

(C. Roth - The Rise of Provincial Jewry)

1895

estmated 60 families

(The Jewish Year Book 1895/6)

1900

estimated 90 families

(The Jewish Year Book 1900/01)

1909

estimated 100 families

(The Jewish Year Book 1910)

1934

1,525

(The Jewish Year Book 1935)

1946

2,500

(The Jewish Year Book 1947)

1955

4,500

(The Jewish Year Book 1956)

1965

4,500

(The Jewish Year Book 1966)

1990

10,000

(The Jewish Year Book 1991)

1999

8,000

(The Jewish Year Book 2000)

2003

3,358

(The Jewish Year Book 2004)

Jewish Congregations in East Sussex
Jewish Communities of England home page

Page created: 2003
Latest revision or update: 15 October 2021
---
Explanation of Terms | About JCR-UK | JCR-UK home page
Contact JCR-UK Webmaster:
jcr-ukwebmaster@jgsgb.org.uk
(Note: This is to contact JCR-UK, not the above Community or Congregation)

Terms and Conditions, Licenses and Restrictions for the use of this website:
This website is owned by JewishGen and the Jewish Genealogical Society of Great Britain. All material found herein is owned by or licensed to us. You may view, download, and print material from this site only for your own personal use. You may not post material from this site on another website without our consent. You may not transmit or distribute material from this website to others. You may not use this website or information found at this site for any commercial purpose.


Copyright © 2002 - 2022 JCR-UK. All Rights Reserved