Book Review: Jewish Roots in Poland,
by Miriam Weiner
Reviewed by Warren Blatt
Note: This book review originally appeared in the Kielce-Radom SIG Journal, Volume II, Number 2 (Spring 1998).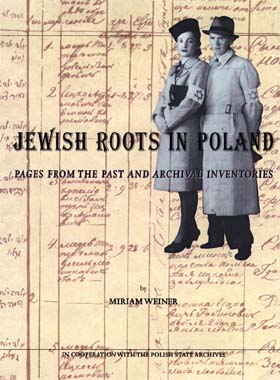 Jewish Roots in Poland: Pages from the Past and Archival Inventories. By Miriam Weiner. In cooperation with the Polish State Archives. (The Miriam Weiner Routes to Roots Foundation and YIVO Institute for Jewish Research, 1997). 446 + xx pages. ISBN 0-9656508-0-4. $50.00 from The Miriam Weiner Routes to Roots Foundation, Inc., 136 Sandpiper Key, Secaucus, NJ 07094; Tel: 201/866-4075; Fax: 201/864-9222. <http://www.rtrfoundation.org>.
Miriam Weiner's Jewish Roots in Poland is a tour-de-force. This magnum opus is the most comprehensive work ever published on Polish-Jewish genealogy. It is a work of great interest for genealogists, historians, travelers, or anyone interested in Polish-Jewish culture. A lavishly illustrated volume, you'll want to proudly display it as a coffee-table book, as well as mine the incredible depth of its comprehensive inventories and fantastic reference material for genealogical research.
The unique value of this book is that it disproves once and for all the commonly-held bubba-meisa that "all the records were destroyed" in Poland. This book shows that millions of records do exist -- Here is an inventory, in black and white.
The book is in seven chapters, plus several appendices. An eager genealogist is tempted to jump right to the "Archival Inventories" chapter -- but the other sections contain fascinating and valuable information.
Chapter One is a general introduction to Polish-Jewish genealogical research, by Jeffrey K. Cymbler. Briefly covered on pages 9-19 are Polish history and geography; the history of civil vital registration in Poland; locating ancestral towns; and other sources of genealogical value which are not covered elsewhere in the book: pinkassim, yizkor books, business and telephone directories, newspapers, and the internet. However, this section is often weak in its history and geography; there are several historical non-sequiturs ("Russian portion of the Duchy of Warsaw", page 9), and errors in the surname mandate dates (page 11). Jewish surnames were mandated in West Galicia 1805, and in the Russian Kingdom of Poland in 1821.
Not enough attention is given to the differences in record-keeping between the various Polish regions during the 19th century. The situation in the area occupied by Austria was very different from that in areas ruled by Prussia, etc. For example, on both pages 152 and 187 there is an author's note stating that "Jewish vital records are also interspersed with the Roman Catholic vital records for the period 1810-1825 (separate records by religious community began in 1826)". This statement is true only for the localities that were within the Kingdom of Poland (Congress Poland), the semi-autonomous region under Russian rule. The area that was the Kingdom of Poland comprises less that half of today's Poland. The above statement is not true for areas now in Poland that were ruled by Austria (Galicia), Prussia (Posen, East and West Prussia, Pomerania, Brandenburg, Silesia), and those areas in the Russian Pale of Settlement (the Biaystok area). The statement should be further qualified to note that in that area and time period, Jewish registrations occur only in the Roman Catholic vital record civil transcripts, not in parish registers. Furthermore, the beginning date for civil registration in the Duchy of Warsaw is 1808; it began in 1810 in those areas Napoleon conquered from Austria in 1809 (former West Galicia; later Kielce, Radom, Siedlce and Lublin gubernias). See the article "Vital Records in Poland - A Primer" in Kielce-Radom SIG Journal, Volume I, Number 2 (Spring 1997), pages 3-7. (This article is also available online as a JewishGen InfoFile).
Chapter Two (pages 27-136) is entitled "Cities and Towns in Poland: Pages from the Past and Present". It contains several pages on each town now in Poland with a pre-Holocaust Jewish population of over 10,000. Each of these twenty-eight towns is depicted in a two to ten page spread, featuring a brief historical sketch, information on synagogues and Jewish cemeteries (location, current status), Holocaust monuments, and a bibliography. The photographs in this section are striking. There are up to a dozen photographs for each town, many in full color: city views of today and yesterday, old postcards depicting synagogues and market squares, modern images of cemeteries, synagogues, and monuments.
Chapters Three through Six are introductions to the major repositories of records Jewish genealogical interest in Poland: The Polish State Archives, The Urzd Stanu Cywilnego (Civil Registration) Offices, the Jewish Historical Institute in Warsaw, and various Concentration Camp Archives.
Chapter Three (pages 137-152) introduces Jewish genealogical research at the Polish State Archives. Written by Professor Jerzy Skowronek, the late State Archivist of Poland, this chapter covers the procedures for accessing data in the Archives, via either on-site visits or mail. Included in this section are over two dozen sample documents -- crystal-clear photographs of actual archival documents: wills, tax lists, birth marriage and death records and registers, books of residents, land records, house plans, notary records, ghetto prisoner and transport lists. The sample documents are in a variety of languages: Polish, Russian, Hebrew, Latin and German. A citation of the archival source of each document would have been a nice addition.
Chapter Four (pages 153-162) discusses the Urzd Stanu Cywilnego (USC) offices, the Civil Registration offices located in each town in Poland. Generally located in the town hall, the USC is where civil vital records less that 100 years old are supposed to be kept. This section also contains over a dozen wonderful photographs of sample documents from USC offices.
Chapter Five (pages 163-168) describes the Zydowski Instytut Historyczny (Jewish Historical Institute) in Warsaw. Again, nearly a dozen photographs of their archival documents illustrate this chapter, several in color: Passports, ghetto and Holocaust survivor registrations, and POW records, each containing photographs of the registrant.
Chapter Six (pages 169-186) describes the holdings of two major concentration camp archives in Poland: the Majdanek Museum Archives, and the State Museum of Auschwitz-Birkenau.
Chapter Seven (pages 187-390) is the heart of the book, the mother lode for genealogists -- the Archival Inventories. It is arranged in two large sections, each in a different arrangement: "By Town" and "By Repository".
The first arrangement (pages 192-293) is alphabetical by town. For towns currently in Poland, this section lists what types of archival documents are available, what years they cover, what repository they are located in, and the archival source citation. Over a thousand towns are represented here, with over five thousand record entries: documents from the 75 branches of the Polish State Archives, the Jewish Historical Institute in Warsaw, and over 400 USC offices.
More than twenty different types of documents are listed, ranging from the familiar birth marriage and death records, to army and draft registrations, election and voter lists, land and property records, tax lists, notary records and hospital records. Each type of record is identified by a unique one-letter code. The records are listed in a well-designed and easy-to-use format -- there are reminders of what the letters stand for in a key at the bottom of every page. Genealogists will marvel at the depth and breadth of information that is available.
For example, for the town of Radom, there are army recruit lists, birth marriage and death records, voter lists, immigration records, Holocaust records, land records, name change records, school records, tax lists, occupation lists, Jewish hospital records, and notary records at the Polish State Archives in Radom; birth marriage and death records at the Radom USC; and kahal records at the Jewish Historical Institute in Warsaw.
For smaller towns, typically only birth marriage and death registers are listed, with perhaps one or two other types of records. The amount of data available for any particular town varies greatly.
The second part of the Archival Inventories section (pages 294-390) lists much of the same data, but arranged by Archival Repository, rather than alphabetically by town. This arrangement includes separate sections for 75 branches of the Polish State Archives; the Jewish Historical Institute in Warsaw; and the USC Warszawa Sródomiecie, which holds material for many Galician towns now in Ukraine. It does not contain sections on other USC offices. This arrangement is useful if you are planning a research trip to Poland; you'll know what you can access at each archival location. But researchers should note that some archival material is moving (see page 430).
Comparing these inventories with those previously published in the Kielce-Radom SIG Journal, one finds many additions. For instance, in I:2, page 6, we published summaries from the 1993 Kielce Archives catalog, which covered the Kielce Archives and three of its four branches. For the main Kielce Archives, the town list is identical, but whereas our listings for most towns stopped in the 1870s, in this book most towns have their vital records extending until the mid-1890s. The Jedrzejów branch archives now has vital records for Jedrzejów and Miechów. The Pinczów branch archives now has vital records for Busko-Zdrój, Chmielnik, Nowy Korczyn, Pacanów and Szydlów. The Starachowice archives' listings all check, except now their Tarlów records extend until 1887, and they reportedly have Ostrowiec Swietokrzyski vital records for 1826-1893!
The Sandomierz archives, the one branch of the Kielce Archives not contained within their 1993 catalog, last published an inventory in 1979. This archives possesses Jewish vital records for the following former Radom gubernia towns: Bogoria, Klimontów, Koprzywnica, Kurozweki, Opatów, Osiek, Ozarów, Polaniec, Sandomierz, Staszów, Tarlów and Zawichost. The listings generally extend to the mid-1890s.
The Radom Archives published a catalog in 1996, which we excerpted in I:4, page 24. In that catalog, listings of Jewish vital records for 21 towns extended through 1886. In the current volume, these listing are generally extended until 1894, with five towns' records extending up to 1939: Biaobrzegi, Gowarczów, Kozienice, Magnuszew and Przytyk. Usually, 20th-century records remain at the local USCs; knowledge of these exceptions is valuable information for researchers.
Appendices:
Appendix One (pages 391-421) is an extensive bibliography of hundreds of books and articles on Polish Jewry, in various languages. The bibliography is arranged topically: General, Pre-World War I, Between the Wars, Holocaust, Post-Word War II, Bibliographies, Cemeteries, Synagogues, Genealogy, Periodicals, Collected Biographies, Films, and Gazetteers; and thereunder alphabetically by author. Accompanying the bibliography are over one hundred evocative photographs of synagogues and cemeteries in towns all over Poland.
The bibliography lists many articles on towns in the Kielce-Radom region, most from the journal Biuletyn Zydowskiego Instytutu Historycznego w Polsce (BZIH), including Pilica (p. 404), Ozarów, Przytyk (p. 407), Chmielnik (p. 408), Pinczów, Sandomierz (p. 412), Szydlów, Klimontów, Ciepielów and Tarlów (p. 414),
Appendix Two is a list of addresses of all Polish State Archives: the Archiwum Pastwowe (District Archives) and the Oddzial (Branch Archives). The list includes telephone and fax numbers, where available. This section is accompanied by twenty photographs of the exteriors and interiors of various archives; an index to archives by district; and map.
Appendix Three concerns Galicia, the pre-WWI province of the Austro-Hungarian Empire, an area which today is southern Poland and western Ukraine. It lists place-name variants in Polish, Russian and Ukrainian, and contains a map showing pre-WWI administrative districts.
Appendix Four contains a glossary of Polish, Hebrew, Yiddish and German terms; and guides to the Polish, Russian and German alphabets. Appendix Five is a geographic index of photographs, and Appendix Six contains the photo and illustration credits.
The book's only real shortcoming is the lack of a comprehensive town index. While the Archival Inventories "By Town" section (pages 192-293) lists all towns currently in Poland with known archival records alphabetically, there are other town references that a casual reader might overlook. For example, the archival records of the town of Chmielnik are listed on page 203, but there is also a photograph of the Chmielnik synagogue on page 418, and a bibliographic citation of a BZIH article about the Chmielnik synagogue on page 408. While there is a separate geographic index of photographs on page 441, there is no index to the bibliography, nor to the document illustrations.
Readers should also be aware that towns no longer in Poland (towns now in Ukraine, Lithuania or Belarus) are not listed in the "By Town" section, but are listed in the "By Repository" section.
Ms. Weiner must be congratulated for this incredible effort, which required the input and cooperation of hundreds of sources. In any work of this magnitude, especially a ground-breaking one such as this, which compiles its information from hundreds of sources, errors and omissions are inevitable.
For example, I have received from both the Polish State Archives and USC offices various records for the towns of Losice and Nowogród, for years which are not listed in the inventories. The author encourages input from all readers who discover additions or corrections.
There are other minor errors: The town of Szydlowiec is misspelled as "Szdlowiec" throughout. The main entry for the town of Opatów (page 248) places it in the wrong province: entries for two towns with the same name were erroneously merged. "Our" Opatów (formerly in Radom gubernia) is currently in the province of Tarnobrzeg; there is another town with the same name in Kalisz province.
It should also be noted that some of the entries are unverified, having been compiled from secondary and tertiary sources. For example, on page 249 the book references Jewish community records for the town of Ostroleka, supposedly held by archives in Grodno. This citation was copied from an unverified tertiary source; these records do not exist in the Grodno archives. See Landsmen VIII:1 (Summer 1997), pages 13-20 for details.
Creating a completely up-to-date inventory is an impossible task, firstly because of sheer number of repositories involved, some of whom lack interest in their own holdings in this regard. Secondly, material is constantly moving, not only between branches of the Polish State Archives, but also that by Polish law there are regular movements of vital records from the USCs to the nearby PSA branches.
The author may produce an update supplement in about 18 months. This update will provide corrections and additions. Hopefully those regional archives who did not participate in the initial survey will be more inclined to do so now.
If you don't find your town listed in the "By Town" section, don't give up all hope. There are still other sources of information. Records of some towns, especially smaller towns, were recorded in nearby towns during certain periods (e.g. Lagów in Opatów) -- see Kielce-Radom SIG Journal II:1 (Winter 1998), page 21. Use the JewishGen ShtetlSeeker and LDS Microfilm Master programs (see I:2, page 9) to locate nearby towns. The State Archives of Belarus in Grodno, which holds some records of the Biaystok area of Poland, have been uncooperative and hence are not comprehensively catalogued here; I know that they have records for the town of Kuznica, which are not listed in this work. There are thousands of other archival collections at the Polish State Archives, that while not specifically Jewish, do contain information about Jewish residents: Municipal records, court records, notary records, mortgage records, residency lists, tax records, obscure government fonds, etc., which are not listed in this volume. There are also some collections outside of Poland, at repositories such as YIVO in New York, and the Central Archives for the History of the Jewish People in Jerusalem. And more and more records are always coming to light.
One disappointment is that only a brief reference is made to the 2,000+ microfilms of Polish-Jewish vital records filmed by the LDS, and no references to the hundreds of thousands of records extracted or indexed in Landsmen, The Kielce-Radom SIG Journal and Jewish Records Indexing - Poland (JRI-PL) project. While these cover only a fraction of the millions of archival records available in Poland, knowing of their existence could save a researcher hundreds of hours.
The author has focused solely on primary source material in Poland. But the omission of references to the growing number of extracts and rapidly expanding database of indexes is a disservice to the Jewish genealogical community. Inexperienced genealogists can easily go down the wrong track, if they are not actively connected to JewishGen or unaffiliated with a JGS, and are therefore unaware of these various initiatives. A new book designed to open people's eyes to research possibilities should, by its very nature, include full details about these important sources. These SIGs are the most significant activities relating to Polish-Jewish genealogical research today.
Future volumes in this series will cover "Jewish Roots in Ukraine and Moldova" and "Jewish Roots in Belarus and Lithuania". We sincerely wish the author the best of luck in this ambitious endeavor, and can only hope that she will receive the same level of cooperation from the archival authorities there that she received in Poland.
I love this book. I have enjoyed many hours with this indispensable volume, using it every day. It is truly a unique and timely masterpiece. This magnificent book belongs in the library of every serious Jewish genealogist.
Copyright ©1998, Warren Blatt