Mitau Tax Defaulters 1853
Regional government newspapers, Gubernskie Vedomosti, were published in the provinces of the Russian Empire for much of the 19th century and until 1917, contained a wide variety of official announcements. An example from the Gubernskie Vedomosti for Courland is the list of disqualified Libau voters for the 1912 Duma elections.

The Gubernskie Vedomosti contained many other announcements of genealogical value as well, albeit much less sweeping in character than the Duma lists. The example shown here is a list from 1853 naming Jewish residents of Mitau (now Jelgava) who had defaulted on their taxes. The announcement is in German, the official language of Courland at that time, printed in Gothic script. This can be contrasted with the Russian in which the Duma lists were published in the early 20th century. A translation appears below the scanned original announcement.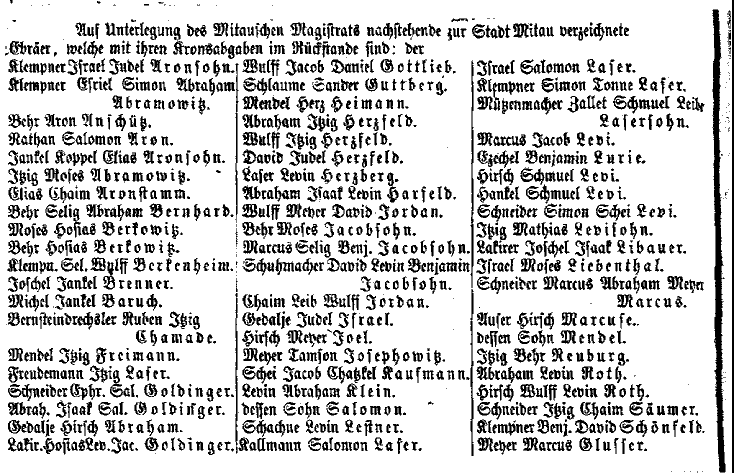 On behalf of the Mitau magistrate, the following Jews registered in the city Mitau, who are in arrears with their taxes:

The plumber Israel Judel ARONSOHN
The plumber Esriel Simon Abraham ABRAMOWITZ
Behr Aron ANCHÜTZ
Nathan Salomon ARON
Jaskel Koppel Elias ARONSOHN
Itzig Moses ABRAMOWITZ
Elias Chaim ARONSTAMM
Behr Selig Abraham BERNHARD
Moses Hosias BERKOWITZ
Behr Hosias BERKOWITZ
The plumber Selig Wulff BERKENHEIM
Joschel Jankel BRENNER
Michel Jankel BARUCH
The amber turner Ruben Itzig CHAMADE
Mendel Itzig FREIMANN
Freudemann Itzig LASER
The tailor Efraim Salomon GOLDINGER
Abraham Isaak Salomon GOLDINGER
Gedalje Hirsch ABRAHAM
Lakirer [?] Hosias Jacob GOLDINGER
Wulff Jacob Daniel GOTTLIEB
Schlaume Sander GUTTBERG
Mendel Herz HEIMANN
Abraham Itzig HERZFELD
Wulff Itzig HERZFELD
David Judel HERZFELD
Laser Levin HERTZBERG
Abraham Isaak Levin HARFELD
Wulff Meyer David JORDAN
Behr Moses JACOBSOHN
Marcus Selig Benjamin JACOBSOHN
The shoemaker David Levin Benjamin JACOBSOHN
Chaim Leib Wulff JORDAN
Gedalje Judel ISRAEL
Hirsch Meyer JOEL
Mener Tanson JOSEPHOWITZ
Schei Jacob Chatzkel KAUFMANN
Levin Abraham KLEIN
His son Salomon
Schachne Levin LEFTNER
Kallmann Salomon LASER
Israel Salomon LASER
The plumber Simon Tonne LASER
The capmaker Zaller Schmuel Leib LASERSOHN
Marcus Jacob LEVI
Ezechel Benjamin LURIE
Hirsch Schmuel LEVI
Hankel Schmuel LEVI
The tailor Simon Schei LEVI
Itzig Mathias LEVISOHN
Lakirer [?] Joschel Isaak LIBAUER
Israel Moses LIEBENTHAL
The tailor Marcus Abraham Mendel MARCUS
Auser Hirsch MARCUSE
His son Mendel
Itzig Behr NEUBURG
Abraham Levin ROTH
Hirsch Wulff Levin ROTH
The tailor Itzig Chaim SCHUMER
The plumber Benjamin David SCHÖNFELD
Meyer Marcus GLUSSER



---