The Doctors of Courland 1825-1900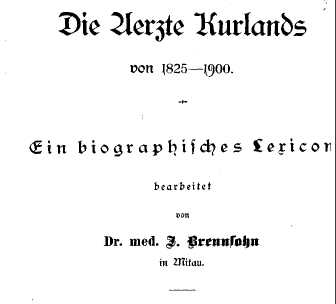 Issidorus Brennsohn wrote a book providing biographies of the the Doctors of Kurland for the period 1825 - 1900. The book was published in Mitau in 1904. Brennsohn was clearly fixated on religion, but there are some fascinating social tidbits. There are about 125 doctors listed with Jewish connections, and when studied as a whole they provide an interesting picture of medical training for Jews, patterns of practice, mobility, social mobility and aspiration. For instance, the two examples shown below, with translations, list the respective fathers' occupations.




Philipp Edelstein


EDELSTEIN, Philipp [Feitel] - Son of the craftsman Hirsch E., Jew, born in Libau 21 June 1861, received his schooling in the Jewish Arons-Elementary School in Libau and attended the Nicolai Gymnasium from 1868 -1880. He studied in Dorpat Medicine 1888 - 1890, Doctor, and practicing in Thorensberg near Riga 1888 - 1889, also Sackenhausen in Kurland, Hasenpoth district 1889-1890, in Trischiki in Goubernia Kovno, district of Schaulen 1890-1894, and in 1894, was in Skawdwili in Nossienschen, district of the Goubernia of Kovno. He is a consultant [? Refervearzt] and is married to Sarah GRÜNSTEIN.


Isidor Israelsohn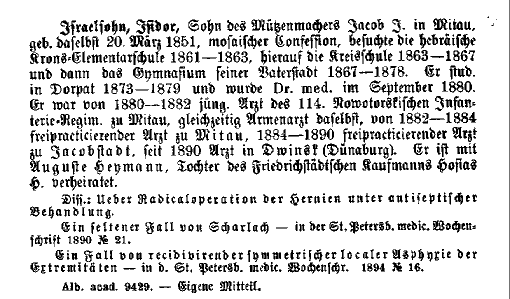 ISRAELSOHN, Isidor - Son of the capmaker Jacob I. in Mitau, born there 20 March 1851, Jew, attended the Hebrew Arons Elementary school 1861 - 1863, afterwards the district school 1863 - 1867 and then the Gymnasium in his home city 1867 - 1878. He studied in Dorpat 1873 - 1879, and became Doctor of Medicine in September 1880. From 1880 - 1882 he was junior doctor of the 114th Nowotorskischen Infantry Regiment of Mitau, simultaneously serving in the medical corps, from 1882 - 1884 GP in Mitau, 1884 -1890 GP in Jacobstadt, since 1890 doctor in Dwinsk [Dünaburg]. He is married to Auguste HEYMANN, daughter of the Friedrichstadt merchant, Josias H.

Dissertation: On radical surgery of hernia under antiseptic treatment.
A rare case of scarlet fever - in the St. Petersburg Medical Weekly, 1890, No. 21.
A case of relapsing symmetric local ?? of the extremities - in the St. Petersburg Medical Weekly, 1894, No. 16.



---