...
GemeindeView: Ckyne
CURRENT CZECH NAME: Ckyne
OTHER NAMES/SPELLINGS: Ckyn, Czkyn, Kieselhof, Tschkyn, Tschkyn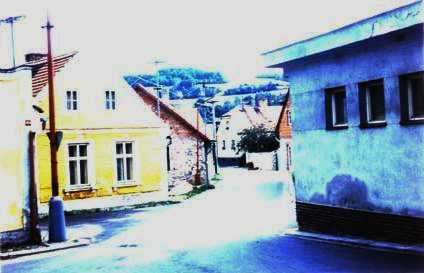 LOCATION: Ckyne is a small town in Bohemia, Prachatice, Czech Republic, located at 49.07 longitude and 13.50 latitude. Ckyne is 120 km SSW of Prague, 16 km SSW of Strakonice, and 8 km NE of Vimperk
(seeMap - by Mapquest, then click on your browser's
"Back" button to return to this page).
HISTORY*: Chartered in 1537. The earliest known Jewish community in this town was perhaps 17th century, recorded in the 1724 census. A small Jewish community (about 10 families) existed in the 18th century growing to about 40 families (140-240 persons) in the 19th century. As the population moved to larger cities, the seat of the congregation moved from Ckyne to Vimperk. Only 3 Jewish families (11 persons) lived in Ckyne in 1930. The present town population is 1,000 - 5,000 with none Jews.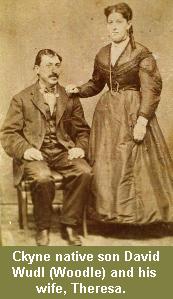 *See the extensive GemeindeView supplement for Ckyne
"From the Jewish History of Ckyne"
- also-
An enlightening account of a recent visit to Ckyne in
"A Visit to Bohemia" - by Alexander Woodle


- Click on map segment above to see the rest of an 1874 regional map
GENEALOGICAL RESOURCES: Birth, Death and Marriage record books for Ckyne beginning in around 1800 are preserved and located at the Czech State Archives in Prague, Statni istredni archiv, tr. Milady Horokove 133, CZ-166 21 Praha 6, Czech Republic, tel/fax: +42 (2) 333-20274. The Familianten book for Ckyne has been indexed. See http://czechjewish.virtualave.net/hbf126.htm. Search JewishGen/Internet resources for Ckyne.
NOTABLE RESIDENTS AND DESCENDANTS: The grandfather of Henry Horner, governor of the State of Illinis, came from Ckyne. Ckyne is the native town of Alois Zucker (b. 1842 Ckyne, d. 1906 Prague), a famous attorney and dean of the Prague Faculty of Law, member of the Czech Academy of Sciences and Arts, the first president of the National Union of Czech Jews (founded in 1894). Rabbi Mathes (Mendel) Bloch (b. 1778) was the rabbi and mohel in Ckyne in the early 19th century. His granddaughter, Rosalia Feitler geb. Bloch (b. 1852 Ckyne, d. 1921 Vienna), moved to Cesky Budejovice (Budweis) and later Vienna. She was the maternal grandmother of (and a negative influence on) the composer Eric Zeisl (b. 1905 Vienna, d. 1959 Los Angeles). Eric Zeisl's grandson, E. Randol Schoenberg, is a moderator of Jewishgenís Austria-Czech SIG and the submitter of this page. See also the web pages of Ckyne descendants Francisco Fantes and Phil Lederer.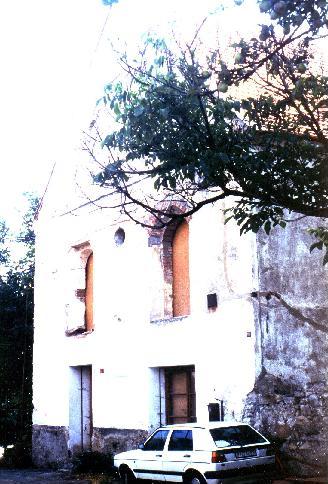 SYNAGOGUES (photo at right): The Ckyne Synagogue (check the web site at http://www.synagoga-ckyne.cz/index.php?lang=eng) is in the southern part of town, between the main road and the railway station, house No. 105. Built in the Empire style in 1828, regular services held until 1895, occasional services until World War I. The synagogue was sold in 1922 and later converted into a workshop.
See the article by Alexander Woodle on The History of the Ckyne Synagogue and Its Restoration Program.
CEMETERIES:
See the Complete Cemetery List for Ckyne
(This is a large file . . . please be patient while it loads into your Web browser)
The cemetery is 500m SE of the synagogue, near the road to Hradcany. The oldest preserved tombstone dates from 1688, burials until 1942. The total of about 500 burials. Remarkable baroque tombstones. The cemetery has been repaired recently, as the result of an appeal. The type of Jewish community which used this cemetery was Conservative. Vimperk (German: Winterberg) 8 km used this cemetery. The cemetery is listed and/or protected as a landmark or monument. The cemetery location is rural (agricultural), on a hillside, isolated, marked by inscriptions on pre-burial house (Czech; small rest of Hebrew inscriptions.). The marker mentioned Czech information about Jews, the Holocaust, the Jewish Community. It is reached by turning directly off a public road. It is open to all. The cemetery is surrounded by a continuous masonry wall (photo of entrance, below). There is a gate that does not lock. The approximate size of cemetery before WWII and now is 0.1849 ha hectares. There are 100-500 stones, most in their original locations. The cemetery has special section for children. Stones are datable from 1688 to 20th century. The cemetery has tombstones and memorial markers made of marble, granite, limestone and sandstone. The cemetery contains tombstones that are flat shaped stones, finely smoothed and inscribed stones, flat stones with carved relief decoration, multi-stone monuments and obelisks. The cemetery has tombstones portraits on stones and metal fences around graves. Inscriptions on tombstones are in Hebrew, German and Czech. The cemetery contains no known mass graves. Within the limits of the there is a pre-burial house. The pre-burial house has a tahara (board for tahara, meanwhile deposited in museum in Volyne), wall inscriptions and other distinctive features (bier). The present owner of the cemetery property is the local Jewish community (Praha). The cemetery property is now used for Jewish cemetery use only. Properties adjacent to it are agricultural. The cemetery boundaries has not changed since 1939.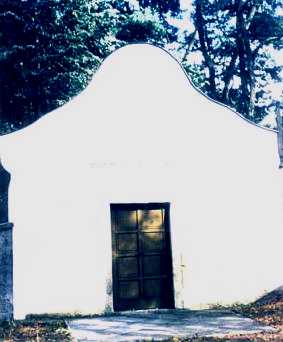 The cemetery is visited frequently by organized Jewish group tours or pilgrimage groups, private visitors and local residents. The cemetery has been vandalized occasionally, between 1981-91 and between 1945 and 1981. No maintenance has been done. The work was done by local non-Jewish residents, individuals or groups of non-Jewish origin, local/municipal authorities and regional/national authorities. Restoration was done in 1982-1992 with vandalism afterward. Now there is regular caretaker. The caretaker is paid by the Jewish congregation of Prague. There is a slight threat due to uncontrolled access, vegetation and vandalism.
CONTACTS: Town officials: Obecni urad, 384 81 Ckyne, 0339/921-70 or 922-13; and mayor: Jan Zloch, home: 384 81 Ckyne 255, tel. 0339/923-67. Regional officials: Okresni urad, referat kultury (head: Ms Sarka Fidlerova), 383 01 Prachatice, tel. 0338/223-61 or 228-61; and Pamatkovy ustav jiznich Cech (Marie Bartyzalova), namesti Premysla Otakara 34, 370 21 Ceske Budejovice, tel. 038/237-92; and Zidovska nab.obec v Praze, Maislova 18, 110, 01 Praha 1, tel. 02/231-69-25. Interested parties: Okresni muzeum, Horni 13, 383, 01 Prachatice, te. 0338/216-52; and Statmi Zidovske muzeum, Jachymova 3, 110 01 Praha 1, tel. 02/231-06-34 0r 231-07-85; and PhDr. Jan Podlesak (see below). Caretaker: PhDr. Jan Podlesak, Bezdrevska 1021/8, 370 11 Ceske Budejovice, tel. office 038/371-41, office: Jihoceska Univerzita pedagogicka fakulta, 370 01 Ceske Budejovice; or Bosice 46 384 81 Ckyne.
SOURCES: Die Juden und Judengemeinden Bohmens, Hugo Gold ed. (1934), pp: ; Jiri Fiedler, Jewish Sights of Bohemia and Moravia (1991), pp. 58-59 (photo); International Association of Jewish Genealogical Societies Cemetery Project, Czech Republic, Ckyne; Petr Ehl, Arno Parik, Jiri Fiedler, Old Bohemian and Moravian Jewish Cemeteries (1991), p. 84 (photo).
SUBMITTER: E. Randol Schoenberg, 3436 Mandeville Canyon Road, Los Angeles, California 90049-1020 USA. Tel: 1-310-472-3122 (h), 1-213-473-2045 (w). Fax: 1-213-473-2222. Email: randols@schoenberglaw.com. Web Page: http://www.schoenberglaw.com.
---
Return to GemeindeView Home
---
Return to AustriaCzech Home
---
...