GemeindeView: Horni Cerekev
CURRENT CZECH NAME: Horni Cerekev
OTHER NAMES/SPELLINGS: Ober Cerekive, Ober Zerekiv
LOCATION: (see map at right).....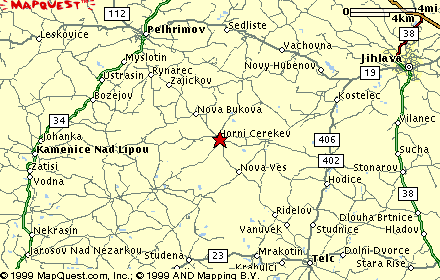 HISTORY:
Horni Cerekev was a large village prior to 1800. In 1809 the town was largely destroyed by Napoleon's forces. A small village exists there today.
GENEALOGICAL RESOURCES:
NOTABLE RESIDENTS AND DESCENDANTS:
The submitter of this information has identified several family names which derive from here: Schling, Meisel, and Klimpl.
SYNAGOGUES:
At sometime in the past there was a significant jewish population, with a synagogue and Jewish schools, as well as a residence for the area's Rabbi.

A torah scroll from the vanished Jewish community has survived and now rests in the Harrow and Wembley Progressive Synagogue in Harrow, a northwest suburb of London.
CEMETERIES:
CONTACTS:
SOURCES:
SUBMITTER: Valerie Austin - E-mail: va5303@nersp.nerdc.ufl.edu
(Valerie wrote, "I am interested in adding the little bit I know about this village. " We welcome additional information. Please contact the Austria-Czech webmaster at .)
---
Return to GemeindeView Home
---
Return to Austria-Czech SIG Homepage Home
---