..
GemeindeView: Vlci
CURRENT CZECH NAME: Vlci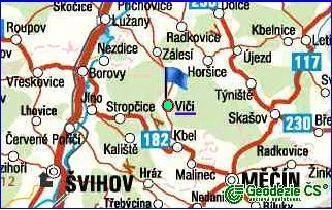 OTHER NAMES: Wlci, Wolfling, Wölfling
LOCATION: Vlci is a very little village (no school, no post office), with an area of 401 ha, 30 km south of Plzen (10 km south of the town of Prestice), in a hilly countryside.
HISTORY: A report on a Jewish community dates from the mid-18th Century, but it's likely that the earliest Jewish community was much older. Two names of Jewish families are known: Wachtel and Glaser. Most Jews were traders, and some were occupied by farming, next to cattle business. Elder townspeople (asked in the year 2000) are well aware that there were Jewish families. Jews seem to have moved to other towns before the end of the 19th Century. The current town population is 72, with no Jews.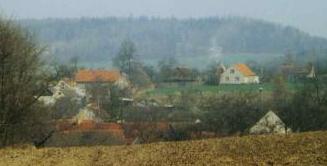 GENEALOGICAL RESOURCES: The oldest Jewish registers available for this region are from 1832 (Svihov) and 1840 (Prestice). The catholic priest of the parish of Kbel held the separate register for the Jews from circa 1802, but it is not certain that this book contains all events. Birth, Death and Marriage record books for Vlci are located at the Czech State Archives in Prague, Statni istredni archiv, tr. Milady Horokove 133, CZ-166 21 Praha 6, Czech Republic, tel/fax: +42 (2) 333-20274.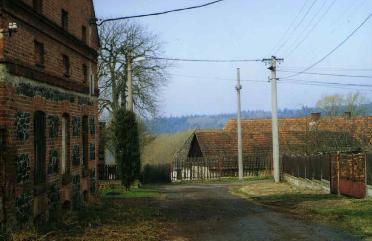 RESIDENTS AND DESCENDANTS: The first identified Jew in Vlci is the trader David Wachtel, who married Rosalie (Rachel) Vogel. Rosalie was the daughter of Herman Vogel, a teacher in the neighbouring village of Malinec, and his wife Ludmila. Branches of the Wachtel (house n°23) and Glaser (house n°38) families lived in Vlci. These families had relatives in several surrounding villages, especially Malinec (Mallinetz), 3 km from Vlci, Radkovice, Horsice, Ujezd, Vreskovice (Brzeskowitz), Dolany (Dolan), Kbell (Kbel), Zinkovy (Zinkau, Zinkow), Horzice, and in the towns of Svihov (Schwihau) and Prestice (Prestitz). Herman Wachtel moved to Prague with his family at the end of the 19th Century. He is the great-grandfather of the author of this article.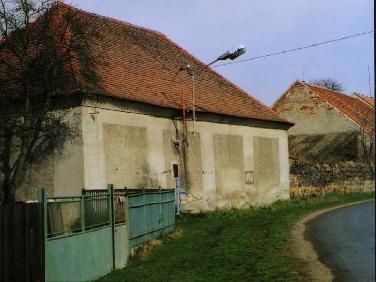 SYNAGOGUE: There was an old synagogue, dating from the first half of the 19th Century, near an old farm along the main road, now a storehouse. (photo, right)
CEMETERIES: The Jewish community in Vlci used the old Jewish cemetery in Svihov (6 km SW), although some of Vlci's Jews are buried elsewhere.
(cemetery photo, below)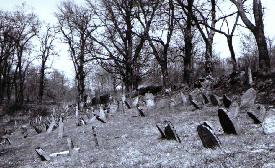 CONTACTS: Town officials: Obecni urad Vlci, c.p. 13, 334 01 Vlci, p. Prestice.
SOURCES: Die Juden und Judengemeinden Bohmens, Hugo Gold Ed (1934), pp 342-347, 515-516; Jewish sights of Bohemia and Moravia, Jiri Fiedler, Ed. Sefer, Prague 1991; personal visit in April 2000.
SUBMITTER:
Claude Wachtel, 71 rue Didot 75014 Paris, France
Email: claude.wachtel@libertysurf.fr.
---
Return to GemeindeView Home
---
...