The Tarbut School (cont.)
Translated by M. Porat
Edited by Judy Feinsilver Montel
The Volozhin Tarbut School was strongly linked with the Eretz Isroel building, its lands acquiring and settlements. We used to buy Keren-Kayemet stamps, to read monthly Hebrew magazines and to participate in all events linked with Israel, with its language, its style of life its work conditions and the Aliya to Israel.

Our small shtetl' Tarbut School was visited by important Zionist personalities, among them Mr. Isaac Tabenkin, leader of the labor movement in Erez Israel.

The School was positioned near the Great Volozhin Yeshiva. Its fame and tradition influenced our behavior.

Well educated, very polite, we stood up as a teacher entered the class. To our teachers we turned only after raising a hand if permitted. We called them respectfully: "My distinguished schoolmaster or schoolmistress" (Adoni, or Gvirti Hamoyre/a).

Although, following tradition we were able to behave like the Volozhin Yeshivah students. It was known that they did not greet the Hanaziv and boycotted his lesson after the Rabbi slapped a colleague student's face for having spoiled his peyess- side locks. A teacher once slapped our Tarbut - student with a rule over his hand and it was resulted in a strike. We opposed the teacher's entering our class until he excused himself following Hanaziv's famous example.

Hayim Golovenchitz left Volozhin for Israel in 1928. Mr. Benyamin Shishko replaced him until 1931 the year he followed his predecessor and went to the Holy Land.

The last Tarbut manager was Mr. Yaakov Lifshits from Rakov. During his time in the position there was a major demand for higher classes. The community decided to enlarge the existing learning space. Building materials were bought and amassed on the courtyard. But the shortage of resources disabled its construction. Despite this classes were added. And towards the last year of the Hebrew School's existence seven regular classes plus the very important "Mekhina" were functioning. The problem of space was meanwhile resolved, until better conditions would come, by enlarging the second shift and by occupying a part of the women's partition in the Volozhin main Synagogue, which was situated some hundred yards away near the Yeshiva.

During Yaakov Lifshits' managing period new teachers were required. Mrs. Fruma Lifshits, Yaakov's spouse and Ms. Lapp (Lapoovna) were teaching the mekhina and the children in the lower classes. Yaakov Finger from Soll became our teacher for Hebrew language and its grammar and literature. He gave also lessons on Jewish history and the geography of Erets Israel.

Ms. Rachel Melzer, our natural science schoolmaster, was a born Volozhiner. She was married to Shneur Kivilevitsh (Yudenrat head in 1942). Rachel spoke with her students only in Hebrew, avoiding Yiddish even during the breaks while the children in the elder classes spoke Yiddish.

Mr. Taller from Moltshad' was responsible for the Religious branch: all 5 Pentateuch Books, Judges and Prophets, Kings, Prayers and some Gomorrah chapters. Mr. Taller privately used to prepare some boys to the Bar-Mitsva ceremonies.

Yakov Lifshits, as well as managing the School also taught us Arithmetic. Each Friday he would also gather all the students and read before them chapters from Sholom Aleykhem in Yiddish. We were enchanted by the Yiddish writer's stories. It's a Pity that the Volozhin Tarbut School did not find time or resources or did not want to teach us some Yiddish writing and grammar.

All these disciplines listed above were taught in Hebrew Ashknaz-dialect. In Israel the Sefarad dialect dominated. The differences are in pronunciation. In Sefarad-dialect the emphasis is put on the word's end, in Ashkenaz - on its beginning. Some characters are spelled otherwise, so the same words written in equal way are read differently; for example: the word "letters" becomes in Sefarad Hebrew "otiyOT", in Ashkenaz - "OYSSIyoys"; "shaNA toVA" - in Sefarad, "SHOno TOYvo" -in Ashkenaz and so for.

Some Volozhiners who made Aliya to Erets Isroel visited the Shtetl with their children in the mid thirties. We heard the "new" Hebrew, and asked to learn the language in the "new" way. Our demand was fulfilled but partially. The prayers and Bible we continued to read in Ashkenaz dialect. Arithmetic, Grammar, Literature (Biyalik, Mappou, Mendele) and Hebrew songs were changed and taught with the modern Sefarad pronunciation.

Thanks to our Tarbut teachers we arrived in Israel after the war with good Hebrew and we were able to begin a normal life immediately after landing in the Holy Land.

Mr. Shlomo Baykalski the handsome, smart and talented young-man from Zheludok taught us the Polish language, its history and geography. During three years (1935-8) with Baykalski we were able to thoroughly learn the Polish language. He encouraged us to read books. We managed to read at this short period hundreds of books all of them in Polish: H. Sienkievitsh, A. Mitskievitsh, I. Kortshak, Dolenga, Mostovitsh, B. Prouss, L. Tolstoy, N. Gogol, Jack London, Mark Twain, D. Amicis, A. Dumas, E. Zola, F. Cooper, K. May, Dickens, Walter Scott and many, many others. (Due to this massive reading I am currently able to read and to write Polish after not using this language for more than 60 years –Translator's note).

S. Baykalski continued to lead the musical circles. By profession a violinist he created a mandolin orchestra and organized a chorus.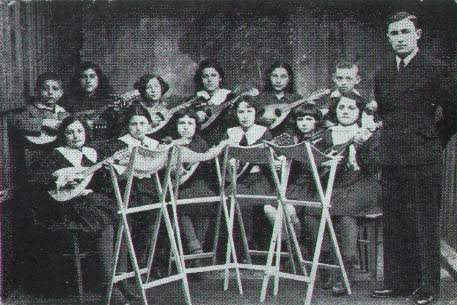 The Tarbut Mandolin Orchestra – 1936
Standing from right to left: The teacher Shlomo Baykalski, Gershon Lunin, Feygl Berman, Golda Rubinsteyn, Itke, Haya Rudnitski, Vulke Brudno.
Seated from right to left: Sonia Perski, Fruma Poderevski, Etele Rogovin, Fruma Goloventshits, Fruma Alperovitsh, Miryam Levin



The recreation time we passed in children's games, volley ball (siatkoovka in Polish), ball throwing camps (Makhanayim – in Hebrew) and reading books.

The Volozhin Tarbut School functioned from 1925 until 1939. At the beginning of the 1939/40 school year after the Soviets occupied Volozhin it acted as a Yiddish school, this school year it finished as a Belarus School.

The School and its building were completely destroyed in 1941.
---
[Page 443]
The Volozhin Kindergarten
By Miriam Levitan
Translated by M. Porat
Edited by Judy Feinsilver Montel
The first (and also the last) Jewish kindergarten in Volozhin was founded in 1934. Mrs. Fania Kivilevitsh during her visit from Eretz Israel in her native shtetl influenced its inhabitants to establish a "Gan" (Garden in Hebrew) in Volozhin by telling them about the happy childhood of the Israel born children (Sabres) at kindergartens' in the Holy Land.

A committee was created. Ruvn Rosenberg and Berl Taft rented a two room apartment from Ruvn Rogovin on the Market Place. Rachel Shevakh was engaged as the Kindergarten teacher (Ganenet).

She spoke to her pupils Yiddish but the songs she taught were Hebrew. Rachel was a lovely blonde devoted to her pupils and to their wellbeing. She organized children shows at the Volozhin firemen's local near the shtetl water pond. Rachel did an excellent work preparing children for further learning in the Volozhin primary Tarbut School.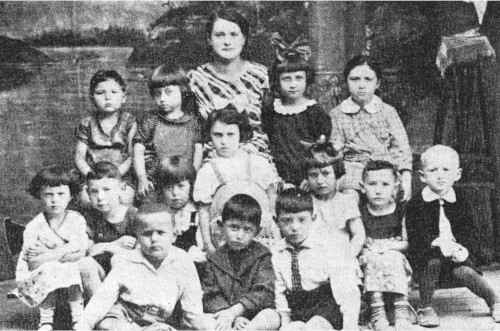 The Volozhin Kindergarten - 1934.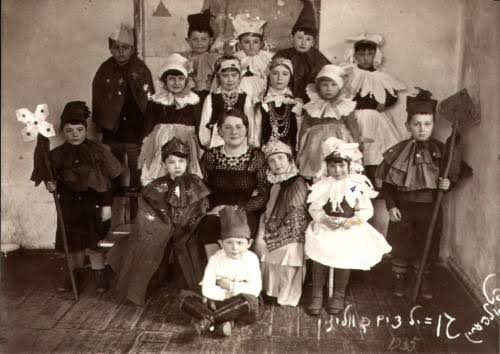 Purim in the Kindergarten – 1935

Names I remember (Translator's note):
1-Rachel Shevakh, 2-Sonitshka Perlman (my sister), 3- Rivele Perski (Getsl's), 4-Feyguele Rapoport (Meyshl's),
5 - Esterke Kaminietski, 6- Iser Rapoport (the Dentist's), 7- Yoel Rosnberg (Ruven's)
Of all the lovely children two only escaped the Shtetl's fate: Sonitshka Perlman-2 and Feyguele Rapoport-4
---
This material is made available by JewishGen, Inc. and the Yizkor Book Project for the purpose of
fulfilling our mission of disseminating information about the Holocaust and destroyed Jewish communities.
This material may not be copied, sold or bartered without JewishGen, Inc.'s permission. Rights may be reserved by the copyright holder.
---
JewishGen, Inc. makes no representations regarding the accuracy of the translation. The reader may wish to refer to the original material for verification.
JewishGen is not responsible for inaccuracies or omissions in the original work and cannot rewrite or edit the text to correct inaccuracies and/or omissions.
Our mission is to produce a translation of the original work and we cannot verify the accuracy of statements or alter facts cited.

Volozhin, Belarus

Yizkor Book Project

JewishGen Home Page
---
Yizkor Book Project Manager, Lance Ackerfeld
This web page created by Lance Ackerfeld
Copyright © 1999-2019 by JewishGen, Inc.
Updated 23 Sep 2006 by LA