Beytar in Volozhin (cont.)
A new leading committee was elected after the veterans went to Erets Israel. Its members were Nekhama Lunin, Borukh Mordkhe Meyirson, Kopl Kagan, Isroel Berkovitsh Benyomin Kleynbord, Peshke Rogovin and Eliezer Maza as the nest head.
The nest members increased to hundred sixty "Brothers" and "Sisters" during the last years before WWII. Influenced by their teachers Yakov Lifshits and Gliker many Tarbut students and graduates joined the nest.
Mr Aron Propus the Beytar governor in Poland arrived in Volozhin to give the nest an award of excellence.
The years passed, years of hope and faith until the skies darkened and announced the disasters of the oncoming war. The events developed rapidly. The Polish rule collapsed quickly after the outbreak of the war. The Soviets occupied Volozhin two weeks later. Tsviya Maza, Dovid Shmerkovitsh and Tzipora Shepsenwoll ran to Borukh Mordkhe Meyirson, took the keys to the nest, went to the hall, opened its doors, gathered all documents they could find and burnt them. They dug a hole and concealed the banner and the award of excellence inside it. The Beytar members knew what they might expect from the Bolsheviks. They decided to leave Volozhin and strive to reach Palestine.
Some Beytarim ran away from Volozhin and went to Vilna, from where it was possible to emigrate. Among them were: Sara Bunimovitsh, Nekhama Lunin, Tsvi Lunin, Borukh Mordkhe Meyirson, Yakov Finger, Yakov Kagan, Peshke Rogovin, Leybl Shvartzberg, Dovid Shmerkovitsh, Hay-Liba Shepsnvol, Tsipora Shepsnvol.
Dovid Shmerkovitsh brought the can with the award and banner to Vilna. The banner was concealed again this time in the soil of Vilna. The award was given to Tsipora Shepsnvoll. She guarded it during all her wanderings and brought it finally in Israel.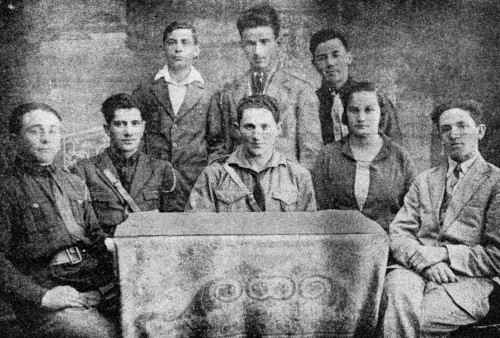 Translator's note
Bela Saliternik-Kramnik has kept a copy of the award.
She asked me to scan and to put it on line.
The Beytar organization was active in Volozhin during eleven years. The Beytar organization became the leading Zionist movement in our town. Due to the inspiration of Beytar two organizations were founded in Volozhin: the Revisionist- Zionist Union, headed by Shlomo Hayim Broodno and Avram Tsart; and the second one, "The Soldiers League" headed by Avrom Berkovitsh, Shneur Kivilevitsh, Onie Rubin and others, all of them soldiers in the past.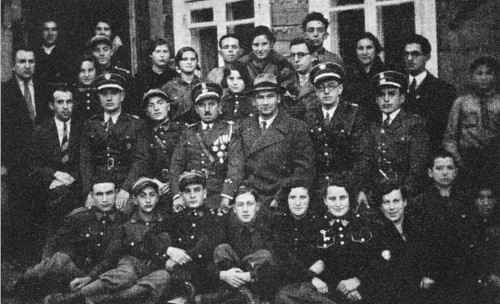 Beytar graduates and "Soldiers league" members during the
visit of Lipa Leviatan from Erets Israel on November 13, 1934
From Left to Right, Rows from above down:

1st row: Hayim Itshe Ore, Feygl Kramnik, Benyomin Kleynbord, Shriro, Rasl Shlosberg, Asher Yotser's daughter, Tsila Perski, Leybl Shalman, Tsviya Lunin, Pessah Berman, Freydl Kramnik, Yona Shapiro
2nd row: Yakov Lifshits, Mordkhay Maretski, Borukh Mordkhe Meyirson, Avrom Berkovitsh, Rivka Perski, Lipa Leviatan, Onie Rubin, Shlomo Meltser, Perts Rogovin
3rd row: Dovid Bunimovitsh, Moyshe Kaplan, Son of lawyer, Leybl Shvartsberg, Itke Kalik, Hinke Rogovin, Rivka Rogovin, Eliyakim Tsimerman, Peshke Rogovin
---
"Shomer Hatsayir" Hakhshara in Volozhin
By Rachel Kna'any (Berman) – Kibuts Merkhaviya
Translated by M. Porat
Edited by Judy Feinsilver Montel
I arrived in Volozhin on 1933. It was a period of rapid expansion of the Zionist training site network in Poland. I came together with a group of thirty people. It was the first detachment of "Hasadan" (the Anvil) the Training Kibuts of Shomer Hatsayir, its members from Vilna and its vicinity, whuch contained also Rakov my natal village. We arrived, a group of youngsters at the age of eighteen-nineteen, on a cold winter day in a horse harnessed sled.

The Hakhshara was lodged in a small house near Polak's sawmill where we worked to earn our piece of bread. The Hakhshara house contained a small dining room, a kitchen and a bedroom common to all of us. It was impossible to put forty beds in a so small an area. We installed two surfaces along the room's length, one over the other, made from boards. It served us as a long common two-story sleeping bed. We did sleep very densely, young boys and girls, but as well as I can remember the behavior was irreproachable, compatible with the Shomer Hatsayir spirit.

We were young girls but our work was very hard. However we did not grouse. It was our way of life, we wanted it and chose it. At the sawmill we gathered the saw dust (so called opilki) from under the sawing machines, put it into sacs and dragged it on our shoulders to the saw-dust hill where the sacs were emptied to repeat the cycle anew.

The other frequent job was the dragging the fall-out from sawing the boards sides (so called obrezki). We pulled it in bundles shaped as long besoms with the ends dragged upon the soil.

Some days we we arranged the sawn boards length and width into high quadratic towers. Another manner of bread winning was wood cutting. We would be rented by shtetl house owners to saw wood lumbers to pieces 15" length and then to cut the short but thick pieces to make them suitable to be put in oven. It was hard work in the shtetl courtyards. The price of our work was very low, and there were days we were unemployed.

No wonder our nourishment was poor: bread, potatoes, tea and potage. Our most preferred dish was fresh black Russian bread and we will remember our benefactor, Hirshl the baker who let us have his good and so tasty bread in never ending credit.

Not only the Baker, most of Volozhin inhabitants received us in a friendly way and tried to help. I was sent to the more wealthy houses as a "seamstress". I had to cut material and to sew underwear. But my experience in this work was almost zero and I did more dammage than was useful. Despite this my employers were gentle, did not reprimand me and paid my fee.

We were proud with our hard labor and of the style of common life. We were pedantic about guarding the rules of equality.

We had our leisure culture: Singing in common for long hours, reading, typical Kibbutz conversations, and walking around the Shtetl.

We had a frightful experience in common with the town inhabitants. A Volozhin Jew was murdered on his way to a nearby hamlet. The bandit was caught. All of us we went to see his execution by hanging. Until now I can see the drama: The green meadow, the hangman dressed in black, the sun in the skies, the brigand without expression led to his death and the stool overturned from under his feet.

A murderer had been punished. Who will revenge the innocent blood of the thousands of Volozhin Jews? Who will punish their murderers? How can we imagine Jewish Volozhin without Jews?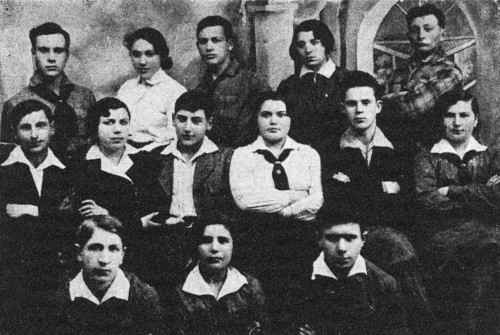 Hashomer Hatsayir in Volozhin 1934
Standing from left to right: From Vilna, Gitl Rapoport, Avrom Perski, Yokh Dolgov, From Vilna
Sitting: Itskhok Kaplan, Leah, From Vilna, Hinda Rudnik, From Rakov, Rohl Perski
Sitting below: Mordkhe Eli Guirson, Elta Horodishtsh, Eliyahu Naroshevitsh
---
This material is made available by JewishGen, Inc. and the Yizkor Book Project for the purpose of
fulfilling our mission of disseminating information about the Holocaust and destroyed Jewish communities.
This material may not be copied, sold or bartered without JewishGen, Inc.'s permission. Rights may be reserved by the copyright holder.
---
JewishGen, Inc. makes no representations regarding the accuracy of the translation. The reader may wish to refer to the original material for verification.
JewishGen is not responsible for inaccuracies or omissions in the original work and cannot rewrite or edit the text to correct inaccuracies and/or omissions.
Our mission is to produce a translation of the original work and we cannot verify the accuracy of statements or alter facts cited.

Volozhin, Belarus

Yizkor Book Project

JewishGen Home Page
---
Yizkor Book Project Manager, Lance Ackerfeld
This web page created by Lance Ackerfeld
Copyright © 1999-2019 by JewishGen, Inc.
Updated 23 Sep 2006 by LA