[Page 164]
a) Rabbis and Yeshiva Leaders (cont.)



Rubinshteyn, Itshak
Head of the "Elhanan" Yeshiva in NY.



Student of Rabbi Refoel Shapiro. Born in 5640 (1880), in Datnivo (Lithuania). As member of the Polish Senate, he fought ardently to receive equal rights for the Jewish population in Poland. Rubinshteyn founded and headed the "Yavne" net of Jewish religious Schools in Poland. In the last years of his life he became head of the Itshak Elkhanan Yeshiva in New York. Died in 5706 Heshvan 24th (31.10.1945) in New York.





Faymer, Yosef (Yosl Slutsker)
One of Rabbi Hayim Volozhiner's best students.


Born in Shklov. He was member in the delegation, that that came in Volozhin, to settle the dispute between Hanaziv and Yosi Ber Soloveytshik. The Delegation participants were R' Isaac Elkhanan from Kovno, David Tabil the Minsk Chief Dayan (Judge), the Vilna "Magid" (Narrator) Zeev Lande and Yehoshua Levin the Minsk rich-man Died in 5634 Sivan 30th , (31.10.1864), in Slutsk.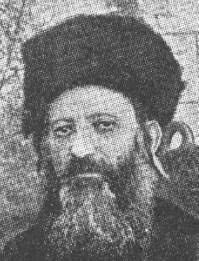 Koock, Avraham Hakohen
The first chief Rabbi of Eretz Israel.



The most estimated Student of Hanaziv, who called him "Mine Avrom Itshe". He became the first chief Rabbi of Eretz Israel. Born in 5625 Elul 16th (1865), in Grayevo. Harav Koock wrote his excellent essay on Hanaziv "The Yeshiva "Ets Hayim" head", published in "Knesset Israel" 5648 (1888). Died in 5695 Elul 3rd (1.9.1935) in Jerusalem.
For article see Table of contents, code 22.15.

---
This material is made available by JewishGen, Inc. and the Yizkor Book Project for the purpose of
fulfilling our mission of disseminating information about the Holocaust and destroyed Jewish communities.
This material may not be copied, sold or bartered without JewishGen, Inc.'s permission. Rights may be reserved by the copyright holder.
---
JewishGen, Inc. makes no representations regarding the accuracy of the translation. The reader may wish to refer to the original material for verification.
JewishGen is not responsible for inaccuracies or omissions in the original work and cannot rewrite or edit the text to correct inaccuracies and/or omissions.
Our mission is to produce a translation of the original work and we cannot verify the accuracy of statements or alter facts cited.

Volozhin, Belarus

Yizkor Book Project

JewishGen Home Page
---
Yizkor Book Project Manager, Lance Ackerfeld
This web page created by Lance Ackerfeld
Copyright © 1999-2017 by JewishGen, Inc.
Updated 23 Sep 2006 by LA