[Page 477]
THE ZIONIST MOVEMENT IN YEDINITZ
Organizations, Events and Activists
Mordechai Reicher
It appears that Zionism and Yedinitz were made for each other. From the dawn of the Zionist movement there were Zionists in Yedinitz. The Jews in town were mostly followers of nationalism and Zionism. There were a few who opposed Zionism at the beginning of the period for religious reasons, and at a later period who did so for supposed revolutionary reasons. These people were overwhelmed, however, by the large majority of the city who belonged to one or another Zionist party or organization. Even the apolitical simple folk were sympathetic to anything involving the Holy Land. They adored every piece of paper or item that had anything to do with Palestine or Zionism (i.e. the Zionist Congress shekel, receipts for contributions to the Jewish National Fund and the Keren Hayesod, etc.).
After World War I

World War I ended, and the Romanians conquered Bessarabia. Pogroms broke out in Ukraine. Much has been written in this book about the suffering, decrees and persecution that faced every community and its Jews during the early period of the Romanian conquest until the government stabilized. These years, 1918-1920, were decisive in changing political and public life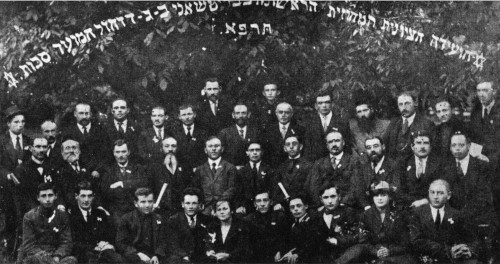 Caption within picture states:

"The first regional Zionist council in Britchany on the third day of Sukkot, 1920"

A respected delegation from Yedinitz participated in this council.
In this photo you can see the delegates from Yedinitz. In the first row, standing, fourth from the right is Avraham Weissman (when he still had a beard). In the seated row, in the middle, second from right is Levi Tsinman. Fifth from the right is Noach Leiderman. Second from the left is Avramel Milgrom. In the bottom row (seated on the ground), fourth from the left is the writer Yisrael Zamora (Tel Aviv).
---
This material is made available by JewishGen, Inc. and the Yizkor Book Project for the purpose of
fulfilling our mission of disseminating information about the Holocaust and destroyed Jewish communities.
This material may not be copied, sold or bartered without JewishGen, Inc.'s permission. Rights may be reserved by the copyright holder.
---
JewishGen, Inc. makes no representations regarding the accuracy of the translation. The reader may wish to refer to the original material for verification.
JewishGen is not responsible for inaccuracies or omissions in the original work and cannot rewrite or edit the text to correct inaccuracies and/or omissions.
Our mission is to produce a translation of the original work and we cannot verify the accuracy of statements or alter facts cited.

Edineţ, Moldova

Yizkor Book Project

JewishGen Home Page
---
Yizkor Book Director, Lance Ackerfeld
This web page created by Lance Ackerfeld
Copyright © 1999-2021 by JewishGen, Inc.
Updated 6 Mar 2004 by LA