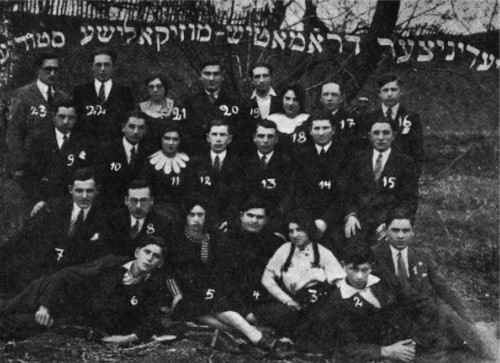 The Theater Club during the 1930s



1. Liyola Rosenberg 2. Yasha Shitz-Magen (died, Haifa) 3. Bracha Grossman-Horvitz (Petach Tikvah) 4. Heinich Ackerman (Israel) 5. Sarah Shitz-Meller (Tel Aviv) 6. Leizer Beniches 7. Yossel Schwartz (died, Chernovitz) 8. Shmuel Syag (Brazil) 9. Itsik Kagan 10. Chaimel Dondushansky (South America) 11. Ita Weinshenker-Meshori (Tel Aviv) 12. Eli Lerner 13. Studio director Levi Alisman 14. Yaakov Feldman 15. Levi Tendrich (Lvov) 16. Hershel Lerner (Eli's brother) 17. Daniel Schuster 18. Devorah Schwartz-Baron (Israel) 19. Mordechai Wallach (Tel Aviv) 20. Monny Garber (died in Venezuela) 21. Leahtse Schwartz-Chaluchi (Israel) 22. David Feldman (Chernovitz) 23. Lyusa Chak
---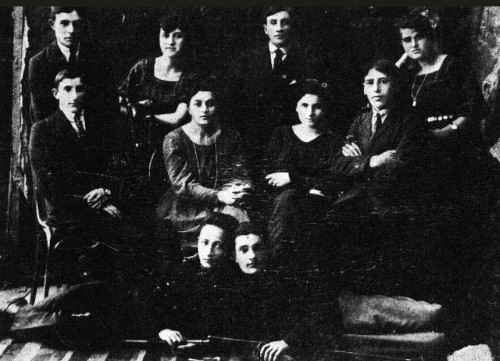 Theater Club from 1920
From right to left:
Standing: Wildstein, Shlomola (Avraham Shlomola's) Rosenthal (died in Israel), Pessya Schwartz (Israel), Avraham Revkolevsky (died, Paris).
Seated: Itsik Brodsky (died, America), Bronya Rabinovitch, sister of Vitya, Rodia Mittelman (America), Itsik Goichberg (son of "Odesser"), died America.
Lying: ---, Avraham Rimer, ----.
---
The Evening Is Shot
Mendel Shitz
Translated by David Goldman
An amateur theater production in Yedinitz in the last two years of the Romanian regime, and then under the Soviet regime.

        I would like to write about the last amateur theater production in Yedinitz, namely, in the last two years of Romanian rule, and in the year of Soviet rule. I myself took part in this production.
        I would like to take this opportunity to mention that there were many periods of amateur theatrical productions in Yedinitz. My late mother, who was born in Yedinitz (Sosya Guberman was her maiden name), used to talk about the theater productions in town prior to her wedding in 1908, and that even then they would perform Goldfadden's plays and operettas.
---
This material is made available by JewishGen, Inc. and the Yizkor Book Project for the purpose of
fulfilling our mission of disseminating information about the Holocaust and destroyed Jewish communities.
This material may not be copied, sold or bartered without JewishGen, Inc.'s permission. Rights may be reserved by the copyright holder.
---
JewishGen, Inc. makes no representations regarding the accuracy of the translation. The reader may wish to refer to the original material for verification.
JewishGen is not responsible for inaccuracies or omissions in the original work and cannot rewrite or edit the text to correct inaccuracies and/or omissions.
Our mission is to produce a translation of the original work and we cannot verify the accuracy of statements or alter facts cited.

Edineţ, Moldova

Yizkor Book Project

JewishGen Home Page
---
Yizkor Book Director, Lance Ackerfeld
This web page created by Lance Ackerfeld
Copyright © 1999-2021 by JewishGen, Inc.
Updated 25 July 2003 by LA