Teachers of the Talmud Torah

Right: Chanatche Ludmir-Fishman (Israel), Yisrael Toporovsky (died in Israel), Baruch Yashchikman (died in Yedinitz), Moshe Kupit (New York), Adella Gukovsky
Departure Photo of Zippora Toporovsky upon her emigration to Palestine
Standing, from right to left: Mina Dubrow (Israel), Antshel Wolfson, Pika Milgrom-Kormansky (died in Israel), Nechama Lerner (South America), Chava Spielberg, Fradya Wolfson, Hillel Dubrow (died in Israel), -----

Seated: Chaya Eisenberg, Yeva Bronstein, Sheva Kliger, Tsippa Toporovsky (Tel Aviv), Tseitel Fradess, Henya Eppelman, Sarah Fried.

Bottom: Rosa Goichberg-Horwitz (Brazil), Henya Steinwartz (died in Haifa), Ita Bronstein (wife of Menashe), Leahka Schwartzman.

 
---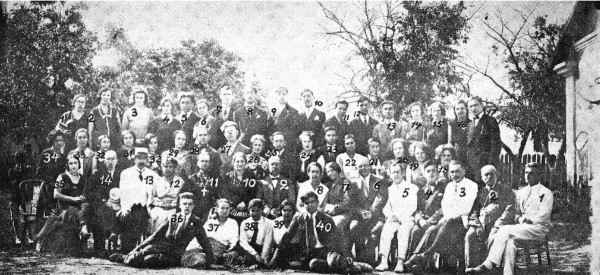 The Gymnasia - 10 year anniversary.


Teacher: 1. Georgy Ivanovich Bakunsky (Physics) 2. Feodor Ivanovich Kasher (Superintendent) 3. Alexander Nikolayevich Vinogradov (Math) 4. Zalman Zisselman (Hebrew) 5. Solomon Davidovich Greenberg (Inspector, History) 6. ------- 7. Nina Grigorovna Feldman (Classical Drama) 8. ----- 9. Gregory Gregorovich Wilensky (Director) 10. Valentina Alexandrovna Wilensky (Clerk) 11. Father Spiney 12. Olga Ivanovna Tushinsky-Bahy (the "German") 13. Alexander Ernestovich Bahy (the "Frenchman") 14. Dr. Sobolevsky (Hygiene).

Students: (apparently includes both students and graduates):
1. Breina Parnes-Bordman (South America) 2. Vera Shatz 3. ----- 4. Ita Grobman (South America 5. Moshe Kupit (New York) 6. Sheindel Kuzminer-Eidelman 7. Sioma Bernstein 8. Izzia Bronstein 9. Sioma Tolfoler 10. Misha Feinbaum 11. Khazin 12. David Reider 13. Yitzchak Gertzman 14. Mina Parnes-Cohen (Tel Aviv) 15. Teibele Blank (Israel) 16. Hadassah Dubrow (Tel Aviv) 17. Kassel Fradiss 18. Manya Bronfman 19. Tsili Schwartz 20. Esther Lerner 21. Chaya Mayansky (Haifa) 22. Sonya Greenberg 23. Yitzchak Fuks (South America) 24. Esther Gandelman-Kaufman (Tel Aviv) 25. Fishel Malay (South America) 26. Manya Silberman-Malay (South America) 27. Mendel Rabin (Tel Aviv) 28. David Lerner 29. Sonya Gandelman-Sazhman (Tel Aviv) 30. (error 32) Manya Baron 31. Itele Bronstein-Gurvitz 32. ------- 33. Adella Gukovsky 34. Tsilia Goldstein-Rosenbaum 35. Rosa Goichberg-Gurvitz (South America) 36. Sioma Freilich 37. Dobele Jampolsky (South America) 38. Bella Kormansky 39. ------ 40. Peretz Kliger (Israel).
---
This material is made available by JewishGen, Inc. and the Yizkor Book Project for the purpose of
fulfilling our mission of disseminating information about the Holocaust and destroyed Jewish communities.
This material may not be copied, sold or bartered without JewishGen, Inc.'s permission. Rights may be reserved by the copyright holder.
---
JewishGen, Inc. makes no representations regarding the accuracy of the translation. The reader may wish to refer to the original material for verification.
JewishGen is not responsible for inaccuracies or omissions in the original work and cannot rewrite or edit the text to correct inaccuracies and/or omissions.
Our mission is to produce a translation of the original work and we cannot verify the accuracy of statements or alter facts cited.

Yedintsy, Moldova

Yizkor Book Project

JewishGen Home Page
---
Yizkor Book Project Manager, Lance Ackerfeld
This web page created by Lance Ackerfeld
Copyright © 1999-2017 by JewishGen, Inc.
Updated 24 July 2003 by LA