In Memorium to the Jewish community of Skole
& Neighbouring Villages Who Perished in the Holocaust
(Ukraine)
49°2' / 23°31'
Translation of
Le-zekher kedoshe Skolah veha-seviva
Publisher: Jewish Committee of Skole in Israel
Published in Israel, 1986
---
Acknowledgments
Our sincere appreciation to Genia Hollander
for typing up the English text to facilitate its addition to this project.
---
This is a translation of: Le-zekher kedoshe Skolah veha-seviva
(In memorium to the Jewish community of Skole & neighbouring villages who perished in the Holocaust),
Publisher: Jewish Committee of Skole in Israel, 1986 (H 180 pages)
---
This material is made available by JewishGen, Inc. and the Yizkor Book Project for the purpose of
fulfilling our mission of disseminating information about the Holocaust and destroyed Jewish communities.
This material may not be copied, sold or bartered without JewishGen, Inc.'s permission. Rights may be reserved by the copyright holder.
---
JewishGen, Inc. makes no representations regarding the accuracy of the translation. The reader may wish to refer to the original material for verification.
JewishGen is not responsible for inaccuracies or omissions in the original work and cannot rewrite or edit the text to correct inaccuracies and/or omissions.
Our mission is to produce a translation of the original work and we cannot verify the accuracy of statements or alter facts cited.
---
In Memorium To The

Jewish Community of Skole
and Neighbouring Villages
Who perished in the Holocaust

Issued by the Jewish Committee of Skole in Israel
1986

May these pages serve as a memorial to the four thousand Jews of Skole and its vicinity,
who were killed with the utmost cruelty, and who left succeeding generations with the Inheritance:

Remember. Do not forget us.

YIZKOR
(Memorial Prayer)

We remember you,
Mothers and fathers,
Grandfathers and grandmothers,
Brothers and sisters,
Friends and comrades,
The old and the young,
Jews of our townlet,
Your pure image will rest in our souls,
The evil which has been done unto you by the Nazis

Will be remembered, and never forgotten.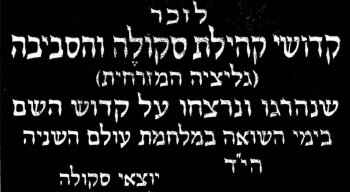 Contents of the Album
The Memorial Album includes photographs we have collected from former inhabitants of Skole
and the immediate surroundings, now residing in Israel; an introduction; articles, etc. in the following sequence:

| | |
| --- | --- |
| 1) | Introduction – Neigebor Zeew |
| 2) | Data on Skole before the Holocaust and earlier periods (from Yad Vashem archives) and Beit Hatfusot |
| 3) | Memories of a Holocaust survivor from Skole – Manesberg Menachem |
| 4) | Introduction to the Diary of Ultcho Wilf – Dan Landman |
| 5) | Photographed excerpts of the above-mentioned diary and Hebrew translation |
| 6) | Synopsis of the excerpts from the diary (about 100 pages) on the life of the survivors in hiding and in the forest |
| 7) | Memories from Skole |
| 8) | Photographs (comprising the major part of the album) |
| 9) | Memorial pages for additional names and photographs of family members from Skole |
| | List of emigres from Skole and environs in the year that this memorial book – album was published – 1986 |
---

Yizkor Book Project

JewishGen Home Page
---
Yizkor Book Director, Lance Ackerfeld
Emerita Yizkor Book Project Manager, Joyce Field
This web page created by Lance Ackerfeld
Copyright © 1999-2022 by JewishGen, Inc.
Updated 20 Nov 2020 by LA