Old Website Town Pages
Important Note
The information on this page has been compiled by Ukraine SIG long time ago.
As JewishGen and the Ukraine SIG evolved, the contents of the page became redundant with other areas of
JewishGen (specially the KehilaLinks) and the new SIG website.

This page will be temporarily hosted by the Ukraine SIG site until this contents is transferred to the corresponding
KehilaLink and/or indexed into the Ukraine Database. Then it will be removed.
Zhitomir
Volhynia Gubernia
by Deborah G. Glassman, copyright 2005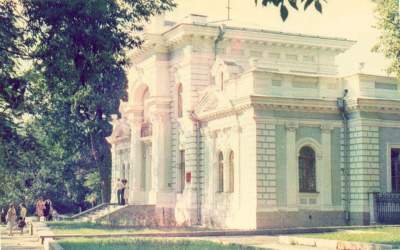 The Zhitomir Civil Registration Office
This picture, part of the wedding package given to new brides and grooms who were married in Zhitomir, was provided by Alex Kopelberg. This was during the time of the Soviet Union.
Records
The Zhitomir Civil Registration Office still holds many important records, and vital records are available. The Census and Vital Record Extracts, provided by the generosity of Naomi Moderick, show the types of births, marriages, and death records available. In addition to the family names that were most interesting to her, Naomi's extract gives us a clear look at the records available and names other parties such as homeowners possibly unrelated to the subjects of the records.
Zhitomir has dozens of possible English language spellings of its name. Researchers should consider such variations as Zhitomir (including Zitomer, Jitomer and the soundex variants) as well as from those misread by indexers as Fitomer and Litomer.
Photos of Residents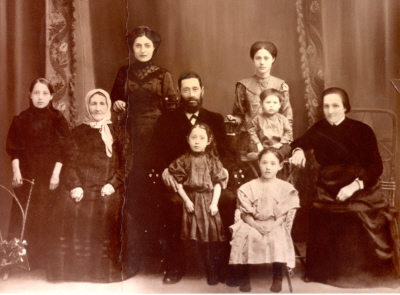 The ANNOPOLSKY and VUGMAN family
Here is a picture, from Zhitomir, of my mother and her parents, grandmother, & siblings, just before they came to this country. My oldest uncle was in the US already. ... They landed in Canada and the records of their arrival suffered in an archival fire in Canada. I have pretty much determined what ship they came on but the manifest was obviously soaked with water and not one name is legible, only the front page of the ship and departure and arrival dates.
The girl standing to the extreme left is Esther ANNOPOLSKY, the woman in the babushka is my great-grandmother, Rivka VUGMAN. Between Rivka and my grandfather is Tsipa ANNOPOLSKY, seated is my grandfather, Avrum-Volf (Velvel) ANNOPOLSKY, in front of him is my mother Shaindel ANNOPOLSKY, then standing is Chia ANNOPOLSKY, the little boy in front of her is Faivel ANNOPOLSKY, seated in front of him is Gisel ANNOPOLSKY, and the woman on the right, pregnant with my youngest uncle is my grandmother Maram VUGMAN ANNOPOLSKY. - this information and the photograph is provided by Naomi Moderick
Photos of Zhitomir Landmarks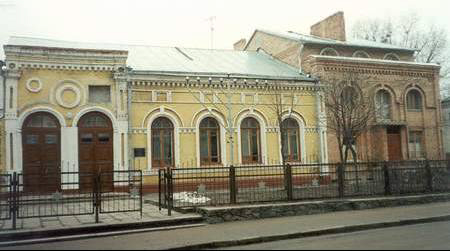 Zhitomir synagogue, with community's house for the Rabbi (modern photograph)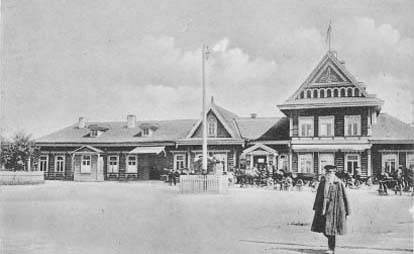 Zhitomir train station before 1914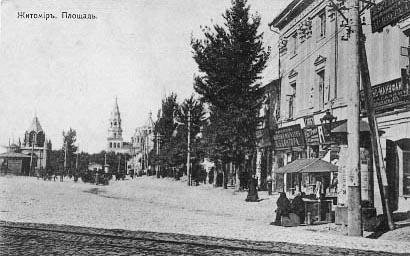 Zhitomir Shopping Street, early 20th century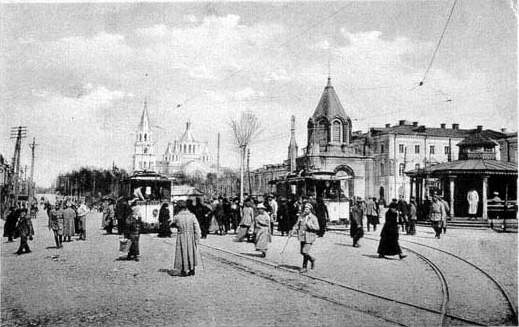 Zhitomir's electric trolley (first quarter of twentieth century)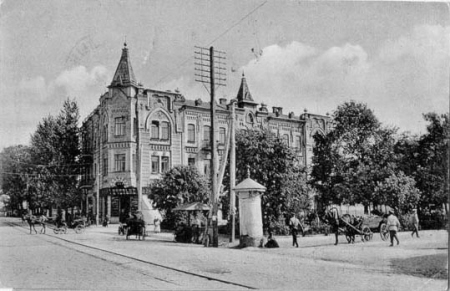 Zhitomir Intersection - Bulvara and Berdichev Streets
Photos by Alex Kopelberg
These pictures of Zhitomir landmarks and common sites including Zhitomir Cinema in 1946 and a typical Zhitomir house were provided by Alex Kopelberg, a Zhitomir native now living in Israel. The other modern pictures below were also from Mr. Kopelberg's private collection of pictures and postcards taken of Zhitomir when it was in the Soviet Union.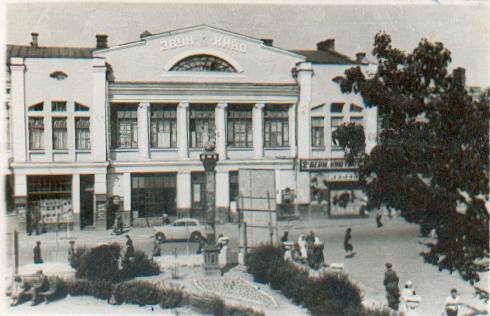 Zhitomir Cinema in 1946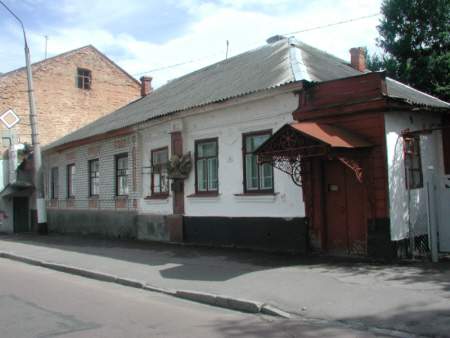 This particular house is noted as "the house where Y. Dombrovskiy (a leader of the Paris Commune in 1871) was born."
The other modern pictures below were also from Mr. Kopelberg's private collection of pictures and postcards taken of Zhitomir when it was in the Soviet Union. Modern landmarks like the fountains in Zhitomir's parks form part of Zhitomir's cultural and physical landscape as do long time focal points like the 18th Century St. Sophia's Catholic Church.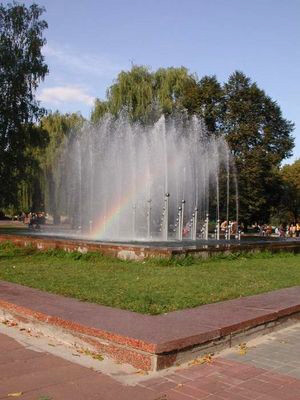 Fountain in Zhitomir